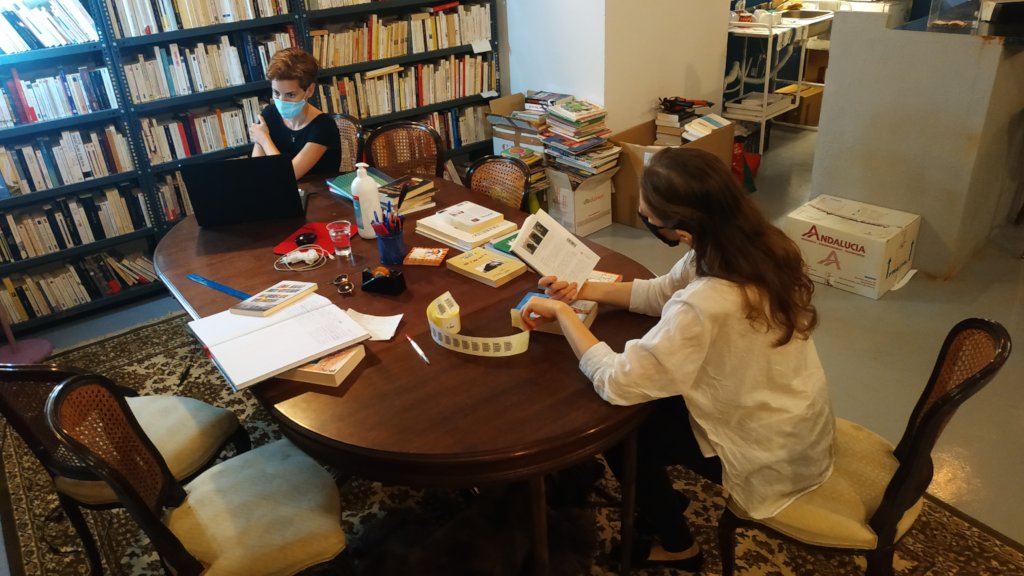 Dear friends,
We hope you and your loved ones are well.
These are difficult times for all of us. The pandemic keeps spreading but life needs to be lived, and libraries need to serve their communities. We Need Books Multilingual Library and Community Center is open to the public again. Having said that, we are taking every precaution to keep our beneficiaries, volunteers and staff safe. The space is open to the public only three days a week, for four hours. Lessons take place outside those hours and class participation has been limited to four students only. Everyone is requested to wear a mask at all times and antiseptics are available on every surface.
As of July, a new member has joined our team, thanks to a grant we received from the Ioannis S. Latsis Public Benefit Foundation. Eleni, our librarian, is cataloguing our collection and developing a lending system, which is needed now more than ever. The goal is to have a lending library of 1,000 books in at least five languages by March 2021. Our student, Abdala, is helping us with the cataloguing of the Arabic books. When our catalogue goes online it will be much easier for our Arabic speaking friends from the camps to find books they are interested in.
In October we will be launching an Adopt A Book fundraising initiative, to which, of course, we will be inviting you to participate!
In the beginning of the summer we sent several boxes of books to the library and school refugees built inside Moria in Lesvos. Everything that was there has now turned to ashes after three days of fires that destroyed Europe's largest refugee camp. Today is the 8th day that over 12,000 asylum seekers are living on the street, with children and babies, very little food and water and no protection against COVID 19. The situation is chaotic and it is not clear how one can help from afar. If, however, you want to contribute to the efforts made by local organizations to feed, clothe and protect the refugees, we are more than happy to put you in touch with our partner organizations on the island. As I said, these are difficult times for all of us, but for some they have become unbearable.
Until we reach out to you to Adopt A Book, stay safe and stay positive.
With solidarity,
Ioanna Nisyriou
We Need Books
Managing Director & Co-founder