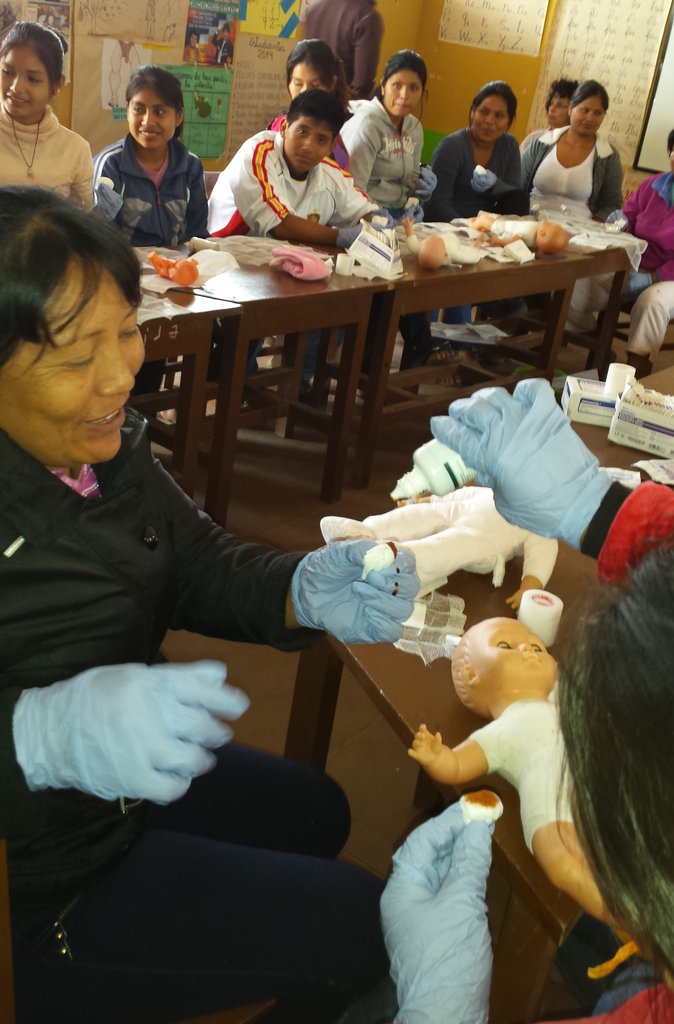 This is a bit of a different report for our global giving donors. Sometimes even donors want to know what mistakes have been made or lessons learned. We want to share one of the ways we have altered the program over time to make it more sustainable.
In remote rural villages of Bolivia, healthcare is not available in most communities, with the closest clinic frequently being many miles away. Even basic medicines are not available in these communities. In order to address this void, Etta Projects created a community Health Promoter Program in the region. The program trained health promoters, who would be the first point of contact for community members' healthcare needs (both emergency and preventative). These promoters would be in charge of a first-aid kit, keep a record of patients they attended to, treat minor illness and common ailments, monitor pregnancies and malnutrition, stabilize emergencies, educate and be connected to the closest clinic for patient referrals.
For our training methods, we considered the intensity of the medical training and the varying levels of education of participants. In 2011, these considerations led us to limit those in the training program to two health promoters per community so that our doctor could provide more hands-on training and support. This was where we failed. We were focused on ensuring that the participants would, as individuals, get a thorough training, but we neglected to take the larger-scope context of economics into consideration. Because of the long-term time investment it takes to train health promoters, not only did we limit the communities' access to the very care we were hoping to provide, we failed to design a sustainable program that would replace health promoters when necessary.
We learned our lessons through the community of San Lorenzo, where the only two elected health promoters both left the village shortly after graduating the program. The two women had worked hard, studied and practiced healthcare for three years (2011-2013). They were valued practicing educators and healthcare providers for their community.
One of the women, Teofila, had proven responsible and trustworthy in her duties until personal circumstances forced her to leave the small town for the closest city in order to seek employment that could support her and the children in her care. With Teofila's departure, the other health promoter, Yuvinka, became the sole community healthcare provider and became crucial in defining her community's needs; advocating for increased and better healthcare access and giving voice to the invisible population of impoverished farmers. In order to feed her three children, she also worked as a laborer in the sugarcane fields. When the harvest ended in 2013 she went to the city to seek further employment. Fortunately for her, she was able to secure a job in a veterinary clinic using her medical knowledge and skills and now earns much more than when she lived in San Lorenzo. Unfortunately, Yuvinka's departure left the community without a health promoter to educate and serve.
The situation in San Lorenzo would be different today if we had considered the possibility of health promoters leaving the community or becoming unable to perform duties. We needed to recognize the potential that, for various personal and economic reasons, people may leave the village, either temporarily or permanently, leaving a void of trained healthcare promoters in the intended location. San Lorenzo has since selected a new health representative and is starting from scratch, using the nearest clinic's doctors and Etta Projects' training manuals to prepare the first replacements. As training is designed to take three years, though, it will be a long time before the community of San Lorenzo has their own community-elected health promoters again.
Since the inception of the program, we have learned that the health promoter participants significantly help each other during the training process and the ratio of participant to training doctor is much less of a concern than we had initially thought. Because of this new insight, and because it has become apparent that imposing a limitation of two health promoters is not sustainable, we have begun to encourage as many participants as possible from each new community we collaborate with. In 2014, Etta Projects is working with four new communities and, because of our lessons learned from San Lorenzo, we are currently training thirty participants from only four villages. We expect this to increase the longevity and sustainability of the health promoter work.
This time around, we have recognized that some participants will drop out of the program and our program coordinator has included this projection in her plans. We also now see that the empowerment that our training provides may result in our promoters seeking stable employment opportunities outside of the community, which we view as a side effect of success that we now plan for. With the accessibility of healthcare in remote, rural Bolivia as our mission, we have taken away important lessons that will guide us in our current and future projects. We will make efforts in this project to ensure that valuable healthcare knowledge is dispersed among many community members so that the residents have more consistent, reliable access to health care and education. As an organization, we will remember San Lorenzo as a reminder to consider a more holistic view of the peripheral factors that will contribute to the successes and potential failures of our projects.