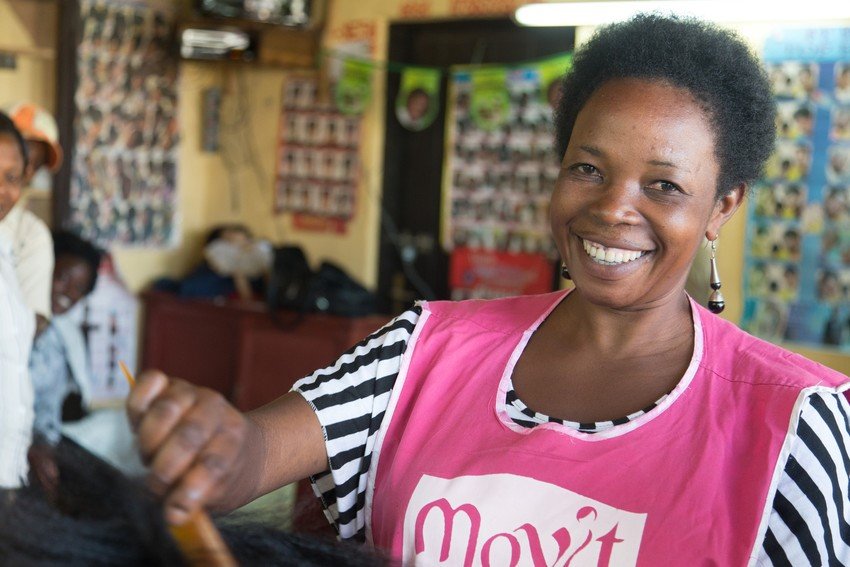 Grace operates a hair salon in her community called Light. She worked hard at her business, earning a modest profit that helped make ends meet when combined with her husband's income. Then, when a relative died unexpectedly, Grace took in the two children and insisted on raising them as her own. She was eager to enroll them in primary school but barely making ends meet when it was just her and her husband, Grace began to worry about the expenses for a family of four. She knew if she could expand her business she would be able to support her family and ensure the children received an education.
Fortunately, when she expressed her concerns to a friend, she introduced Grace to Opportunity International. She joined a Trust Group, where she gained the business support she needed, as well as a loan to expand her salon. Her business began to grow, and Grave diversified her income by investing a small amount of her time to raising pigs.
Over the years, Grace has moved beyond a life of uncertainty and now proudly runs two businesses. She is using her increased income to support her family and to create jobs for her neighbors. With the growth of her salon, Grace has been able to purchase land and build a family home with electricity, open her first savings account, and secure affordable insurance for her family.
Now, Grace is the president of her Trust Group and explains she feels "happy that people trust me with so much responsibility. My husband looks at me differently – with pride. I aspire to graduate from my Trust Group to Opportunity Rwanda's larger Individual program and my loan officer has been a great mentor and encouragement to me." Opportunity International helped Grace change her life and her family's future, and now Grace is giving back to her community.
Links: