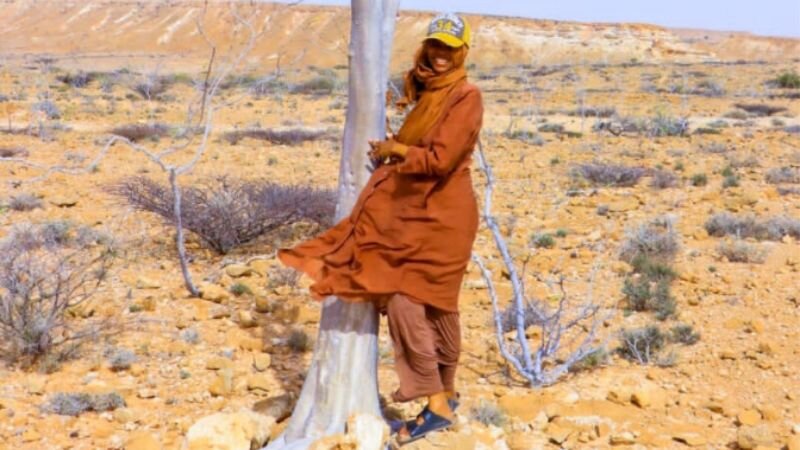 Dear Earth Restorers
We love sharing good news stories from the ground, especially with loyal supporters like you whose generosity and kindness helps fund this work. We hope this update will inspire you with hope for a more abundant future, for all.
Finding hope in dry places
In June, the 'woke' world observed the United Nations' World Day to combat Desertification and Drought. This could not be more relevant right now with earth's temperatures rising at unprecedented rates and set to reach new records in the next five years, according to the World Meteorological Organisation. While some parts of the planet are getting their first taste of the devastating effects of drought, people like Yasmin at Ecosystem Restoration Community Dryland Solutions in Somalia have been living this reality every day. Yasmin is working to improve the resilience and livelihoods of the local community in the Nugaal Valley region of the country by leading an initiative to restore the land through agroforestry, regenerative agriculture, permaculture and sustainable land management.
Philippines ERC inspires first regenerative island
Bohol Island Province in the Philippines has officially been declared the first regenerative island in the country! This new policy was set in motion and inspired by Ecosystem Restoration Community The Regenesis Project in cooperation with regional authorities. This groundbreaking development means the island now has a comprehensive and holistic framework and a 10-year roadmap which includes watershed restoration, water and food security, broad-scale ecosystem restoration, regenerative tourism, education, youth, civil society, and investment structures in place. And all this came about because a small community decided to take action and start rehabilitating their local, degraded land!
We're creating a monitoring framework for agroforestry systems
With help from the ERC Foundation, Ecosystem Restoration Community Desperto – Regenerative Cultures Centre in Brazil is starting a collaborative effort to create a monitoring framework for agroforestry systems. This collaboration involves UNESP, a public university in São Paulo, Corredor Ecologico, a Brazilian group that works on ecological restoration, and the Valley Agroforestry Network, a local group of farmers. Over the next four months, there will be four workshops where people working in agroforestry will talk about appropriate proxies, indicators and methods to be included in the agroforestry monitoring protocol. Based on the outputs of these workshops, a common framework will be drafted, shared, and tested by ERC Leader Michel Bottan and his team at Desperto's agroforestry sites in 2024, with the goal of supporting the successful implementation of agroforestry initiatives around the world.
A grand, green outlook for Kentucky's abandoned mine lands
Just in! See below these before and after shots from Ecosystem Restoration Community Appalachian Renewal Project in Kentucky, US. Taken approximately one year apart, the images show the transformation of this heavily degraded land where dozens of different tree species have been planted on this reclaimed surface coal mine.
"Bean" there, done that!
For the first time, Ecosystem Restoration Community Functional Forests - located amid arid agricultural land in rural Köycegiz, Mugla, Turkey - has welcomed the Fabaceae (legume) on their land. Harvesting this tiny, highly nutritious bean was no easy task as it was grown in rocky soil, but after several attempts - including using a hand tractor, a mechanical tractor with a harvester, and lots of team work - they succeeded in pulling the plants and separating the grains. And the harvest yielded quadruple the amount they sowed! The team has also had their first lemon grass (Cymbopogon) harvest of 2023. This first batch will be dried and used as tea, while the next harvest will be for distillation purposes.
Ecosystem Restoration Communities getting trees in the ground, from Kenya to Costa Rica
Koromi River in Malindi, Kenya, just received another shipment of seedlings, and the new growth is starting to flourish around newly restored land. This latest batch of seedlings now brings their total number of trees planted to 25,000!
The team at Corcovado Foundation planted 300 trees this week at a government property in Banegas in the Drake Bay community, Osa Peninsula, as part of their effort to restore 5 hectares of land that was deforested to make way for cattle grazing. In the coming weeks the team will start on the restoration of 17 additional hectares nearby. Click here if you're keen to know more about what this Ecosystem Restoration Community is doing to fight climate change, protect endangered species and promote community development.
A community on a massive, muddy mission
Mass planting of mangrove seedlings continues on 12 hectares (and counting!) of mud flats in the peri-urban setting of Tudor Creek in Mombasa, Kenya. Driven by Ecosystem Restoration Community Mombasa Mangroves, this community-supported initiative is restoring the mangrove forests for local fishermen - who depend on them for healthy fish stocks - and preserving habitat for the local biodiversity including fiddler crabs, water salamanders, a wide variety of bird species and golden orb weaver spiders.
Catch these inspiring conversations with our Ecosystem Restoration Communities' leaders on the ground
Over the past few months our founder John D. Liu caught up with Rancho Cacachilas in Mexico (a solar-powered, self-sustaining ranch located near La Paz in Southern Baja), and Pachamama in South Africa. You can watch the recordings on these Fireside Chats right here.
Thank you, again and again, for your role in making this all happen.
Warm regards,
Cath, Cristina and the Ecosystem Restoration Communities team