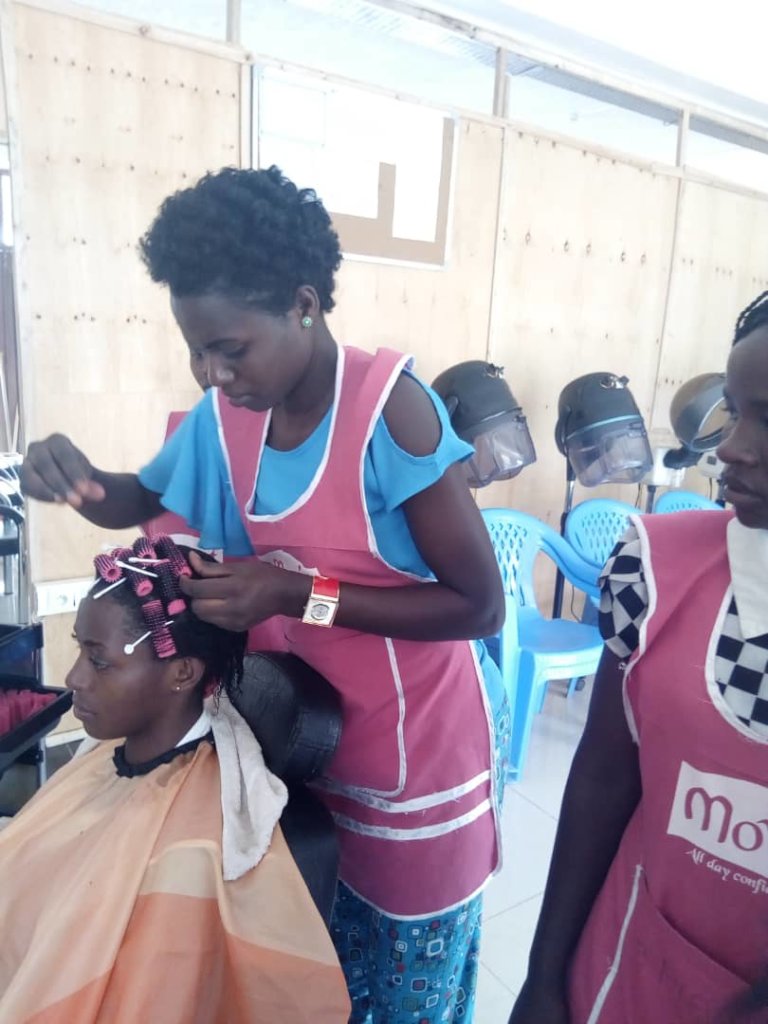 Teddy (25) from Gasabo District, is one of our many young women who have been positively transformed both socially and economically through trainings under our project "Empower 200 Rwandan Girls To Move Out Of Poverty". She tells us how she now enjoys an independent lifestyle without looking to family members as a source of income.
"I dropped out of school due to lack of fees after the death of my father who was solely responsible for paying my school dues from a small business of shop keeping in our village."
Teddy, a once miserable young girl, started seeing light for an improved lifestyle after attending hairdressing and life skills programs.
"I was empowered and equipped with skills of hairdressing in Aspire Rwanda which has transformed my life as a young woman."
Teddy told us, "After stopping schooling, I sat at home and would do farm and domestic work with my mother. As a young girl I lacked several things to make me look like other able girls in the village. My mother could not manage to provide for me or my other young siblings at home.
Being home all the time exposed me to many men whom I looked at as an alternative way of getting small money to buy myself basic needs as a girl. This was the only way out for my situation. I did all this in 'total darkness' because I never thought of the consequences of having multiple men, I never thought of HIV/AIDS, pregnancy and other STDs because I was not aware. I was so exposed, every day I placed my life to risk of being infected with HIV or becoming pregnant and facing isolation and rejection."
"The trainings on HIV/AIDS knowledge and other sexual reproductive health information greatly opened my mind as a young girl. The enterprise and financial literacy knowledge encouraged me and others to form a small village savings group.
"I saved my little profit share from the group business and later requested a loan from the same group, which I used to start up my own mobile saloon business with my mother. It is now the base of our financial status at home and my young siblings school fees are paid from the income we earn."
"Teddy ended her story with heartfelt appreciations: "Thank you to Aspire Rwanda and all those who support them. I wish you sponsor and train many more girls such that we can live an empowered and independent life as young girls and not be trapped in poverty by men."
We would very much appreciate if you can share about this project with your friends, family and who feel strongly about girls' education. We encourage you to donate monthly here. Even a few dollars a month will go a long way. Please also share this with your contacts and invite them to consider supporting this ongoing project.
With great appreciation