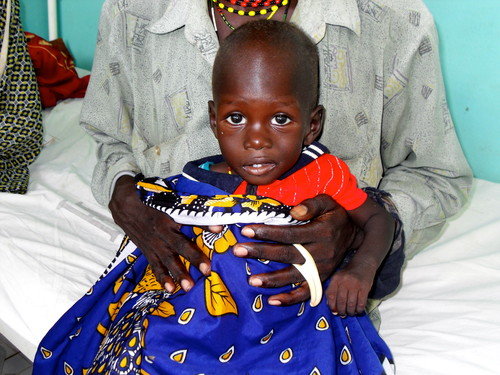 It has been over one year now since Merlin initiated its nutrition and health care services in response to the East Africa Food Crisis. You are one of over 390 donors Global Giving donors that so far, have kindly supported our emergency work. Between you, nearly $21,500 has been raised toward the open target of $25,000. So in this holiday season of thanks we would like to share with you what you generosity has actually helped us to accomplish.
Those Helped by You through Merlin's Work
Nursing Lokarach back to health
One year old Lokarach was referred to a Merlin stabilization center after being diagnosed as severely malnourished.
Lokarach's family are pastoralists, whose livelihoods depend on their livestock. The drought hit the family hard, as they lost the majority of their goats and Lokarach's mother died. His father, Kebo, was concerned that Lokarach's life was also in danger.
Kebo trekked for three days on foot with his eldest daughter in order to bring Lokarach to the Merlin stabilization center.
Merlin staff diagnosed Lokarach as suffering from not only severe malnutrition, but also a lower respiratory tract infection, gastroenteritis, malaria and dehydration. Lokarach was nursed back to health the stabilization center and is now stable and due to be discharged onto a feeding program.
Feeding Phoebe
Rising food prices following the drought didn't just affect families that were dependent on livestock. Phoebe Ekaran's mother, Miriam, weaved mats and roofing materials for a living, but rising food made purchasing food a challenge. Miriam brought her four year old daughter, Phoebe, to a Merlin clinic when she became ill with diarrhea and vomiting.
Phoebe was identified as being severely malnourished and suffering from malaria. She was treated for malaria and fed Plumpy Nut, a high-energy, nutrient-rich food substitute, eventually being discharged after four months of treatment.
Her mother thought that Phoebe would never regain her strength or weight and was astonished by her recovery.
Saving Lokato's life
Lokato was admitted to a Merlin feeding program when she was nine months old with severe malnutrition. She was also diagnosed with malaria and gastroenteritis.
Her mother, Sarah, says that when the drought hit, their family of seven (herself, her husband and five children) were constantly hungry. Previously they had sheep that they could sell, along with milk and meat but they their livestock died last summer. Sarah began weaving mats for a living, making around 100 Kenya Shillings (less than one dollar) a month. When Lokato became ill and refused to breast feed, Sarah thought she was dying.
After being given medication, supplies of Plumpy Nut, and attending consultations every two weeks for a month, Lokato was discharged and placed on a feeding program. Now aged one year and eight months, Lokato is now a healthy, playful child.
Treating Benson for Malnutrition
Despite his mother working as a maid and his father as a security guard, Benson Ekutan's parents struggled to pay for food after prices rocketed. Benson was admitted to a stabilization center with a case of severe acute malnutrition with complications.
Severely dehydrated, Benson was put on an intravenous drip and screened by Merlin's clinical officer for malnutrition. He was also diagnosed with malaria. After three days of being fed a therapeutic milk formula he began to improve. After a total of seven days he was discharged to a feeding program where he received Plumpy Nut, for one month.
When Benson was brought into the clinic, Benson was unable to sit upright due to lack of strength. Now he can crawl, stand and is starting to try and walk.
Thank you for your support.