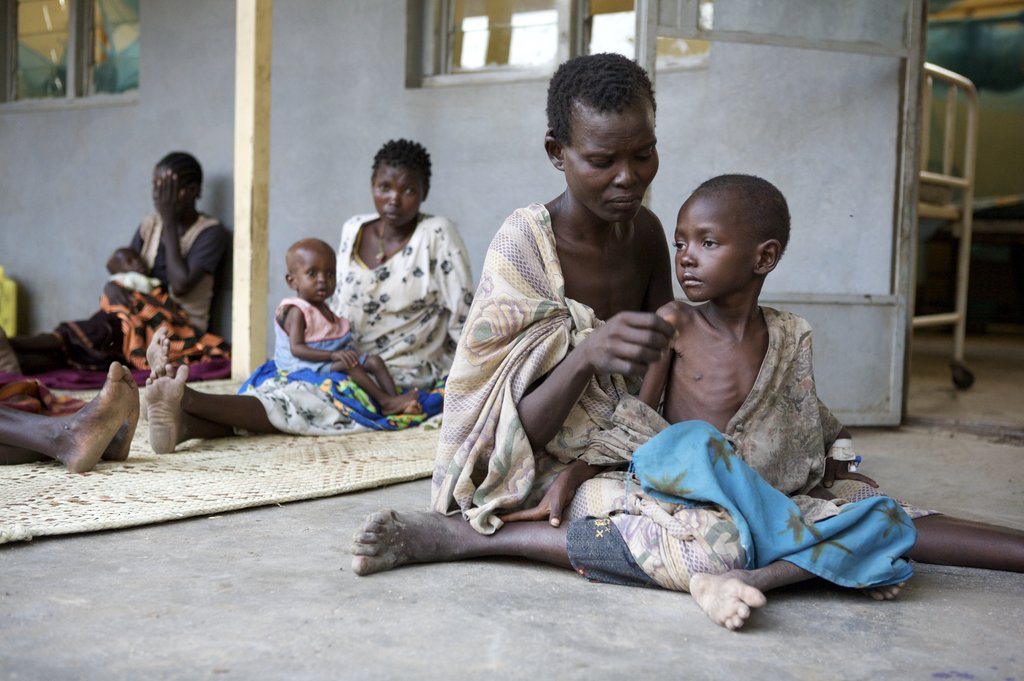 The Food Crisis in Kenya
Since July 2011, Merlin's emergency response in East Africa has saved lives, kept thousands (mostly children) from starvation & malnourishment, and supported & trained hundreds of local health workers.
In Kenya, Merlin has up-scaled its activities quickly and effectively. See below:
Health Facilities - Before the food crisis Merlin supported 23 health facilities in the Turkana area. Now, Merlin supports 30.
Mobile clinics (outreach teams) - Before the food crisis Merlin supported 36 locations for mobile clinics. Now, Merlin has 72 outreach sites, each location is visited twice a month by our teams.
Kenya - Fast Facts (up to end of Jan 2012):
Focusing on communities living in very remote villages, Merlin screened 29,727 children under five for malnutrition.
Of these, 257 were diagnosed with severe acute malnutrition, 246 were cured, and sadly, 13 children died.
In general, the number of people that are severely malnourished in Turkana (an area in the northwest area of Kenya where Merlin focuses their work) has decreased from 30.8% to 13.9%. (Source: Dec 2011 Nutrition Survey from World Health Organization, in coordination with Merlin, UNICEF, IRC and World Vision).
Merlin ran ante-natal classes for 5,431 women.
Community health workers presented nearly 1,300 health education sessions to over 78,285 people, raising awareness on health and sanitation issues.
10 health facilities had solar powered refrigerators installed, to keep vaccinations cool.
This helped with the vaccination of 13, 468 people, this included 12,893 children under one year old and another 455 under five.
23 latrines were constructed in 23 health clinics, and 60 hand washing points were built in 30 health facilities.
125 local health staff were trained on preparing for emergency situations (such as the current food crisis, diseases outbreaks etc.) and how to respond effectively.
Summary
The significant drop in malnutrition rates was attributed to a number of factors:
- A co-ordinated, efficient response by all those humanitarian agencies (including Merlin) who work in the affected region.
- The General Food Distribution (GFD) program that offers families extra food was revived in July 2011.
- The introduction of monthly food supplements to all children under five years old, pregnant women and new mothers. This program was initially only for children under three.
- Heavy rainfalls in late August – early September and again in late October - mid November. Although this also hampered Merlin mobile teams from reaching those in the most remote sites for a short period.
The Disasters Emergency Committee (DEC) – a UK organization, who has given grants for Merlin's food crisis emergency response, observed after a recent visit that Merlin was able to 'rapidly and successfully scale up its operations and establish good links with other agencies working in the area'.
The DEC also confirmed that Merlin should remain in a constant state of emergency preparedness, ready to respond to any sudden increase in malnutrition rates, while continuing to work to prevent additional malnutrition cases and offering care to those in need.
Merlin's Promise
Merlin will continue to work in the Turkana area for as long as we are needed. Our teams will offer health and nutritional care to the families and communities that need us most.
If you are able to offer more support, via a second or recurring gift, we are very grateful and promise to use the donation wisely and effectively to save lives. Thank you.
Links: