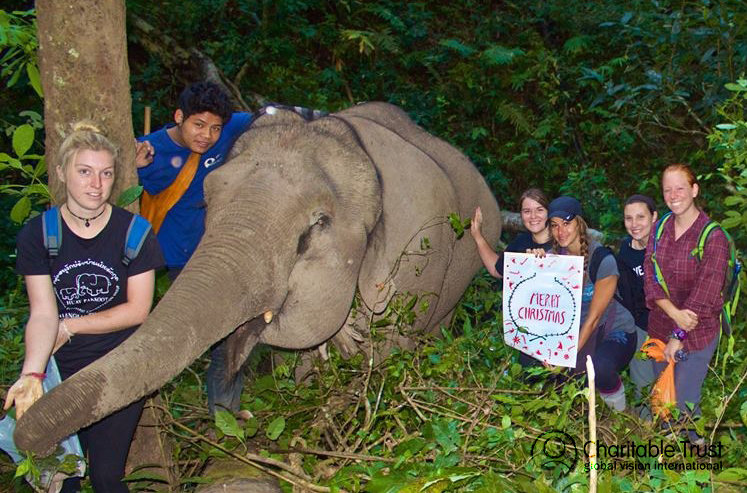 Dear Supporter,
Merry Christmas from everyone at GVI Huay Pakoot and the GVI Charitable Trust
What a year for our elephants! Thanks to your support and donations, our three elephants, Mae Sah Jah, Khum Suk and Mario have thrived in the forest. These three elephants have been taken from the tourism industry and are now able to live their lives in the forest surrounding the village of Huay Pakoot, thanks to you. The funding from GVI Charitable Trust directly provides these three elephants with an opportunity to escape the tourist industry and live their lives as elephants should, roaming and foraging in the forest.
We also managed to start on the elephant clinic this year, as well as providing more Mahouts with basic Elephant first aid training, in memory on Songkran.
We have also seen our Biodiversity Assessment Surveys thrive! The purpose of these surveys is to gain a better understanding of what wildlife exists in our forest, especially as the surrounding area hasn't yet been studied. The forests in Northern Thailand were once rich in biodiversity; unfortunately, due to the human impact on the environment, this has decreased mainly due to settlement, agriculture and hunting. Northern Thailand is still very much an under researched region, giving us an ideal opportunity to perhaps either discover new and rare species, or animal behaviors. A long-term aim is to educate the villagers and volunteers on the area's biodiversity in order to help preserve forest ecosystems.
We sincerely hope, with your support, that this project continues to grow into 2015. The more funds we can bring in, the more elephants we can rescue from horrific circumstances and reintroduce back into a natural habitat, so thank you!
Merry Christmas and a Happy New Year!
All the best
GVI Charitable Trust
Links: