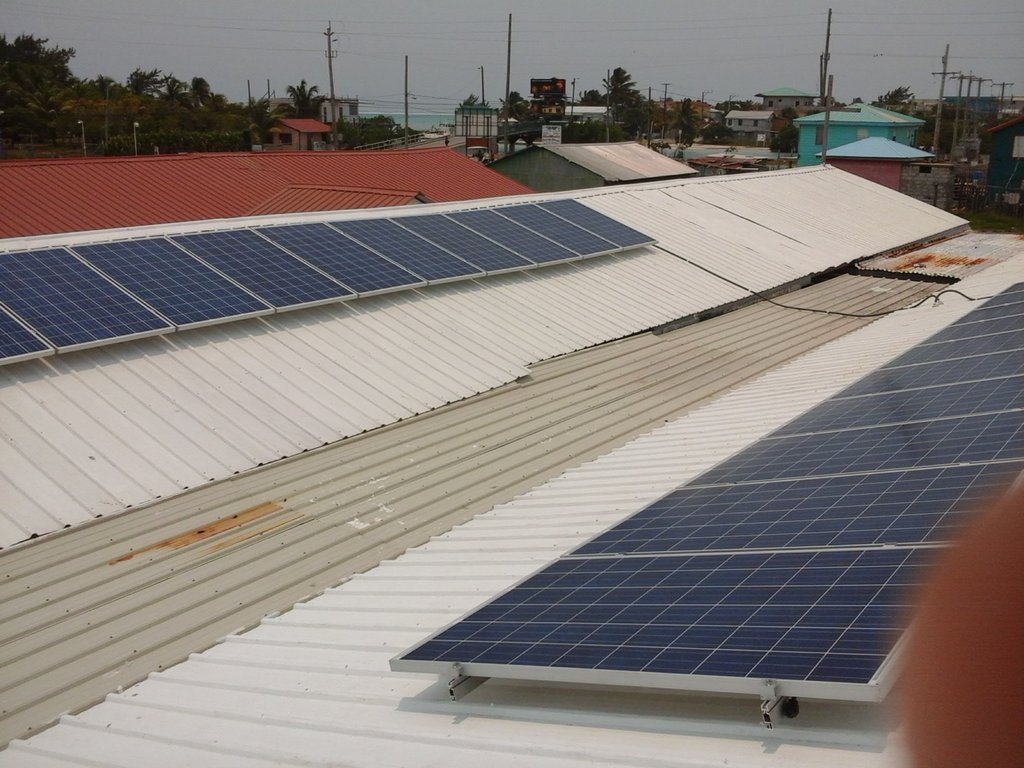 Thanks to you, our many donors, our Phase 2, second set of solar panels, have now been installed by Baker Renewable Energy (BRE, http://bakerrenewable.com/) at Holy Cross Anglican School in San Mateo, Belize. This second set will produce peak 5KW of power generation -- doubling our capacity from 5KW to 10KW.This past week, two BRE technicians spent the week working at Holy Cross Anglican school to afix the new array on roofing sections above the kitchen and lower division classrooms. As shown in the attached picture, the new array features 10 250W panels that are angled toward the east, and 10 that are angled toward the west. This will even out the power distibution curve. Further, the roof-length is long enough that we can, up to a point, simply add-on additional panels without having to implement additional breaker equipment. Since each panel has its own microinverter, a problem with any one panel will not bring down the entire array.
Our recent power consumption analysis showed that we are consuming substantially more energy than these arrays produce -- that is, almost all of the solar-power generated is going to offset our metered power bill, with very little being lost back to the "grid." As noted in my last report, we were very pleased that independent review re-affirmed that our plans to provide a farm generating at least 20KW using panel micro-inverters and net-metering was the best possible for our location.This means that we will be undertaking Phases 3 and 4 projects -- to grow the farm from what is now 10KW to at least 20KW. Further, additional strategies including reducing energy consumption may be adopted -- after a more thorough energy audit is undertaken. You will be hearing more about these in upcoming reports.
I also wanted to keep you apprised of our current funding situation. Firstly, being a MicroSoft YouthSpark project makes a huge difference in our ability to raise funds quickly. For new, recurring donors, the first three months of your donation will be matched 100%. After three months you can opt out as well. Secondly, on bonus days, there is a further YouthSpark Match. The next bonus day is tentatively set for June 25th -- starting at Noon. All donations on that day will be matched at an <additional> 100%.
Secondly, we are within $3000 of balancing our Phase 2 budget, having -- thanks to you -- received ~$2000 in donations since my last report. Interestingly, $3K is just about exactly what was charged at Belizean customs as GST tax on the solar equipment. Unfortunately, this expense was unforeseen -- and will be planned into the budget for Phase 3 if we cannot find a suitable workaround. Nevertheless -- we need to fully balance our Phase 2 budget before we can embark on Phase 3. I will update you again on project status prior to the next YouthSpark Bonus day.
Once again, the children that are benefitting from an education they could not otherwise receive at Holy Cross Anglican School are now more secure in their future as a result of bringing down our school operating costs, while also making a difference for the environment. We are so very thankful to you, our donors, and to BRE for their generous in-kind donations that are making this project happen.