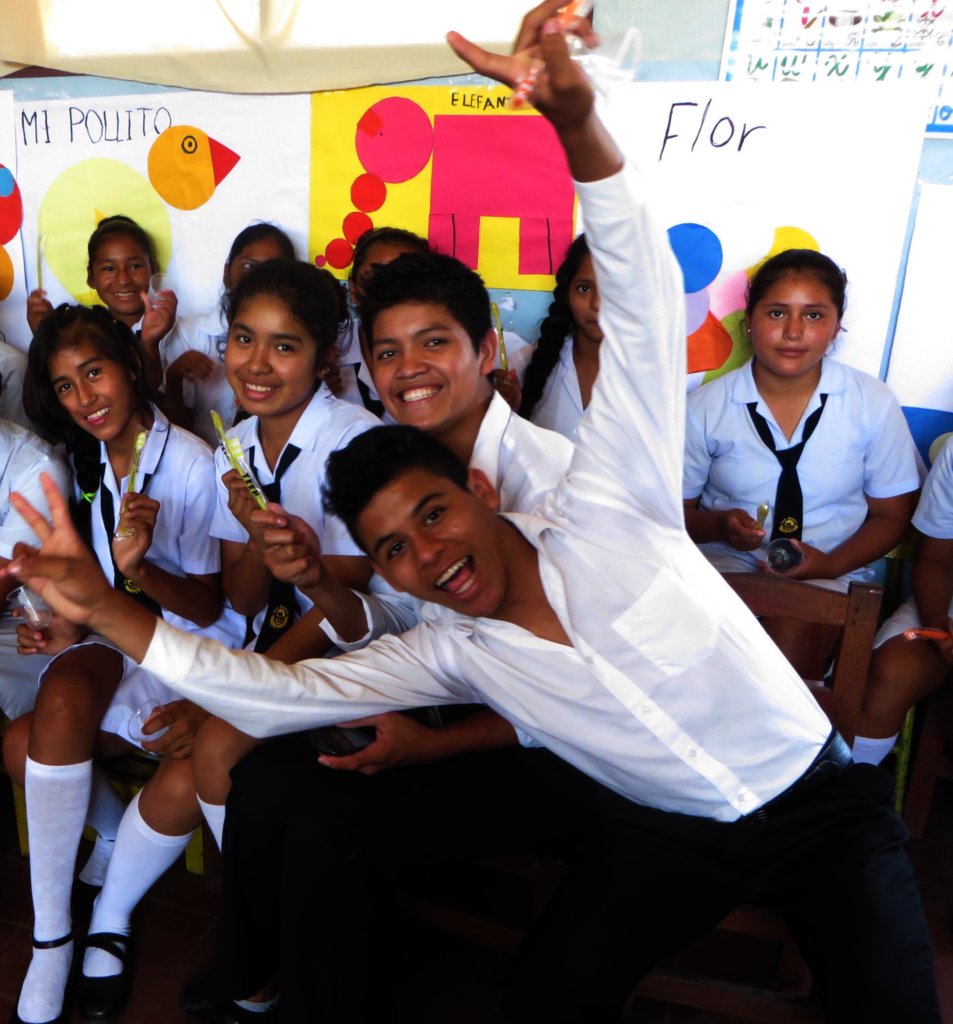 "Our Smiles Forever school's initial failure to retain students was rocking the foundation of our very mission to help these young indigenous women train for a career. Thank heaven we totally changed our approach to recruiting and drastically switched how we interacted with these special, dedicated women. A story of doom was reversed to a story of success. This extraordinary project report is at the invitation of Global Giving to share how our organization learned from failure. We're taking part in the Global Giving Falling Forward story contest. I know you'll find our journey of learning especially meaningful." Sandy Kemper, Founder & Executive Director
Smiles Forever Falling Forward: Loosing Many Battles before Winning the Victory of Retaining Our Students & Earning the Prize of Accreditation
Smiles Forever's Bolivian School, with our predominantly homeless young women students, has had to make many personal and professional adjustments on our long, often twisting path to graduate young women as dental hygienists.
We wanted to help everyone & for years we tried mightily, but our school with its two-year program was too demanding, too demoralizing, and too difficult as a lifestyle adjustment. We were losing students. Way too many of our brightest prospects were giving up and we had to ask why. We ultimately came to the realization that Smiles Forever needed to abandon our altruistic aspirations to help everyone who came to us. We had to refuse entry to several based on academic predictions; we had to toughen our approach to instill a desire for achievement. We had to stop imposing our desires and deal with our denial that this program could help everyone find a new life. In a nutshell, we had to diverge from the idea that these charity students needed what we could offer to change their futures and reverse our thinking. We flipped our thinking around: now we have a model where the instructors can listen to our clientele!
What were our problems? Why weren't more students staying with their studies?
Too Demanding: Initially, our school model was to turn away virtually no one. This was causing our students grief because they were not prepared academically to pursue so rigorous a program. The students would begin in high spirits, only to have their hopes and dreams dashed. Sometimes, they would just walk out the door, especially between academic years, and they silently fell by the wayside. It was heart-breaking to see the ones we had wished so sincerely to help being crushed under the overwhelming burden. We saw that our screening practices were not sufficient; we were going to have to tighten our admission standards. We were going to have to turn away willing, eager, students who were desperate to change their lives. Our pre-testing had to be radically adjusted.
Too Demoralizing: We had to realize that a world of being repeatedly tested was foreign to our students. Every failed exam was humiliating, thus totally demoralizing for our students. These young women had survived on the streets, risen above abusive home situations, or had sprung back from the abandonment of their families and an uncaring society. These young women had been fighting so many battles and winning. They were the survivors and were entitled to feel proud. Now they found themselves in a setting where the path was daily getting more difficult and their anxiety regarding testing was hurting their chances to do well. Some drastic changes had to be made. We saw we had to intervene sooner. We needed to provide tutoring before each roadblock exam. We had to build stepping stones of small learning achievements and reinforce bridges to ensure more did well during critical exams. We had to introduce counseling both academic and personal into every level of their schooling!
Too Difficult as a Lifestyle Adjustment: Our school had to admit that our initial approach with thinking we could offer protection from their lives in the real world, or a "nice vacation" from the worry of survival, was not realistic, nor was it respectful. We had to turn the tables and totally listen to the concerns of our students. We could not smooth over legitimate fears of survival which these indigenous women had. Bolivia is one of the poorest countries in South America, and the prospects for a woman to do well and have an easier time remained especially remote. Once we allowed these vulnerable young women to be our teachers, everyone in the school had stronger bonds of understanding!
The Simple Answer to the Big Problem was a Surprise: One day there was an uprising of sorts. Our young, wonderful students were learning at a faster rate and staying with the program. Our little steps of being more aware of their perspective had changed the tide---fewer and fewer were dropping out. We had offered some of them part-time jobs within the school where they could have their dignity enhanced. We no longer gave them everything. Our students were actually pleased with themselves for contributing, even if it was something simple like buying their own uniforms. They had become responsible. Then a surprising thing happened. These students, along with some past students, formed their own Dental Hygienist Society, and they took part on a volunteer basis of giving back to their communities. The victory of coming from nothing and having nothing, to gaining education and having something to give made an enormous difference. They were rightly proud of themselves! Smiles Forever is so proud of all our young women students, for they do have a social conscience!
Full Circle: Broadening our Recruiting to Include Young Mothers
For nearly all of our 15 years of serving the indigenous women of the Cochabamba, Bolivia area, we have inadvertently excluded young mothers. Last year, we listened when young mothers knocked on our doors. They wanted a better future for themselves, so that in turn their children's lives would benefit. These mothers had extra incentive to succeed in a career. We no longer turn away women who have children. We have discovered another calling in educating these women who already understand responsibility. Our students who are mothers act as role models!
Countless Setbacks on the Road to Recognition from the Bolivian Government:
Many times our founder, our administrator, and teaching staff have been discouraged by governmental hoops to gain full accreditation for our Smiles Forever Dental Hygiene School. The intense requirements, added tests, arbitrary deadlines, and many other factors have made receiving this goal illusive. Becoming fully accredited in the eyes of the Bolivian academic board has been often too demanding, too demoralizing, and too difficult an adjustment to make. We knew we could not accept failure; we could not quit as each obstacle was thrown in our path. Yes, we even experienced anxiety as this prize kept eluding us. Finally—Victory!
We'd like to tell all of you who have believed in our mission for a decade and a half: the school has earned full accreditation & our graduates now can be totally recognized by their chosen profession. THANK YOU!
Youthspark miniproject link for Wednesday October 7th Bonus Day https://www.globalgiving.org/microprojects/help-aracely-complete-her-dental-hygiene-education/
All donations matched all day on a pro-rated scale. This is Microsoft's last bonus day, so do participate.