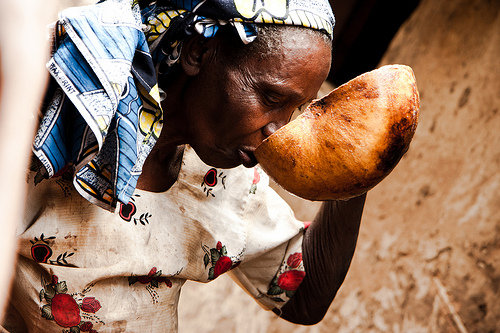 "Before the new house, whenever it would rain we would have to gather our bedding into one corner. I didn't have any income to help thatch my old house. I am old and weak and don't have strength to work in neighbors' gardens for money," explains Nzeramaria, an 80 year old grandmother who is now a mother to her grandchild. "Without Nyaka I don't know what we would do."
We know there is a special woman in your life: a mother, grandmother, great-grandmother, auntie, sister, wife, daughter, or friend.
We know you care about our girls' well-being from your previous generous donation to The Nyaka AIDS Orphans Project to support their education.
6,200 grandmothers care for our students and 34,525 additional orphans and vulnerable children in rural southwest Uganda. We realized early on that if a girl goes home to a home that leaks, doesn't have any food, or access to water, she will not retain the necessary health to learn when she returns to school the next day. As such, we have incorporated our students' grandmothers into our holistic approach.
Even though we have already gathered to celebrate those special ladies in our lives on Mother's Day, there isn't a day that goes by that we are not thankful of them; likewise, here at Nyaka we celebrate our grandmothers every day. Our goal is for 100% of our most dedicated Nyaka partners, like you, to honor or memorialize your special lady by investing in the grandmothers who care for our girls in the twilight of their years without resources beyond Nyaka.
Your gift to support our students, allow us to concentrate on helping our grandmothers by building them homes, kitchens, and pit-latrines; distributing water harvesting tanks and gardening hoes; and distributing animals like goats for them to raise. In addition we provide them access to micro-finance loans.
Thank you for investing in our girls' lives by honoring a special woman in your life today!
Links: