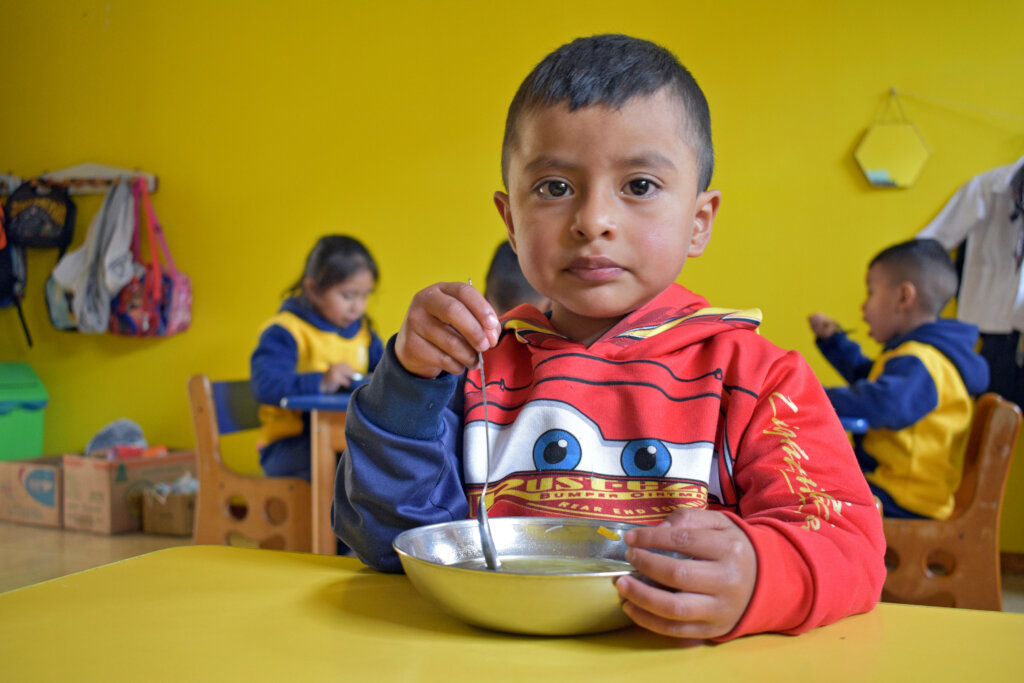 In our neighborhoods, many day care centers have not open since the pandemic. But, with your help, we have supported - uninterruptedly - more than 200 vulnerable children by guaranteeing their access to quality education offering them a safe place while their parents try to overcome the economic crisis caused by the pandemic.
At the beginning of 2021, we helped our families overcome the wave of infections by Omicron, guiding them on accessible health services, preventive measures and the importance of vaccination. We have managed to get the majority of families vaccinated against COVID-19 (parents and their children).
We want to share with you the importance of our children getting back to a face-to-face education. Their daily routine and our meetings with their parents have inhenced the children cognitive development, their healthy habits and parental responsibility.
Ethan is 3 years old, he attends to our day care center, he lives at his grand parents' house with his mother Lizbeth (25 years old) and his brothers: Mateo (10 years old) and Johan (5 months). During confinement, we helped his family with food kits. When Ethan returned to classes in September, he had many difficulties in adapting and eating. His mother said that the same thing happened to him at home and that he only managed to eat certain foods. Through the medical check-up, we found that Ethan had malnutrition:
"During the pandemic I got separated from my partner and I had no money (besides I got pregnant); Thank God, my parents supported me. When Ethan started coming to Fundación Sembrar, everything was new to him, even the food. Even though I was sending him snacksm the teacher told me that he was not healthy, then I realized that my son had to eat better and that I had to help him. At first I didn´t have money to follow the nutritionist menus but after I start recieving Eithan´s father economic support, I use it for my children´s nutrition. Instead of cookies, I buy him broccoli, nuts, yogurt, fruit or jelly. Here in Fundación Sembrar he has learned to eat everything. I also changed the diet at home, and when Eithan likes something he eats in Fundación Sembrar, he tells me and then I prepare it at home.
Eventhough he still looks skinny, he is healthier. Ethan has learned a lot: he changes his clothes by himself, goes to the bathroom alone, washes his hands... and I want to keep this habits at my home. When he draws and tells me: "mommy, this is a happyface", I tell him how beautiful, my love!, and I kiss him. I understood that when he shows me something it is because he wants me to look at him".
Lizbeth (mother of Eithan)