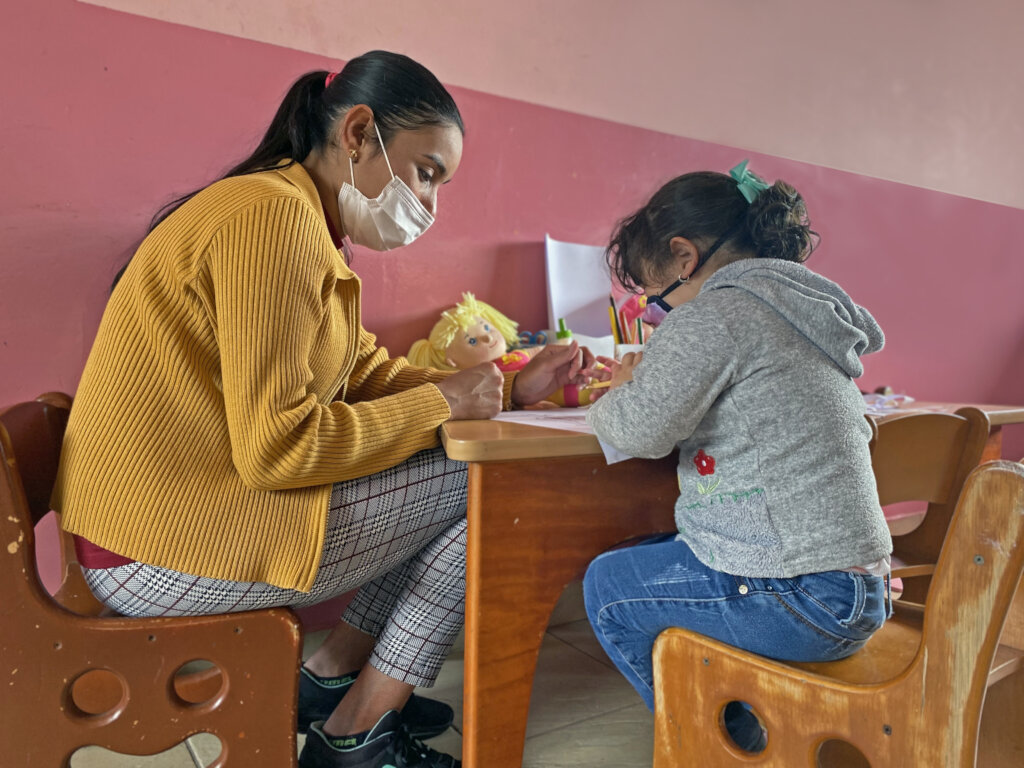 Since September, "Ojos de Cielo" opened its doors to welcome 26 children in person; and the PelCa program received 143 children and their mothers to its workshop. The return to presence has been positive because 73% of the Ecuadorian population has been vaccinated against Covid-19, including all our educational staff. Only 15% of families living outside our neighborhoods continued to receive virtual accompaniment on early stimulation practices with their children and we keep evaluating their current situation.
With your support, these are our achievements to date:
• Nutritious food has been provided to 104 children through nutritional kits or daily food service. Thanks to daily monitoring and the establishment of alliances, 41% of children with malnutrition have been detected, and they are receiving medical treatment and nutritional reinforcement.
• 95% of the children in our programs improved their learning skills.
• Through family support, 171 parents have developed parenting skills and healthy lifestyle habits (hygiene, preventive measures for COVID-19 and healthy eating without spending too much money).
• Seventeen mothers who are victims of violence received a differentiated follow-up from their family counselor; 9 of which receive professional care.
However, your support continues to be essential. As a result of the pandemic, in Ecuador: 8 out of 10 households with children - even more in neighborhoods like Pisulí - have seen their income reduced and are experiencing greater difficulty in accessing nutritious food. Only 4 out of 10 households with children under the age of 5 can access to child development services or formal education.
In 3 out of 4 Ecuadorian households, women are the ones who care for their children and the burden of care is greater in the lower income groups. This fact makes it more difficult the access to job opportunities. Our Early Childhood services strengthen the educational role of mothers, adapting to their circumstances: if a mother from the PelCa program finds a job, her child is welcomed into "Ojos de Cielo". A remarkable fact is that 78 mothers are between 15 and 25 years old, but still they are willing to play a positive role in the education of their children.
Cindy is 32 years old and has been attending PelCa workshops since 2019. She lives in Pisulí with her husband, her mother-in-law and her 2 daughters: Isabella (3 years old) and Ivana (6 months old). They are a Venezuelan family that arrived in Ecuador 3 years ago. She and her husband are professional teachers, but currently they have informal jobs as a promoter of cosmetic products and as a merchandise seller, respectively.
Isabella, was two years old when she began to attend -together with her mother- the workshops. At the time, she was not able to express herself, still wore a diaper and would not play with the other kids. Her mom was very shy. During the pandemic, she was in constant communication with her counselor in Fundación Sembrar, and Isabella really enjoyed participating in the educational videos. Today, her mother talks with other mothers in the group, shares her experiences and gives her opinion on the topics discussed. Isabella, due to her mother's perseverance and commitment, has developed her verbal language, learn how to use the toilette, her motor skills are great and she enjoys socializing with her peers in the group:
We decided to leave Venezuela when Isabella was born, we worked as teachers, but the last salary I received was only enough for the diaper package. During the quarantine we were completely without any income and it was very hard for us, we had to go out to sell food on the street but it did not work. Luckily, our landlord was very kind to us, she exonerated us for several months but had to offer us a smaller room (with kitchen and bathroom, we put a partition in the room to separate my mother-in-law's bed). That is why the food kits we received from Fundación Sembrar has helped us a lot.
The experience with Pelca program has been enriching, because I have not been able to formally enroll my girl in Initial Education. Isabella has come a long way, now she talks a lot, expresses herself well and asks me to come to the workshops because she can socialize with other children, she tells me "Mom, I want to see my friends". I am a Basic educator, but I did not know how to treat younger children, with the support of Katy (family counselor) I have learned educational strategies and how to apply them, it is not the same to explain to a 7-year-old boy than to a 7-year-old girl. 2. I believe that PelCa helps me to be a better mother, in the way I speak and correct Isabella. Because among so many worries (food, money), one tends to get in a bad mood and scold them, but you have to understand that she is just a girl. One of the topics for parents that I liked the most was "Socialization" because I did not realize that at home there are little problems and things that we do not talk, I just to let them pass. After that workshop, I came home and tried to talk to my husband because I realized that we adults, could be very predisposed and uncomfortable due to a situation, but it is important to always reach conciliation.