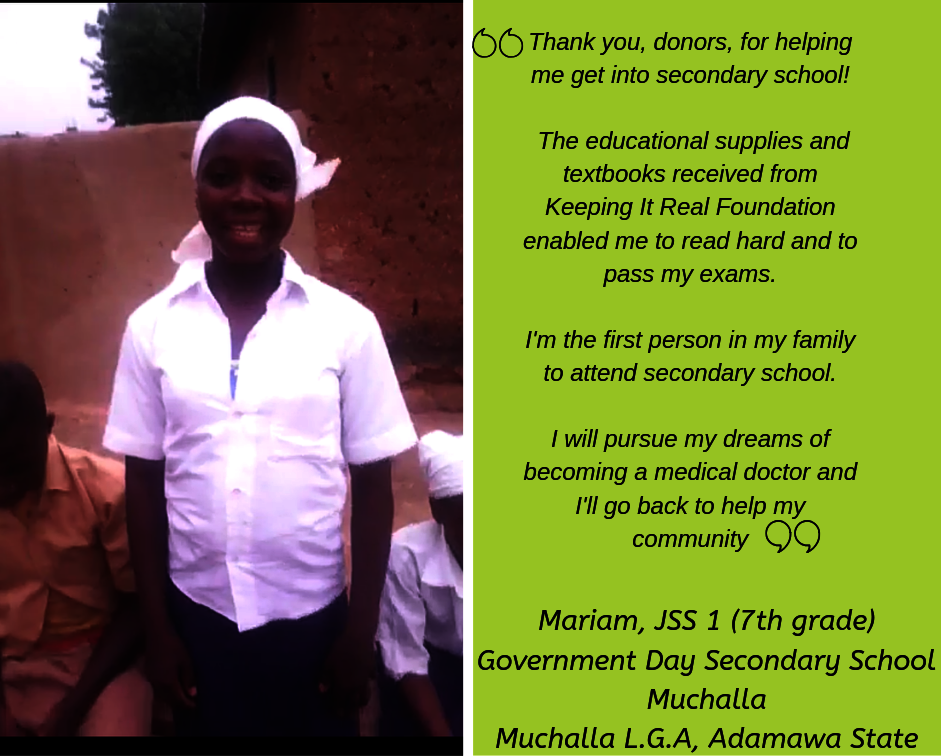 In 2017 May, the Executive Director of Keeping It Real (KIR) Foundation visited CDM Primary School Lila in Mubi Hills with the Coordinator of CDM Foundation James Ogunshola, our implementing partner. CDM Foundation has been uplifting the communities in Mubi Hills for the past 30 years doing all they can to help the children get an education which is a basic right and continues to do so despite the Boko Haram insurgency.
During that visit, some of the pupils like Isaac, Miriam, Isifanus, Timothy and Kenneth shared their dreams of becoming teachers, lawyers, doctors and more importantly going back to support their community. Two years later, they are now in Government Day Secondary School Muchalla in Mubi North Local Government Area, Adamawa State and are more resolute about their dreams. These young people are on a journey to achieve their dreams; thank you donors for coming along with them by providing the textbooks and educational supplies they needed to study and pass their examinations into secondary school.
Your investment has enabled Isaac who is currently 18 and the second person in a family of seven siblings to go into secondary school and Miriam who at 12 is the first person in her family of four siblings to attend secondary school. Isaac wants to study law in the university while , Miriam wants to become a medical doctor. We know that with your continued support they and the other children in Lila community will become educated and healthy adults that will lead their communities out of poverty and build resilient societies!
We especially thank our recurring donor whose unrelenting support has helped us to provide the textbooks and educational supplies! However, we still need $34,519 to ensure that the project is finished on time. CDM Primary School Lainde still needs flooring, windows and desks. While the toddlers in CDM Nursery School Gilmari need our support, because they do not have desks to sit on and are presently sitting on the floor.
Kindly consider becoming a recurring donor and donate to the https://www.globalgiving.org/projects/educate-270-children-in-northern-nigeria/ and please encourage your friends, family, and colleagues to do the same. All donations are tax-deductible for U.S. taxpayers to the full extent permitted by the law. Your donations will help us break the cycle of poverty by providing quality education for our rural beneficiaries. Also visit our blog www.kirfoundation.blogspot.com to learn more about us.
Links: