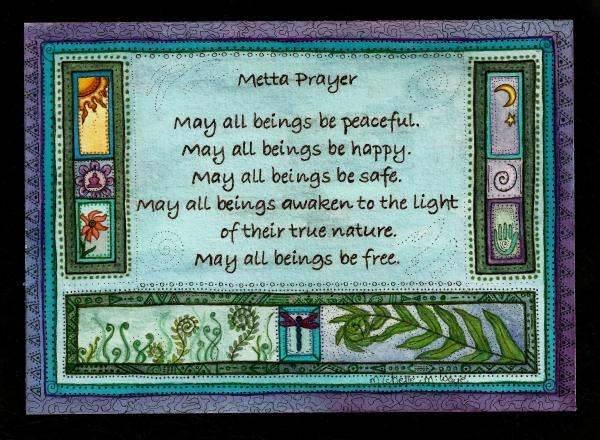 To YOU, our loyal friends and supporters,
Not a day goes by that we don't think of you, and pray you are escaping the Pandemic we all are confronting. Many of you have had first-hand experience visiting the school and meeting the girls and I want to report all are well.
All of us at the Chicuchas Wasi organization, Cusco school staff and the California Administration team feel, as you must also, the devastating pain of so much loss of life globally. We hold you all in our hearts and pray this universal pray that you have not suffered the loss of loved ones or any other hardships due to these times. We will get through this - all of us - together.

The CW girls remember the fun they have in school playing with the friendships developed over several years and deeply miss their trusted buddies and their home-away-from home Their Beautiful CW School. The silver lining with all the family at home in lock-down, is that family relationships have mostly improved greatly. The teachers do talk regularly with the parents on the phone and will soon do home visits to help parents deepen their role in helping the girls not get lazy and forget classes. Our parents are unschooled with few exceptions, so they are learning the assignments alongside their younger daughters. The older girls are used to doing their assignments so ask the teacher by phone for help as needed.

Like all of us the Pandemic has upset the lives we were used to and we are all adapting. We hope the lock-down in Cusco will ease up soon so that family bread winners can go try to find work again. Most are day laborers or domestics and so it remains to be seen when work will open up again. Cusco is a tourist town and economy that needs to work, but I do not expect the borders will open to foreign tourists, a frightening thought, and open the flood gates too fast. We will keep our girls home however, and how we do that will be in the next news update. We can not return to our school as ruled by the Ministry of Education in Peru. All school will be closed until the 2021 March school year.
Home school during CoVid includes:
Three cheers for the cell phone in the CoVid era. Students frequently talk to their teachers on the cell phone during Cusco's stay-at-home law in effect. This is how we are managing the home school with no technology available to our families. Our girls are excited to share their lesson progress with their teacher almost daily. Our teachers are passionate and determined that all the girls will not miss any subjects and will be able to continue March 2021 to the next grade level.
Protecting the Environment
Girls empowerment is infused into every subject and event at our school - even at home. CW girls interview family members with a pretend microphone about protecting the environment. They ask how they are supporting the environment and to explain what they do to help. Some of these stories are recorded with some cell phones to place on Facebook. The entire family is learning to separate, recycle and reuse plastic, bottles, and recycle for other use, also not to burn trees.

English Lesson
Girls take advantage of family members to practice their English lessons at home and the recordings are really good, sadly unable to place videos in these updates. Our girls speak three languages: Quechua their indigenous first language, Spanish and now English that will always give them a job in the Tourist town of Cusco. There is a win-win that happens as the girls learn to share their lessons with siblings and parents…all learn along with the CW students. Below are cute clips of a video of 3rd grade Emeline happily teaching English to her siblings, even the little one learns English. CW girls are really enjoying English lessons with Professor Efrain who is a natural with the girls.

Academic subjects at home
The entire learning adventure is mostly fun (so far) and most are digging in to the assignment and pleasing themselves and their teachers with their success by calling them all hours of the day and night. However, not all are able to stick-to-it and manage alone without parental help, some require more assistance to not fall backwards this school year. Below is an image of teacher Pamela in white standing (mom is behind her) and two sisters (both CW students) that need more help at home.

Scroll down to see more images of the girls working at home. The mother or father is often holding up the phone and asking them questions. It is interesting to note that our CW girls are the first in their families to attend school at all. The silver lining of stay at home school is the parents are learning along with the girls as they do their lessons. See the image below of the student Karolina's Infograaph about Peruvian animals that are now extinct.
PLEASE DONATE - if you can -TO HELP US THROUGH THIS TIME: https://www.globalgiving.org/projects/educate-110-poor-girls-in-cusco-for-economic-survival/
Please visit our CW Facebook page for more stories and great videos too big to put in this news update. https://www.facebook.com/chicuchaswasi/
"I cannot say it enough. CW has the most incredible and dedicated team of teachers, cooks and bus driver Simeon that is possible and rarely does a teaching staff unite to this degree. What a blessing and satisfaction for us all. This is humanity at its best. " - Rae Lewis
** Please BUY the CW STORY **
"JUMP ON THE LOVE TRAIN"
a fundraiser to EDUCATE GIRLS
WWW.chicuchaswasi.org/book/
The CW Emergency Food Program
The coronavirus has created another challenge for our families. Lock-down (Marshall Law in Peru) at home means no one is working and this is devastating for our impoverished families. Lack of Basic Nutrition will effect the growth and development of our young girls. CW Admin. Ruth and staff created an Emergency food program with basic food packages a top priority. You cannot learn while your stomach growls.
In the midst of Peru's CoVid lock-down, Ruth realized that to buy enough food for 30+ families many hands will be needed to buy and carry the food basics like: canned milk, lentils, beans, and pasta; bus driver Simeon, Ruth and cook Saeya all dressed in hazmat protective outfits must enter the unsafe but busy crowded open-market.

A quick trip back to CW school to sort out the food for each family package and once more the CW bus was loaded up with these emergency food packages to hand out to the parents waiting at the gate of the food market and unnoticed by the police. We are adapting to the rules as they change to assure we can deliver the emergency food.
Since the emergency food program will most likely be needed the rest of 2020, Ruth is now buying in larger quantity and using a classroom to separate and prepare packages for our families. This type of bulk shopping from a food staples-store deals only in bulk so no families shop there eliminating a crowd or risk of contagion for our team. Chicuchas Wasi Org and all staff voted to do the right thing and help our families during this crisis trusting that the funds we need to do so would be there. Miraculously donations have begun to come in specifically to feed the CW families at home.
THANK YOU SO MUCH
We plan to continue until this crisis is controlled.
Please see Simeon's wife and daughter husking the just harvested Purple corn image shown below that is unique to the Andes and grown at the school. Another Amazing example of our team!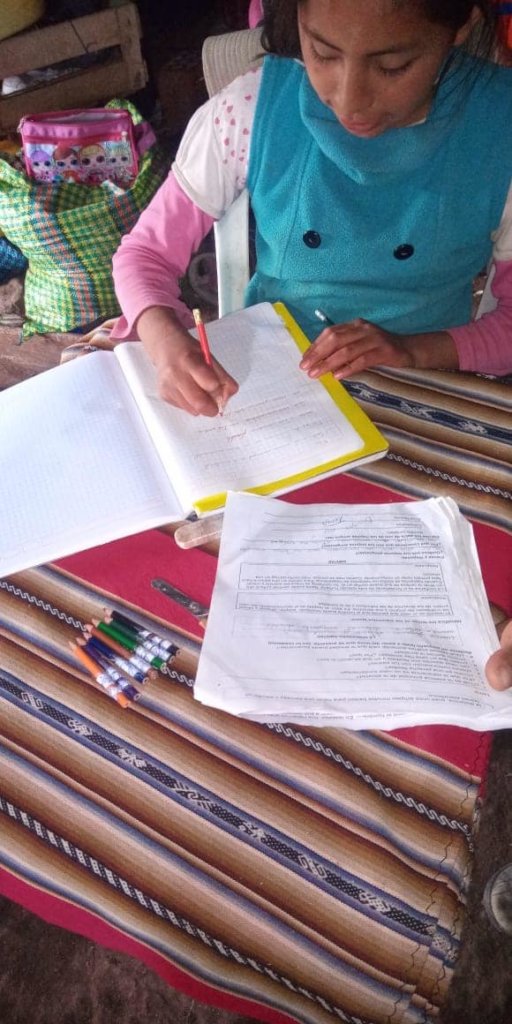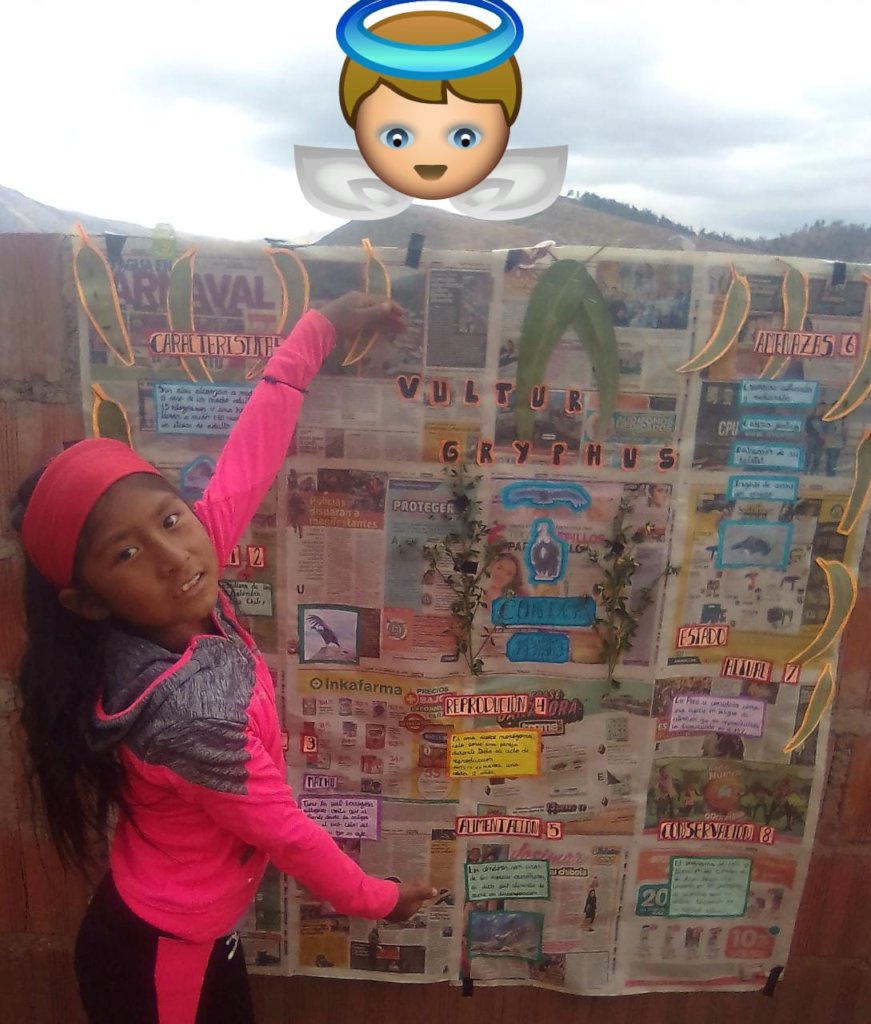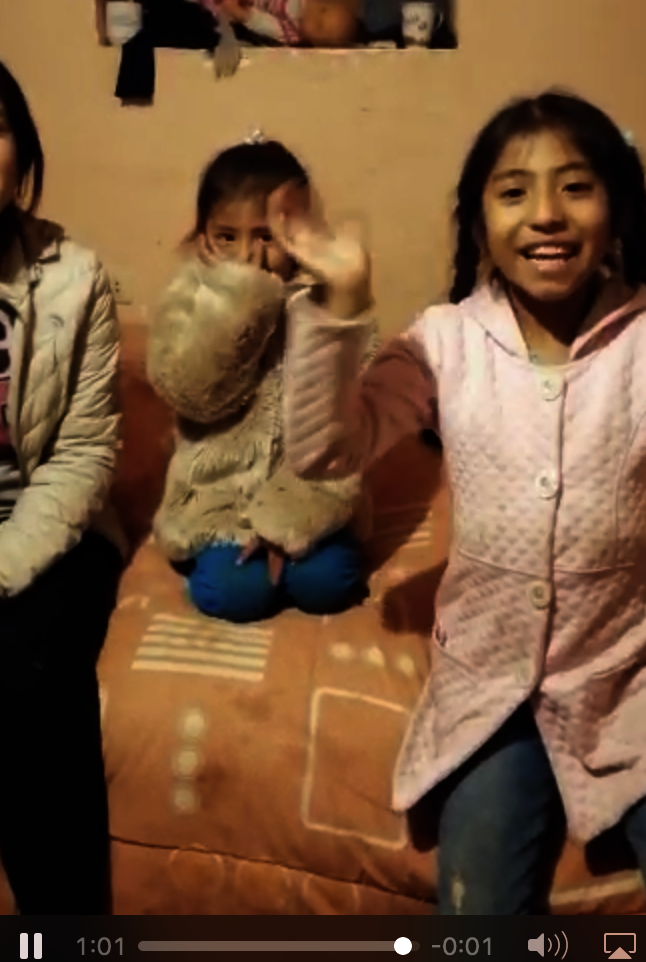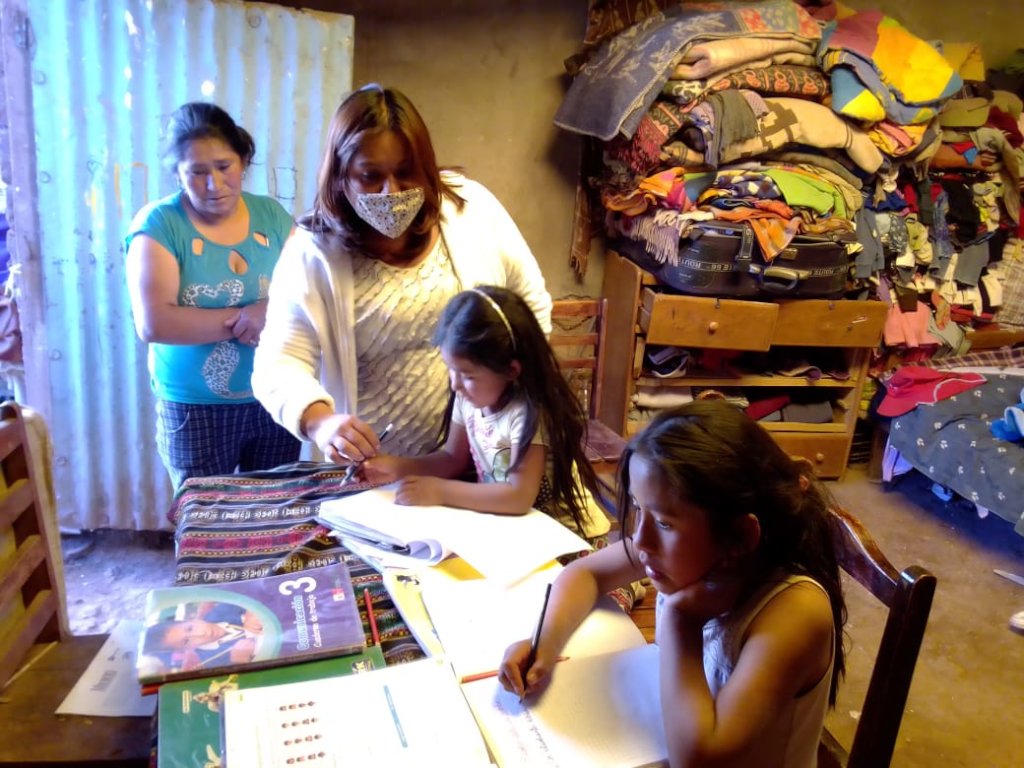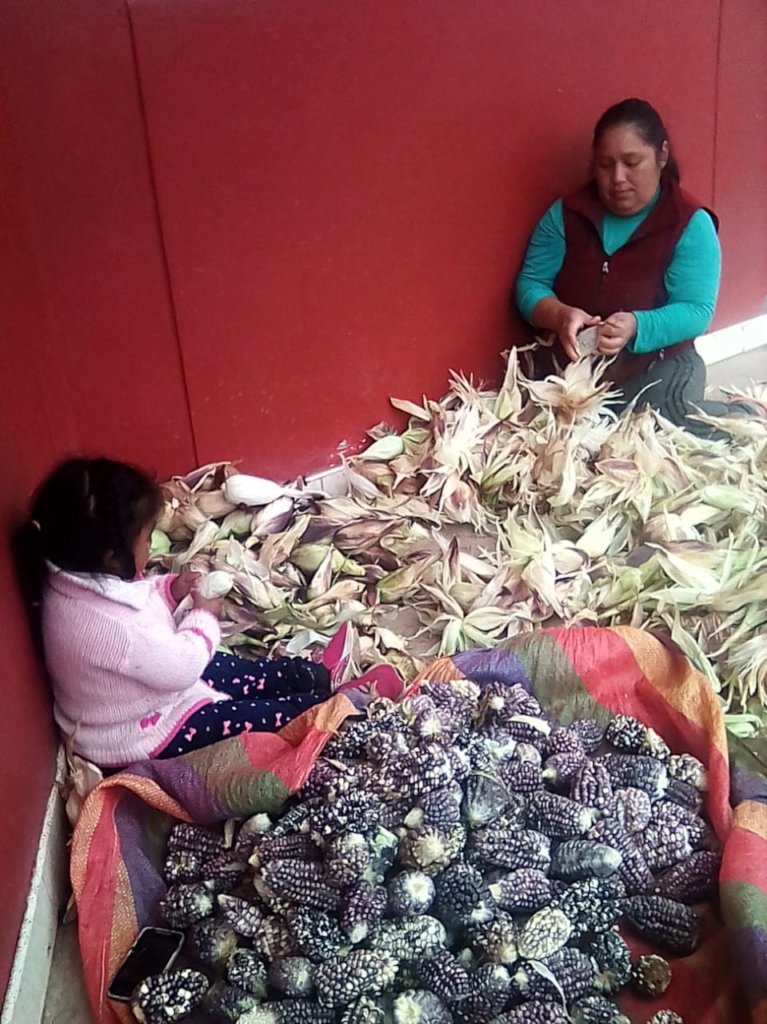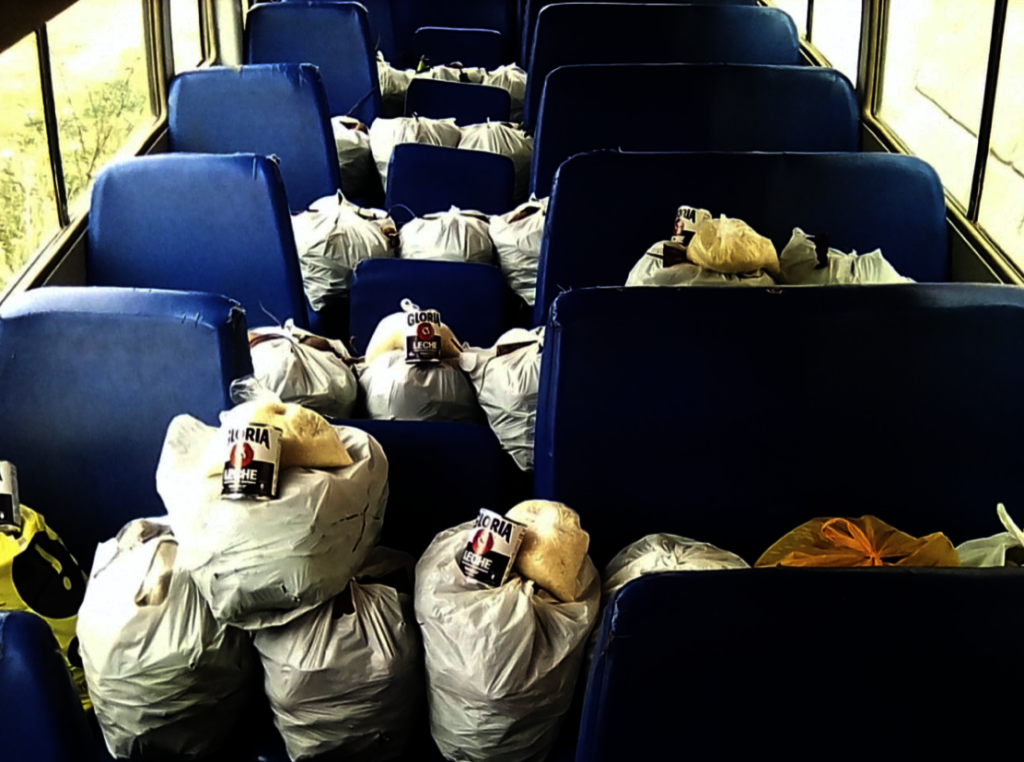 Links: