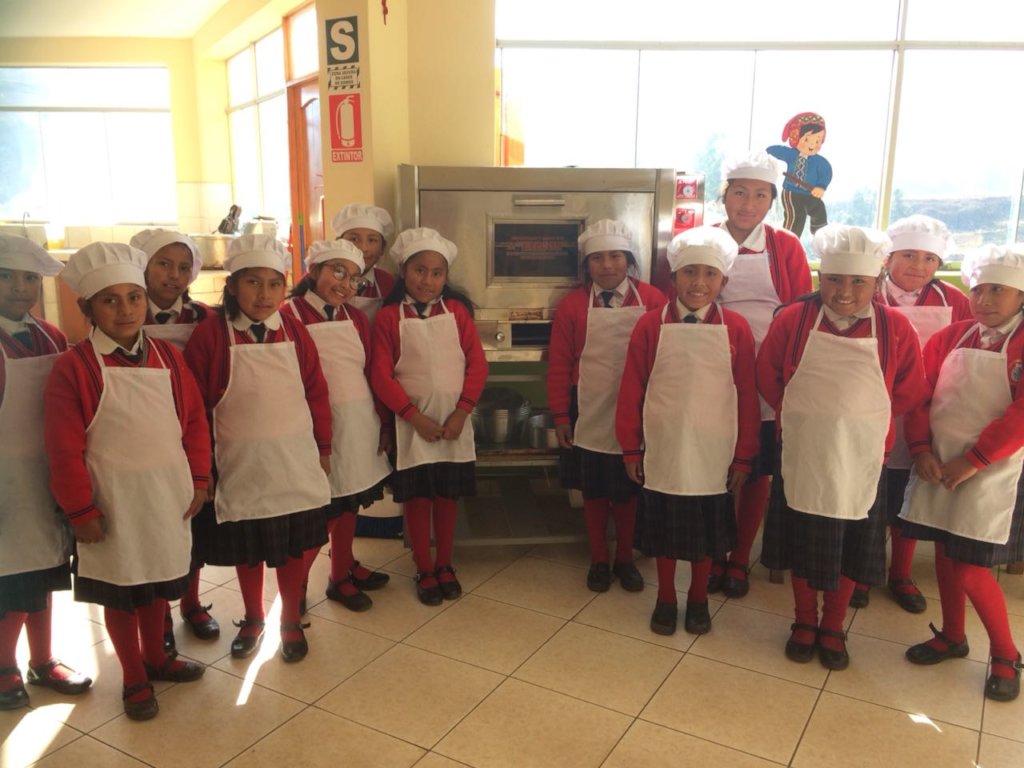 Bakery goods are not found in our community that does not use ovens, so we have discovered an affordable hit?
CW school has a big kitchen and dining room and where after school and weekend baking classes will be taught to help girls fund their education. Here are our first CW Girls standing in front of our new electric commercial oven ready to learn how to make a cake. They are proudly all decked out with official baking gear to help get the message out to the community that CW has an official school bakery to support girls education. Every CW student, from 4 to 12 years of age, will learn to bake cakes, cookies and small finger treats and also how to market them, manage buy ingredients and managing money to earn the much needed funds to pay for school beyond Chicuchas Wasi Primary School. CW eduction for our girls is free to them but public school is not free and the girls will need a way to stay in school that doesn't burden their families already exhausted small income.
The families and the community that we serve use wood fueled rammed earth burners and have no experience with an oven. One of the simple small business ideas that came up was baking affordable cakes, and finger foods to sell. This was the brainstorm of Alejandro, the CW school psychologist, to keep our CW Alumnae girls in high school, reduce the student and family financial stress and to prepare our primary school girls to earn enough to stay in school also when they leave CW.
PLEASE DONATE TO EDUCATE GIRLS
The first batch of experiments were a big success with the students happily providing the taste test. The girls then went out with trays of cookies and finger cakes to try to sell them. They made more than 100% profit on the first try and sold out in a few minutes. What a perfect idea for this rural community where families never get to have baked items other than bread. Real city bakeries charge a lot more than CW will and the girls will still earn enough to save for their education. We plan to have the CW Alumnae girls also attend classes on weekends to earn the funds for their education. These products will cost just pennies to people in rural Cusco, but for this region it will make the difference of girls being educated or not.
Parents were quick to see the value of this Bakery class and have joined together to build a small room to house the hot oven when being used. Traditionally cooking is done outside of the main house in a small structure. The CW staff is purchasing the materials while the parents organize to do most of the work. The school kitchen will be where the prep is done and then carried to the oven. Please come visit us and we will offer you a taste. We are so grateful for the donation of this fabulous baking oven and baking equipment from Martin Currie that will hugely enable the girls future education.
*****************************
"The importance of teaching a marketable skill to the girls of Chicuchas Wasi School for Girls." - CW School Administrator Ruth Uribe
The experience of working with our former students teaches us that when leaving CW school and entering the public high school, students have fees. To say that public education in Peru is free, is not true; students must make payments to enroll, for the acquisition of a uniform, entry exam fees and educational materials The difficult economic situation their parents face often can not afford these expenses.
It is why we made the decision to teach our girls from the 1st grade, pastry and bakery, that is, a "productive skill", but what is it? It is about learning practical knowledge that our students can put into play to build their journey through high school. A "know-how" that is built throughout her school career and is very different from her experience of being a student at the primary level. And they will not require a large budget or a local, it will give them the possibility to earn money to support their studies.
This will be the importance of the support they will provide. It is one more tool for our girls to achieve their goal of studying and achieving a career."
***************************
THANK YOU for YOUR Support and Donations
To MAKE THIS CW SCHOOL PROGRAM POSSIBLE.
PLEASE DONATE ON LINK HERE
https://www.globalgiving.org/projects/educate-110-poor-girls-in-cusco-for-economic-survival/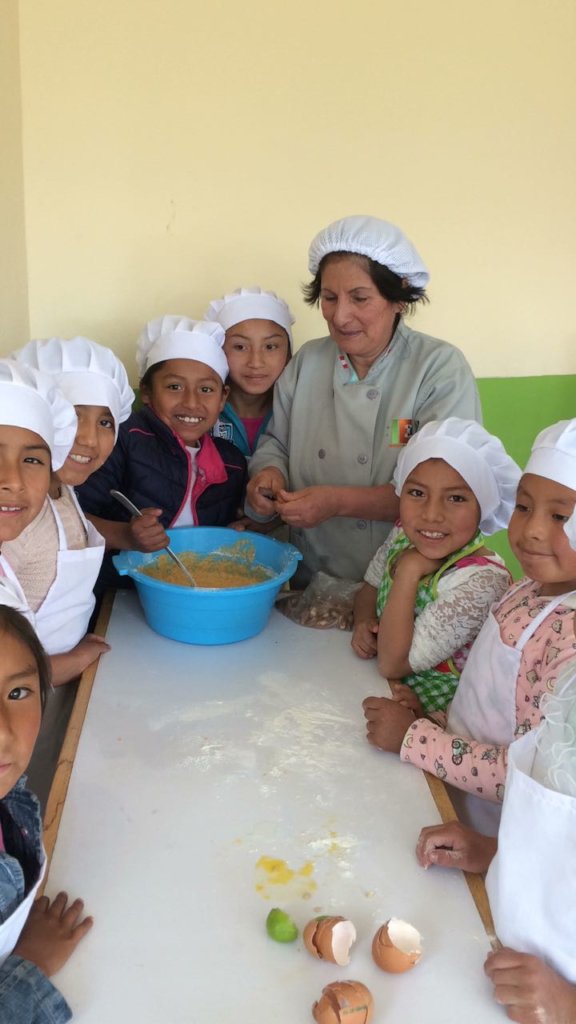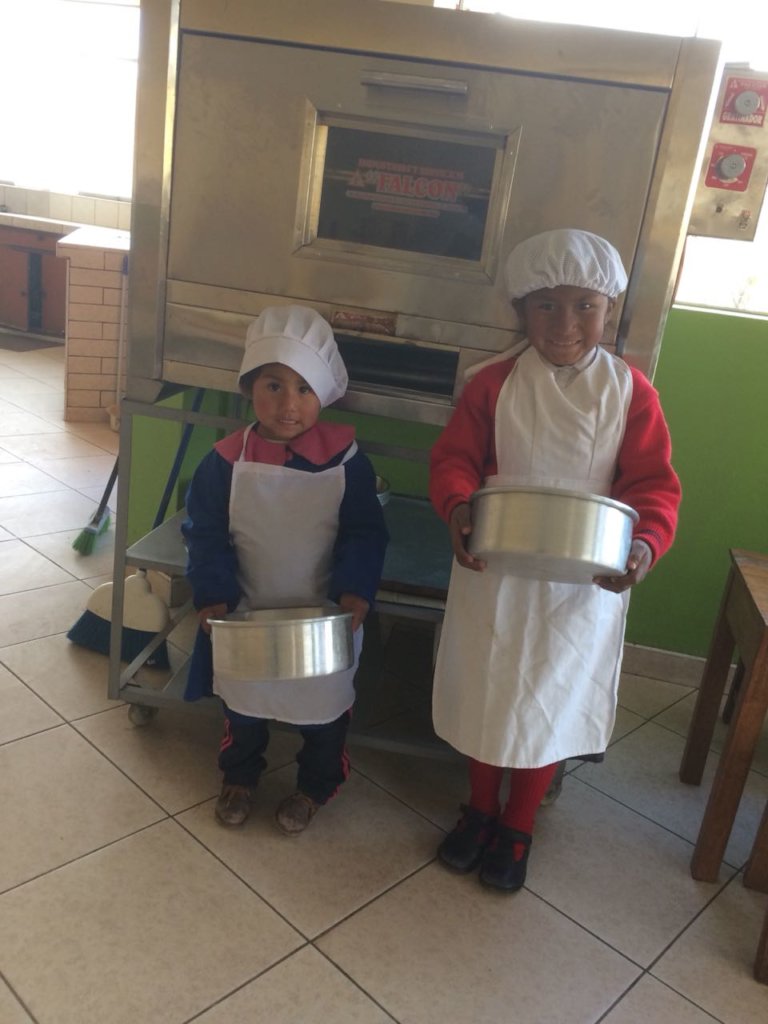 Links: