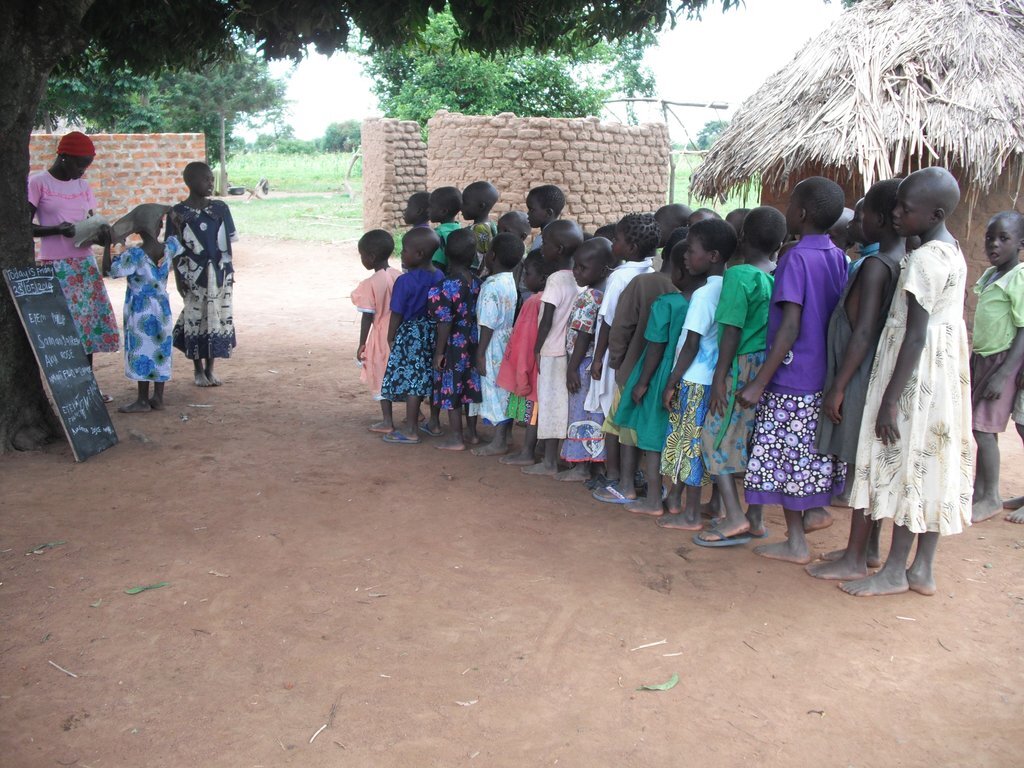 Greetings to all our family of dedicated donor's, Thank you for your continued support to the most vulnerable communities and disadvantaged households in Uganda
We started our journey in 2010 as a community based organization, called ADR Uganda, and later to SHARE Projec also a community based organizationt and in 2018 we became an NGO called SHARE (support for households and aid for rural education). A new account was opened in January 2022, following all the government requirements, including filling of returns, taxes for the last three years 2018,19 and 20.
Unfortunately, at the time of Nanking this report, no funds had been received since the start of this year's to the NGO account and we have been in good and supportive communication with global Giving disbursement staff , the delay was caused by an error on our part! one of the account digit's misplaced. Once we receive the fund's we shall give a comprehensive report in the next three months.
(GlobalGiving)
May 6, 2022, 12:07 EDT
Hi SHARE,
Last time we sent you funds, I recall there being some issues with your account. FXecute has put your recent disbursement on hold as there were also account issues while sending it. Could you please contact your bank and send us any document you have that lists your banking details?
Warmly,
(GlobalGiving)
May 9, 2022, 9:59 EDT
Hi SHARE,
Thank you for sending this and for all your quick responses to emails! Don't apologize, disbursing funds internationally is complicated and we don't expect anyone to be an expert on it - that's why we're here to help. I think I may have found the issue! Your account number was one digit off (there was a 7 where there should have been a 1). I'll let FXecute know to reprocess the disbursement to the new correct account number and I'm hoping this will solve the issues.
Warmly,
(GlobalGiving)
Jun 1, 2022, 11:22 EDT
Hi SHARE,
FXecute let us know this morning that the disbursement was successfully processed to your account this morning. Please let me know if you do not receive it in the next few days!
Warmly,
SHARE NGO has existed for now five years in operation, working for the disadvantaged with a government registration and permit to operate in Uganda and a mandate to help fight poverty which we are doing with donor help to build existing permanent classrooms, desks and purchase of food for boarding children sleeping in the classrooms and pay for staff accommodations and NGO office rent, and utilities, electric and water bill's, in lures filed activities and transportation expenses.
Our journey with you has been of great importance, an impact has been made children who used not to go to school or because school location were very far from their community or village now had the opportunity to go to school and jobless youth also got jobs as teachers,. cooks, matron's, or nigh and day guards, watching the the school and others like women collecting firewood and slowing local foods,and this helped the community value the existence of the school facility in their. Illage.
Rural Education in Uganda is very challenging especially, it's not accessible for most families and in most cases their children remain in the poverty a cycle that is inherited for generations, and life in this households is very biting and extreme in the life of very poor and innocent children. Helping such family come handy and bring hope and a future that tarnaslates into opportunities to become useful citizens.
Poverty has left most families begging, stealing to servive, or joining gangs in small towns and big cities gambling criminals and all these lead to death of these young vulnerable child, It's there all our collective responsibility to try and do something for these children and make education sponsor opportunities available for them and there affected households.
Today as an NGO, with government registration and permit, we have the following mandates
• Support the government in the fight acute level's of poverty among many rural households, orphaned children and widows, single mother's
• Provide scholastic materials for the disadvantaged children
• Provide skills for selfreliance to youths, most of which have increased due to COVID-19
• Support households health care as a new inntiative, where we have provided a Health Center to the poorest,
Our responsibility as an NGO is very demanding and we can not do it without you, for example, we are proud today to see rural children come to better classrooms compared to what we had before, if no such sacrifices were made, we would not be able to speak of anything today, (Hammerslag school Uganda) also before COVID-19 hit worldwide, we had started a youth skilling training center but we did not get much donations to sustain it, (Quiros Institute of Technology)
As we speak, COVID-19 has caused more damage to young people here in Africa due to ilack of opportunities available for them get skills education or find a job,
• Tailoring, fashion and design
• Carpentry, woodworking
• Driving, Mechanic's, motorcycle and vihecles
• Baking, hotels and resorts management
• Manson works, building and. Onstruction
Lack of these opportunities for disadvantaged communities. This problem is compounded by the nature of homes these youths come from, most of these children come from families who's parents died of HIV Aids, also most of those parents got killed during the cattle raides, overthrow of the passed governments and kony war . Google the story of invisible children. For many years, the Eastern, Northern have not seen Relative Peace or come out of poverty?
SHARE has planned some inntiatives to get some support and intervention for the disadvantaged communities in Uganda in the following areas,
• Pallisa, complete classroom construction for the disadvantaged children, Hammerslag school. Dormitories, Dinning Hall, buy land to expand school compound and build teachers House.. Build better Community Health Center, provide a community service ambulance.
• Karamoja region, support the education of pastoralist children who turn into worriors and looting cattle from neighborhoring districts such as teso, lango and kapchorwa etc. Purchase scholastic books, field volunteers.
• Gulu, lango and kitgum all I. Northern Uganda affected bythekony wars and wars in southern Sudan making children become refugees and suffer in camps, not education,health and salter, all there cause traumer to these children and above all providing no future of hope of Bette livelihoods of families to belong together. During war time these children sleep under trees, bushes and no food to eat.
• Teso region, these region has suffered war of plz types, including the fall of governments and most recently rebel activities and instability that has stayed for years a now cattle raiders from the karamoja region, these kill, rape women and mime their victims in the process. Eg, Soroti, Kumi and Bukedea skills education programs.
Education and health are very crusual in the living of the disadvantaged communities and as a recovery plan, our NGO is asking for all people of good will, including interested volunteers to join our NGO to help make interventions that will give these children in alll the above mentioned backgrounds some hope of good education, health and salter, includes giving youtnskilss for selfreliance, COVID-19 has made most young girls getting pregnant, having little babies, is a treble situation, these if not helped now, they can never servive poverty.
At the international scenes, the war in Ukraine has made matter's worse, most rural families can not afford basic needs such as food, just one meal a day is a struggle, children are falling sick due malnutrition, poor feeding, medical support is lacking and malaria is killing poor children, the elderly have no hope at all, the rise of non communicable diseases among them is on the increase, there is no community ambulance available for them, elderly, no one to care for their needs, during COVID-19 time, they got locked out of the society, most died in their houses, no one to help.
According to the study conducted by the parish chief's, it's was discovered that most of these had no one to care for them, if they had children, these were grandkids who could not get to the market or help the elderly get to the market or hospital when that need arises.
Donate today, and be part of this community concerns and support for the most vulnerable and needy. Your donation can change a life of the needy or make an impact in the following areas
• Sponsor a street, needy child
• Skills for selfreliance to COVID-19 affected youths
• Fight acute level's of poverty among rural households households
• Provide medical equipment's, ambulance to community health facility,
• Support widow's come out of poverty through support education of their children.

Conlution
Big thank you to all the GlobalGiving staff and community for supporing our NGO to be able to contribute to the development of our country and community by making it possible from the funds sent each month to help improve lives of rural children and their affected households!
Because of your good testimony worldwide, we have been able to maintain some credible team of monthly donation's, and donaors keep our work for the poor noticable.
We very much appreciate the fact that, economic hardships, and most recently COVID-19 affected most of our donors but we are lucky to have those few who can share the little they ge, or sacrifice a meal or two just to see that a poor child or youth is given an education or a skill to servive. Eg.Donor giving an orphan a book or pencil and a pen, a school dropout youth skills for selfreliance or a poor woman an opportunity to give birth in a health facility not a bush or a t home and died in the process is most valued in our community.would be very much appreciated by the poorest in society, without you, nothing can be reported about.
Once again we are very happy for your continued support to the NGO, our new account puts us on the level of gaining trust and partnerships with international organizations. Kindly invite friends and family to donate and help strengthen our impact in Uganda.
Finally, any interest, international or local is most welcome to join SHARE NGO to build a better future for the disadvantaged communities in Uganda.
Partnerships, grants, international organizations, volunteers and sponsors welcomed.
Thank you for your patience and support!