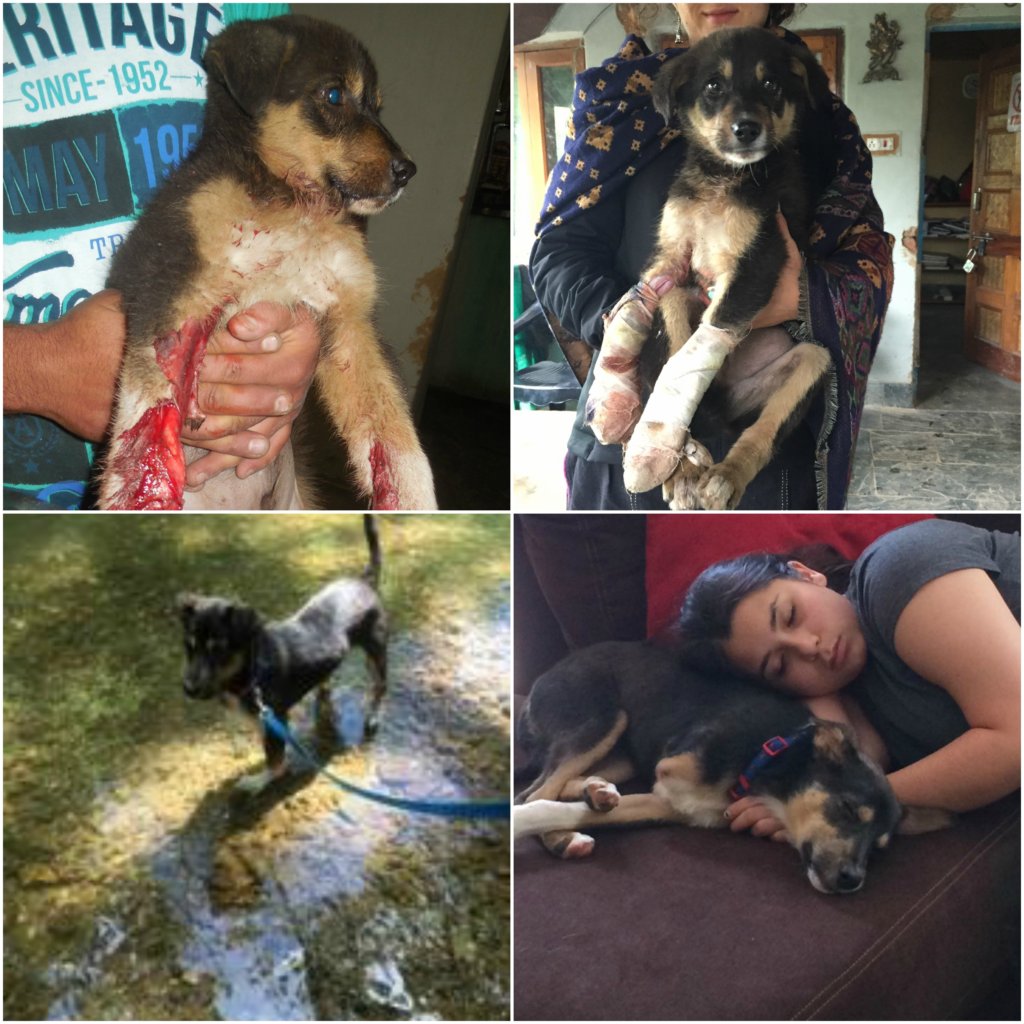 Hello DAR friends,
We love it when we tragedy turns in a miracle. That is the story I want to share with you today.
On March 10, we received a call about a puppy being hit by a car. Now, unfortunately for us, we get calls like this daily. What was unusual is that this was one of the bloodiest messes we have seen in years. Even in all of the pain he was in, he was calm and quiet.
After and x-ray and other tests, it was determined that the only way he could survive, was if we amputated his front leg. Now, this was great news, however, since in India, hardly anyone adopts stray dogs from the street, let alone a dog with three legs, that this would cause issues with our already maxed out facility. However, of course we did the amputation and off he went.. Literally! Even though he was shy and kept to himself a lot, love from humans and some other dogs helped to bring him out of his shell. Take a look at Sunny on his first hike below:
Then, miraculously, after a few Facebook posts and email communication about our dear Sunny, a family from the United States decided he was a perfect for their family. WE WERE OVER THE MOON!
It is not cheap to get a dog out of Dharamsala to Pennsylvania, so with the efforts of many people (mostly the adoptive family) to find donors, we can now happily report he is now sleeping on couches, and getting taking on walks to creeks.
We all miss him terribly but could not be happier to know that he will have an incredible life full of love and fun. His new life is about as far away from the life of street dog of India that one could be.
If you can, please mark down the date and time for the next Global Giving Matching Day where Dharamsala Animal Rescue will receive a 50% Matching for each donation you make until funds run out. On June 15 from 9AM EDT to 11:59PM EDT $110,000 are availble for matching.
In addition for the UK folks, Global Giving UK has 10,000 pounds worth of matching funds. DAR will receive 50% matching if you donate betweek on June 16th from 14:00 BST to 4:59:59 BST.
So, please, mark your calendars, share with your friends, and help us help more Sunny's !
Thank you!
Links: