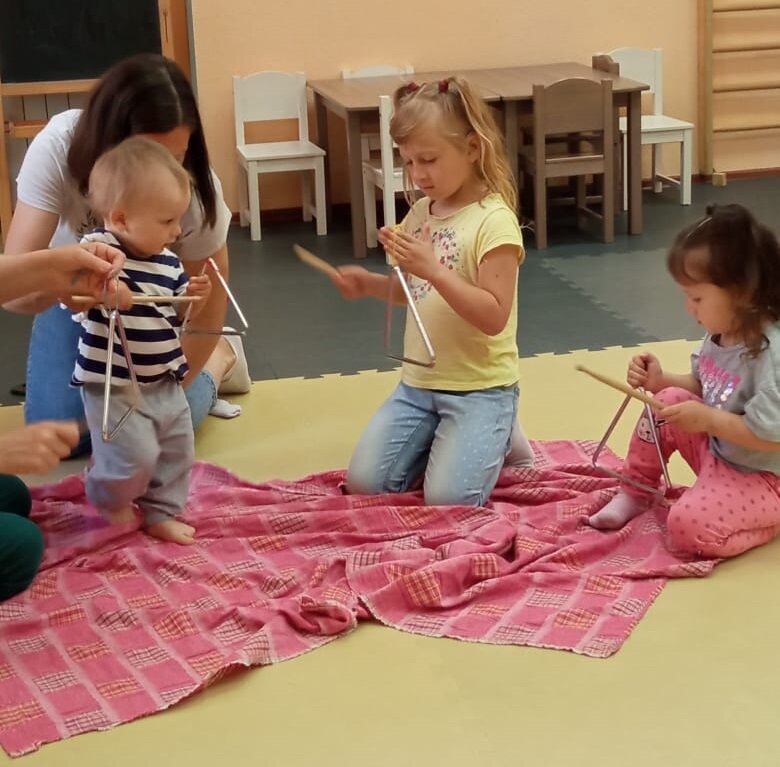 Our Club is split into two groups: one for parents who are hearing, and one for parents who are deaf. Antonina and her family have been a part of our second group for some years. They have three children, Ronya, Trina and Artur. All three have impaired hearing, as do their parents, and all three have come to our club since they were babies. Antonina and her partner use Russian sign language and speech to communicate. They make sure their children use their hearing aids consistently, which has helped them a great deal. Ronya, the eldest, has just started mainstream school and speaks very well. Trina started kindergarten in September, but also comes to the Club with her brother. She has started saying a lot of words and even full sentences. Arthur is just 15 months old. He usually comes to the Club with his Papa. He is a very positive little boy. He makes a lot of sounds, and can say several words already. He also knows how to communicate what he wants and how he is feeling with gestures, signs and smiles. As well as the main Club activities we were able to arrange a meeting with a paediatrician for Artur's parents to advise on how they could help the development of Artur's motor skills, which they were concerned about.
Artur's papa is very attentive and kind. He understands children very well and plays with his own children and the others in the group. His mum comes when her work allows. She is a sportswoman and travels to compete. They are a very friendly family and an excellent example for other parents in our group. Antonina may not be able to come frequently to the Club, but she can see how important they are and greatly appreciates them.
"We have brought all three children to the Club since they were babies, about 8 months old. We really like the atmosphere here. The teachers are very attentive and observant. If a child is tired, no-one gets cross or forces them to do anything. They simply continue the activity with the other children. The child gets bored playing on their own and soon returns to the activity. My children love the music, the games and the tea and snacks. The Club gives the children a great deal, an interest in music and the sounds around them, development of their fine motor skills, getting to know and play with other children, drawing, plasticine, role-play, and learning manners. There are so many helpful activities! Thank you to all the teachers!"
Fortunately, just before the sanctions hit Russia, a large tranche of your donations was transferred to us, and so we keep working. At present we are exploring all legal avenues to ensure donations reach our projects and we will keep you posted on our progress.