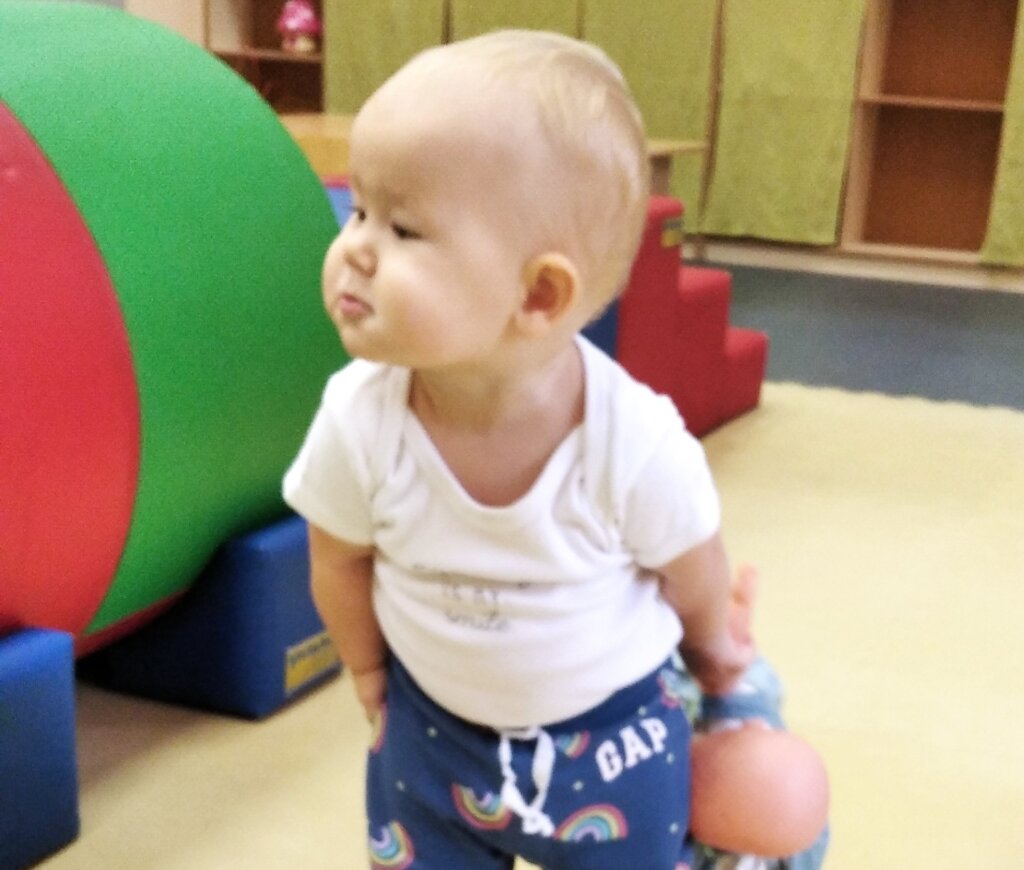 Our Club got back together in September and we have been welcoming back old friends and getting to know new families. Angela and Adriana are new to our Club, and it was a great joy to celebrate Adriana's first birthday with her last week. The children and parents made a birthday card together for her and, of course, we had a cake.
Adriana is a very positive girl. She explores her surroundings with interest, examines the toys carefully and plays with them. She approaches other children, watches them play and imitates them.
We are very impressed by her mother, Angela, who is also hearing impaired. They have very good communication between them. Angela has taught Adriana various signs (Mum, Dad, eat, drink, wash hands, ask, refuse). She has really encouraged Adriana to communicate in the ways open to her at the moment, and this spills over into her communication with other adults and children. She is full of smiles and gestures.
In Russia, sign language has very little official support and is not taught in schools for the deaf. What official training is available is often very out-dated and not in touch with how the deaf community actually communicate. We have groups for hearing and deaf parents and we encourage all kinds of communication. We see how using signs can bring children and parents closer together and smooth the path in every day life.
Svetlana studies sign language in a different group at our Early Intervention Institute. Her son is 15 now. She tells her story of trying to get him the education and help he needed. Only diagnosed aged 5, she was then told that if he learned to sign, he wouldn't learn to talk. It wasn't until a teacher joined the school and set up a group to teach parents how to sign that they had their breakthrough. Svetlana says, "When I was able to tell my son the first fairy tale in our life in sign language, he hugged and kissed me, and I cried."
She goes on, "There is another aspect of the problem. When a deaf or deaf child is born in a family where parents themselves have hearing disorders, it is perceived as normal. Deaf people do not consider themselves disabled. It's just people talking a different language. Deaf children in such families begin to speak even before hearing. From here on - timely and normal development delays. Such little ones, who come to the first grade, remember everything quickly and quickly and learn easier. Having a deaf child in a hearing family is a huge stress. The natural first human reaction is denial, looking for possible solutions. Psychologists should connect here and work with parents, because the whole future fate of the child depends on the behavior of the parents. But parents are left alone with their grief, which, I know for myself and many acquaintances, breaks a person, sometimes irreparably."
Sometimes we need to hear other people's bad experiences, to remember how special the Club we have created is. Working with our colleagues to encourage early diagnosis and early support for children and parents pays dividends throughout their childhood and beyond. Signing, Cochlear Implants, speech. These are all means to an end: communication. Where parents are struggling we can give them the tools to communicate with their children and help them develop. Above all, no parent is left alone. If their child's diagnosis leaves them grief-stricken, we are able to pick them up and show them the wonderful potential their child has.
Thank you for being with us through 2021. We very much appreciate all the donations, which mean we can support Angela and Adriana and other families living with impaired hearing. We wish you all a very happy New Year.