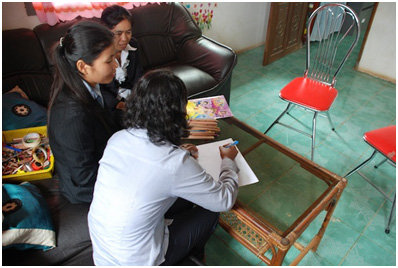 Like so many of the people we help, 20 year-old Huon (name has been changed) is one of many children in her family who dropped out of school early to earn a living. Three years ago, ever difficult financial circumstances persuaded her to travel to Malaysia for work through a Cambodian recruiting agency. Unbeknownst to her, all too often these agencies are thinly veiled fronts for human trafficking rings.
Once in Malaysia, Huon was overworked, beaten and starved at the hands of her employers. Needless to say, she didn't receive her wages. At her first opportunity to communicate with the Malaysian agency which placed her, Huon filed a complaint, requested to be placed elsewhere and to have her back-wages paid.
To her great relief, the agency agreed to find Huon another job, but her hopes quickly turned to horror. She was drugged and abused even worse than before. Recruiting agents broke into the bathroom while she was showering, taking photos of her.
Terrified, Huon threatened to have them arrested, but they countered with a greater menace – they knew where her family lived. Any attempt at retaliation from Huon would be paid for by her loved ones.
The fear for her own safety, as well as her family's and the strain of trauma weighed heavily on Huon. She cracked. Throwing random fits and violent outbursts at all hours, even in the middle of the night, the agency conceded that her instability was more than she was worth to them. They transferred her to a mental hospital, where she was repatriated to Cambodia.
Huon has been at our shelter for five months now, receiving medication and individual counseling. Her recovery is slow, but overall her condition has greatly improved.
Although the Consoling Through Counseling project pursues prosecutions and convictions of our clients' persecutors, in Huon's case the most we can do is attempt to recover her unpaid wages. Cambodia has no memorandum of understanding with Malaysia regarding migrant labor, leaving us no means by which to investigate abuses of Cambodians on Malaysian soil. Meanwhile, the Cambodian recruiting agency that contracted Huon has gone underground.
However, Huon's case is one of many that has been highlighted by groups and advocates currently working on an agreement with the Malaysian government to recognize legal rights of migrant workers. We are happy to see greater emphasis being placed on international cooperation to stymie criminal networks and bring perpetrators to justice.
Every dollar you give brings a victim closer to closure and healing – including prosecuting her abuser when possible. Thank you for fighting with us!
Links: