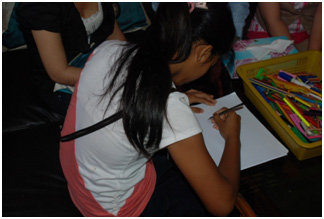 The daughter of farm laborers, 14 year-old Suy Channery* left the public school system in grade three to help out with adult responsibilities. Her voice became soft when we asked about her education. "I dropped out of school a long time ago," she says. "When I was 10 years old I worked in Thailand for a year making leather shoes. It wasn't hard, as I was there with my two older sisters and a neighbor. The working day was 7-12 hours, and we each made $60 per month."
Last year, a friend from a neighboring farm asked Channery to stay with her while her parents were away. The young woman's 18 year-old brother came in to where Channery was sleeping that night and raped her, covering her mouth to stifle her cries. "I tried to make him stop, but he was too strong," she says.
Channery told her mother what had happened, the police were called and the young man was arrested in June 2010. We met Channery when the two families were unable to come to an agreement on compensation, and in September asked our local partner (the Cambodian Women's Crisis Center) for legal advice. They referred Channery to our safe shelter in nearby Sisophon.
Our counselor, Sokny, reports that Channery displayed symptoms of depression and withdrawal similar to that of many trauma victims: she didn't bathe, she isolated herself from others, cried frequently, and discussed feelings of hopelessness and anger. "I felt ashamed of myself and felt my reputation was destroyed," Channery recalls. "I thought my neighbors, being the only people I knew, would think badly of me."
With nine months of nurturing through shelter activities and individual and group counseling, Channery's outlook improved markedly. She began communicating more naturally, made friends among the other patients, and reported feeling less ashamed.
When her court hearing arrived Channery gathered all her courage to tell her story in its entirety to a room full of strangers - and her attacker. Once the terrifying experience was over, she was filled with relief. She had braved public humiliation and survived – and found a strength she didn't know she'd had.
While we hoped that the defendant would be sentenced to 15 years for sexually assaulting a minor, in the court considered the act to be consensual since the perpetrator's sister was not woken up by her cries. He received four years for having sex with a minor and was ordered to pay $10,000 in compensation.
Re-entering the school system will be difficult for someone as far behind as Channery. She took tailoring training at the shelter, and was reintegrated with a $50 life start-up gift in August.
*name has been changed
Links: