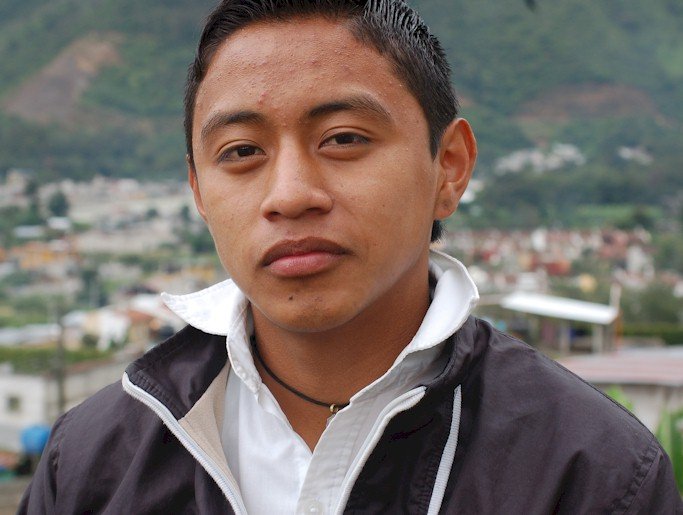 FELIPE'S STORY

Felipe was born into the mountainside slum of Vista Hermosa overlooking the UNESCO city of La Antigua Guatemala. His life was rough. In his hometown The weather brings water shortages and then landslides, the streets offer the constant allure of drugs, violence and gangs.
But as we all know, education is the key to taking control of your future, and this is especially true for Felipe.
"I was angry, angry at life, at my parents, at myself and somehow that anger is what kept me safe. I could protect myself, as I always used to say in those days, punch first ask questions after. I became tough-boy.
Felipe's father left them young, and as is a cultural norm in those forgotten areas of Guatemala, set his new family in the same slum on a pedestal far higher than his first, especially in Felipe's case. "I hated my dad for telling me how well my 'other' brother was doing all the time – did he not see me?" With his mom overwhelmed with work and his younger siblings, Felipe fell behind in his schooling and eventually got suspended.

Luckily, at the base of the mountainside slum there was a non-profit school for kids is such challenging positions. That is where we met Felipe in 2010. A showoff, a rebel, a bully by need, who certainly showed potential, but could not seem to get himself out of his own way.
We were offering a philosophy class at this school, and it soon became clear that Felipe, amongst others, had great interest, potential and a love of wisdom. So, working together over the following two years we made every effort to allow his inherent desire to learn to poke its head around his macho, funny-man persona.
We found Felipe a sponsor to help with his education after he graduated high-school. He seemed unusually appreciative of this, as did his mom, since part of the education sponsorship also includes a dignified monthly food basket for the family. "I can't believe someone I hardly know is paying for my studies" he said.
In 2011 we were lucky enough to be able to start our own foundation. As part of that formation we created a weekly Critical-Thinking / Philosophy class for all of our sponsored teenagers.

In the second year of these classes we spent the entire year working on a module called Ego/Shadow. This is where we learned the true meaning for Felipe of what he had told us years earlier "… punch first, ask questions after". His base emotion, anger, rode prominently on his knuckles and the whole world was paying for his suffering, and as he later realized, so was he.
The Ego/Shadow module is based in part of Freudian and Jungian theory of unconscious drives, yet it adds the power to access and allow the expression of particular aspects of the self (such as authentic and shadow anger) using a process developed by a Zen Master. Felipe's comment: "It calms me down, it helps me think more clearly, it makes me a better man."
Of course we played games with the class to help them get their minds around this complexity. The outcome for Felipe was that after about six months in this class, he was beginning to identify emotions as they arose and he could ask himself whether they were his own shadow, or if they were authentic. "This is huge!"
Then he told us a story about a kid in this technical drawing class; "The teacher was scolding him, the whole class was behind the teacher, and the kid was mortified yet I noticed I felt compassion and sorrow… this was the first time in my whole life where I noticed I did not run with the crowd and become the unconscious condemner. I was shocked to see the Ego/Shadow process working inside me. It really helped me take the perspective of this poor kid, I felt sorry for him, even though there was nothing I could do for him."
Felipe continued to attend our classes and as his macho persona softened to reveal a young man of great humility. We were offered the opportunity to start a full time, three-year, teaching-training for six of our top students. We had seven to pick from, one of whom was Felipe. But during the qualifying presentations, Felipe slipped back a little into his old ways and heckled two of the other students as they were speaking. "I assumed since I was a senior student that I would get one of the places", he later told us.
We decided that, though his heart was in the right place, he was not suitable for this long-term program. When we told him he was devastated, and he cried right in front of us, the rebel melting in the face of opportunity lost.
However, just before the kick off date, one of the other boys we selected had to move away to the south of the country so we had an opening… this was one more shot for Felipe. Needless to say, he was overjoyed, and once again, cried, yet this time, tears of joy and potential rolled down his cheeks.
Fast forward to mid-2015, Felipe is now four months into the full time, three-year, teaching-training. He is excelling, as are his peers, with the Russian classics, the history of Guatemala, philosophy, Spanish, English, and in his work with our part-time staff psychologist. He graduated with a technical drawing diploma. Felipe now holds his head high, a confident young man, who knows that potential, when seen and cultivated, can be grown and harvested for the great benefit of his fellow countrymen and women.
He still lives with his mom in that slum. He carries pepper spray and has learned to channel that fountain of energy into kickboxing and soccer. And it's been over two years since he came to class with a bruise.

We expect him to be a great teacher and a powerful living example of transformation.