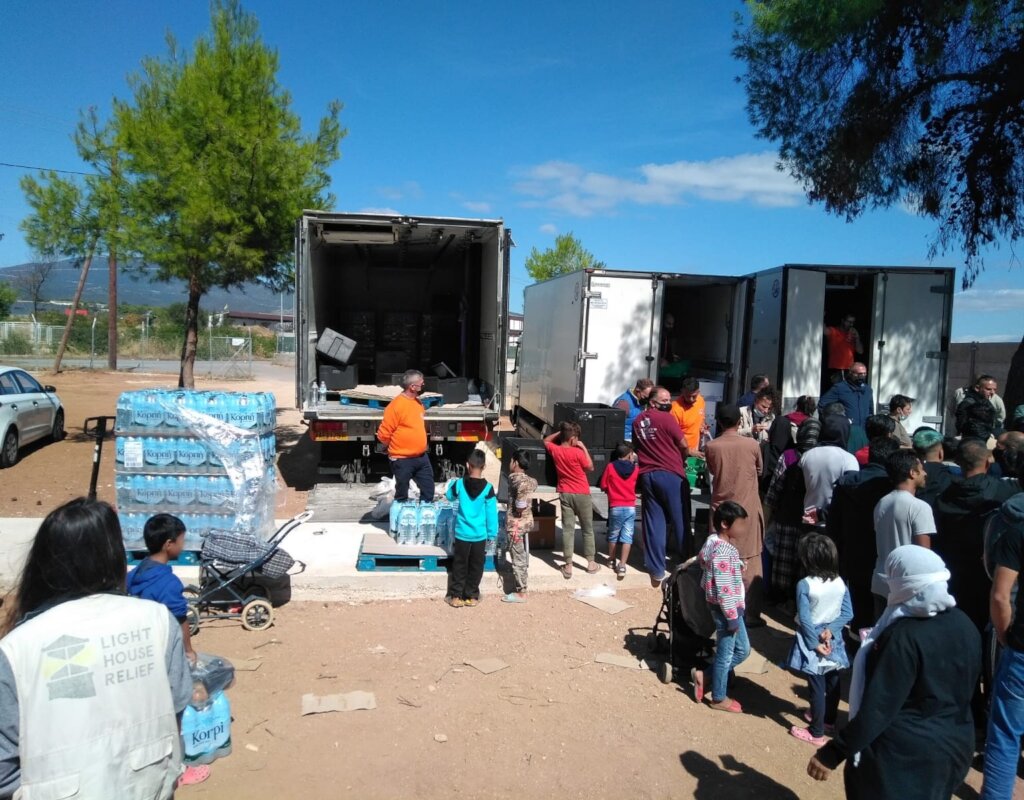 It has been one year since we launched our GlobalGiving campaign to provide critical support to refugees and asylum seekers in Greece. The past months have at times been turbulent, but also inspiring and rewarding as our teams have come together to tackle momentous challenges head on. You have played a vital role in this.
This year, you have enabled our team to provide emergency relief and psychosocial support to refugees and asylum seekers living in Greece. However, we know that over the coming months needs will increase.
Recently, refugees and asylum seekers lost access to cash assistance as the responsibility for distribution transferred from UNHCR to the Greek government. It has now been over two months since residents of camps have received cash, and in its place, food distributions have been set up - however, the food is of poor quality, and many residents of camps are completely excluded from receiving it.
The loss of cash assistance has pushed many people into even more precarious situations.
Your support has enabled our team to provide consistent psychosocial support in Ritsona Camp, in order to alleviate the distress of these harsh policies. We also worked with another organisation to coordinate a food distribution of dry food to residents who were excluded from working closely with other organisations to coordinate food distributions. Our team has also been supporting camp residents as they grapple with this distressing change by offering consistent psychosocial support in our spaces.
As we look back on this year, we would like to share an overview of everything we have achieved, thanks to your generous support.
Here's a look back at the achievements of our Psychosocial Support team in Ritsona Camp since the start of the year!
From January to November 2021, our Child Friendly Space (CFS) welcomed an average of 99 children per month. In CFS sessions, children aged 3 and 4 years old participate in games, crafts, singalongs, and emotional regulation exercises. At a time of increased isolation and stress, these sessions have proven to be vital, and we're proud to now be able to provide two sessions a week for each child in this age group.
Our Youth Engagements Space, a dynamic drop-in space for youth aged 15 and up, offered workshops, recreational activities and informal counseling to an average of 100 residents per month. Workshops included art, bracelet-making, and English language. The youth themselves also led several workshops, sharing their art, photography and technology skills with their peers! Our Youth Online Space platform, created to provide additional support during the lockdown, averaged 75 active users per month while COVID-related restrictions were in place.
Meanwhile, our Sports Programme continued to offer daily cooperative sports and games to an average of 84 children per month, between the ages of 7 and 12. Through the Sports Programme, we've also been delighted to offer weekly yoga sessions for Resident Volunteers, as well as for women and girls. Our Football Coach Intern has also been implementing extremely popular daily football sessions!
All of our programmes are made possible thanks to your donations, and supported by our brilliant team of Resident Volunteers - residents of Ritsona Camp who help us to plan and implement programmes. Since January, 24 Resident Volunteers have received training and helped plan and carry out our activities. Several RVs have also led activities, including emotional regulation sessions in the CFS and popular art workshops in the YES!
Thanks to your support, we also successfully launched our Streetwork Project in Athens, and the project continues to grow!
When we set out to launch the Streetwork project in Athens, we knew that an urgent situation was developing on the mainland of Greece. Many asylum seekers and refugees are struggling to find housing, medical support, and legal support. In the past months, we have learnt that these needs are complex, interconnect, and require a holistic and sustained approach.
Since December, you have enabled us to support over 1,983 families and individuals experiencing various forms of homelessness. This represents over 4,044 people, over 37% of whom were children. We referred 744 cases to our network of 30 partner organisations, and provided sustained, holistic support to 374 complex cases. On over 777 occasions, we supported people with medical concerns, either helping them book an appointment, or referring them to a medical actor.
Providing people with essential items is also an important part of our project, and our team has distributed over 11,412 non-food items, including nearly 621 baby supplies and over 9,471 hygiene articles, since we started in December.
In the coming months, we foresee mounting challenges for asylum seekers and refugees in Greece as they contend with increasingly hostile policies, including the building of walls around camps, lack of access to cash assistance, and restrictive asylum policies that could leave thousands in limbo. We are committed to providing sustainable, dignified support as refugees and asylum seekers navigate their next steps.
On Giving Tuesday we launched our end of year campaign on GlobalGiving. Thank you so much for your generous support. Through December we are fundraising to sustain our operations and support asylum seekers and refugees in transcending the barriers that they face. As the situation in Greece continues to evolve, we are committed to adapting.
Your continued support will enable us to ensure our programming remains accountable, adaptable, and centered around the needs of the people we serve. Thank you for all that you do to support this cause.