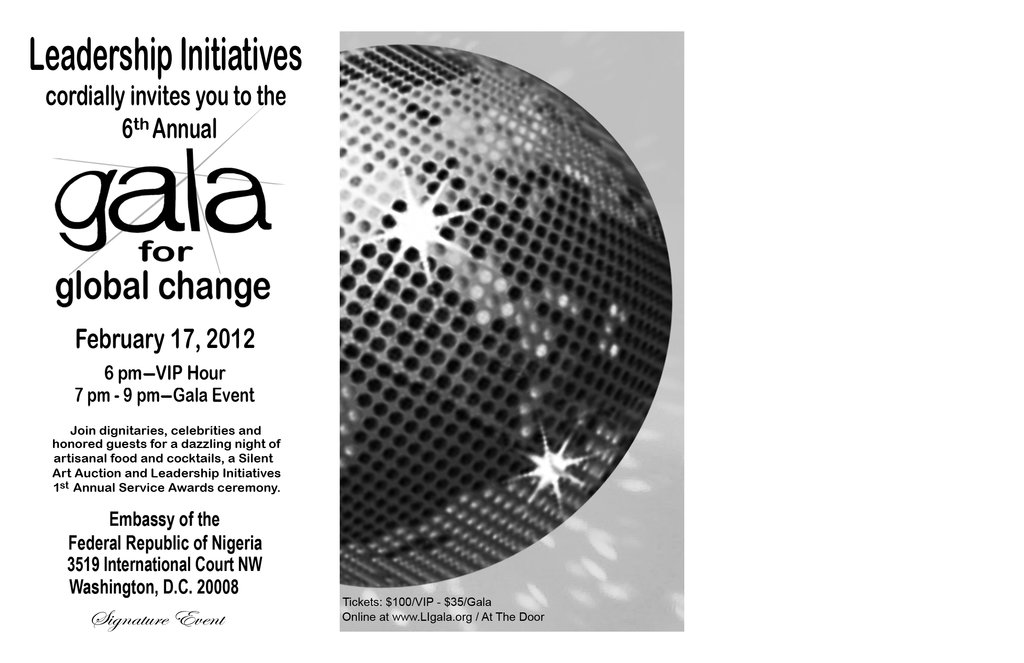 Dear Leadership Initiatives Supporters,
We wanted to give you an early update on the programs you are supporting in Nigeria because of the increased tensions within the country at the moment. As many of you know, protests have plagued the entire nation due to the repeal of gasoline subsidies by President Goodluck Jonothan. This has caused many of the newly created business you support to halt their work production while this increase in gas prices has simultaneously tripled transportation and food prices in the Bauchi area. An article further detailing this problem can be found here.
We here at Leadership Initiatives want to assure our supporters that even with these problems, our young leaders remain dedicated to creating a better Nigeria and greater world. While our tailoring shops, mechanic, welding and carpentry businesses are not allowed to work during the strike (to be clear, no one officially joins a union in Northern Nigeria, if you own a business you are in a Union and businesses that operate during striking hours have been known to be vandalized, set fire to or destroyed), our fish, cattle and poultry farms have been providing meals to other leaders and community members for little to no cost to keep everyone fed and moving forward during this strike.
It is our sincere hope that the strikes will end soon and Leadership Initiatives' new business leaders can continue to create jobs, send more children to school and build a better republic.
If you are looking for a way to support these dedicated men and women during this unfortunate time please make a donation to Leadership Initiatives at our program site on GlobalGiving or purchase a ticket to our Gala for February 17th here.
Below is the announcement of what is sure to be one of the most amazing events in Leadership Initiatives history!
Dear Friend
I have exciting news: Leadership Initiatives will be hosting our sixth annual Gala for Global Change at the Nigerian Embassy on February 17th celebrating Nigeria's 51 years of independence. This is the first time Leadership Initiatives history that we have been selected as the opening event for the Nigerian embassy's event season.
In 2010, Leadership Initiatives hosted the largest attended event at the Nigerian Embassy with over 300 participants, a record we plan to beat in 2012.
This year, Leadership Initiatives has tapped diverse talents to create a beautiful showing of local and professional artists and artisanal producers from around the world to enhance this special event. Join international dignitaries, US officials and local celebrities at the Nigerian Embassy for a dazzling night of artisanal food and cocktails, a silent art auction with several surprise live auction items, and Leadership Initiatives 1st Annual Service Awards ceremony.
Leadership Initiatives Sixth Annual Gala For Global Change
Date: February 17th, 2012
Time: 6 p.m. V.I.P. Preview $100
7-9 p.m. General Admission $35
Where: Embassy of the Federal Republic of Nigeria 3519 International Court NW Washington, D.C. 20008
Please bring friends, dates, parents, potential supporters and professionals. Your attendance will help Leadership Initiatives expand on the successes of 2011, notably the launching 24 new business initiatives in the fields of mechanics, carpentry, electronic repair, tailoring, farming and transportation. New leaders were created as graduates reinvested in Leadership Initiatives programs along with our first orphan care program, providing the communities' first outreach, job training, care and education program for disadvantaged orphans.
This year's event is being hosted by the Nigerian Ambassador to the United States, the honorable, Dr. Adebowale Ibidapo Adefuye, who will be in attendance. V.I.P Preview tickets are available to allow a small group of attendees to have a more intimate experience with the attending diplomats and artists.
More information and tickets are available on the Art Gala website at:
We hope you will join us as we celebrate a momentous year of growth and development both here and in Nigeria.
Sincerely,
Marshall Bailly, Lynsie Hall and Khalifa Lawan
Executive Director, Gala Committee Chair and Field Programs Manager-Nigeria