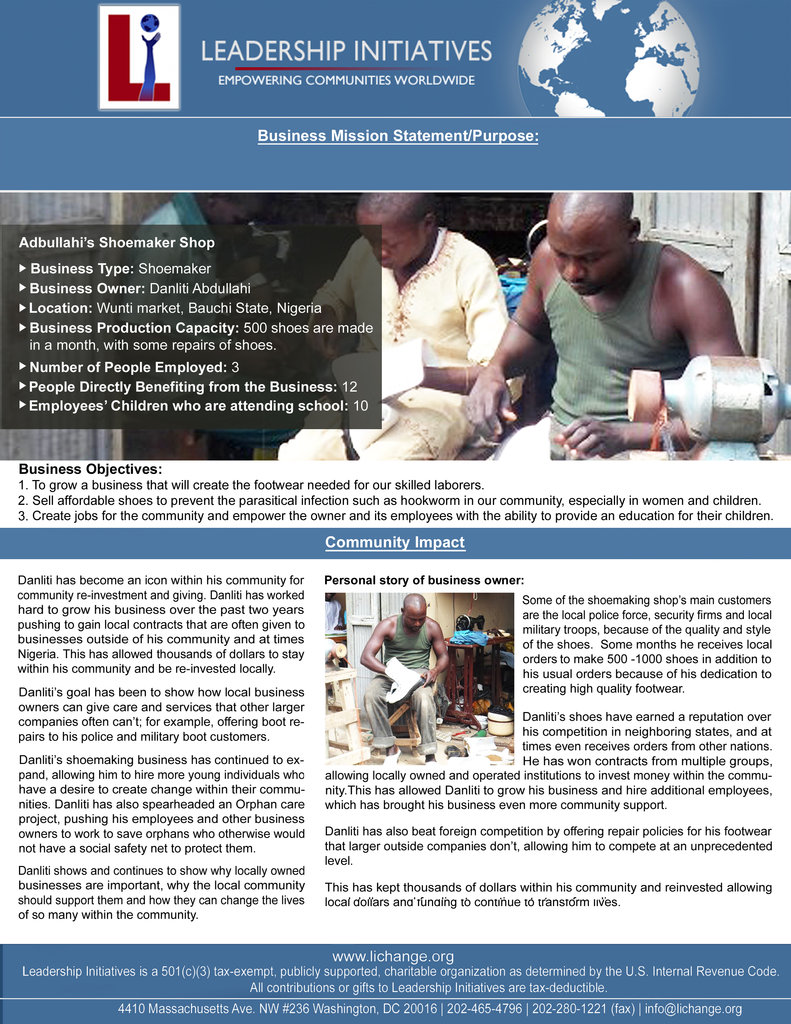 Dear Phenominal Leadership Initiatives Donor,
Because of you Leadership Initiatives has had one of our greatest years ever!!!
Just look at our statistics for 2014
2014 Leadership Initiatives Statistics
Number of Businesses Created: 12
Number of Businesses Opening New Shops or Entering New Markets: 4
Number of Jobs Created: 132 (includes additional hires of already existing businesses)
Number of New People Directly Benefiting from the Businesses: 533
Number of New Employees' Children who are now attending school: 167
Number of New Orphans Cared For Under the Orphan Independence and Care Program: 36
Number of New International Business Alliance Program Schools: 30
Number of New International Business Alliance Program Students: 156
Each figure above represents the lives you have helped us transform over the past year, because of you new jobs exist, new services are transforming communities over 100 new students are attending school and over 35 Orphans now have hope within their lives.
None of this would be possible without you our support base and to showcase even more what you have helped us acheive, I would like to hightlight two of our greatest partners for 2014.
Personal Story of Danliti Cobbling Shop Business Owner

Some of the shoemaking shop's main customers are the local police force, security firms and local military troops, because of the quality and style of the shoes. Danliti's shoes have earned a reputation over his competition in neighboring states, and at times even orders from other nations.

Because of this he has won contracts from multiple groups allowing locally owned and operated institutions to invest money locally. This has allowed Danliti to grow his business and hire additional employees, which has brought his business community support while also improving the community itself.

Some months he receives local orders to make 500 -1000 shoes in addition to his usual orders because of his dedication to creating high quality footwear.

Danliti has also beat foreign competition by offering repair policies for his footwear that larger outside companies could not, allowing him to compete at an unprecedented level.

Because of this, thousands of dollars are kept within his community and reinvested allowing local dollars and funding to continue to transform lives.
With this new financial support Danliti has expanded his business and hired local Orphans as his new employees to give them an opportunity to take control over their lives.
One such Orphan is Jamil who has been with Danliti for about 4 years since he lost his father. Jamil was brought to learn the cobbling skill with Danliti, and Danliti liked him because of his commitment to hard work; this gave him a place in Danliti's heart.
Danliti began to inquire about his family, his future plans and the challenges he faced. After Jamil had told him how he had had to stop school because his mother could not afford it, Danliti opted to pay for his fees and give him some extra money for his welfare.

Jamil now works at the cobbling shop, learning more about the skill while attending school during the day paid for by his work with Danliti while simultaneously helping siblings as much as he can both financially and as the leader of his family.
If you would like to learn more about our business partners visit our new website at www.lichange.org. There you can find out about their personal stories, meet members of the community, view photo galleries, or even set up a skype call with a business owner!

Also if you had a moment could you tell us why you donated and how you heard of us, we are always trying to better refine our message and reach more people with our call to change. Thank you for also helping us, understand wonderful people like you better!

Wishing you, your friends and especially your family the absolute best this Holiday Season!

Sincerely,



Marshall and the entire LI family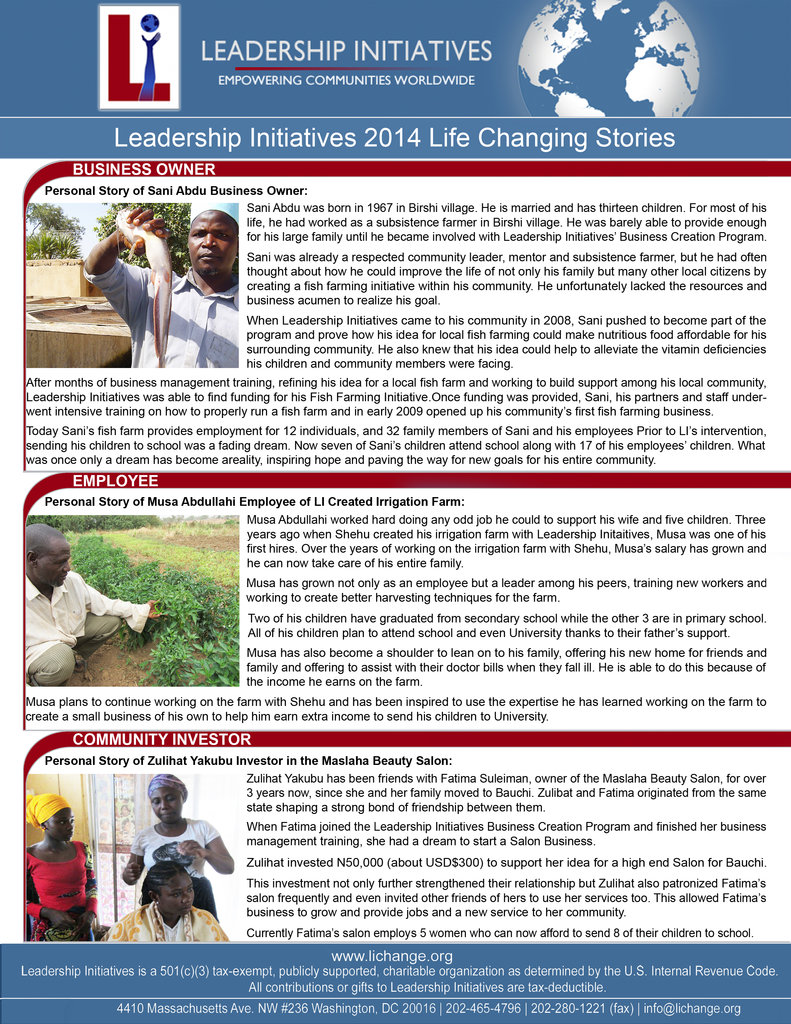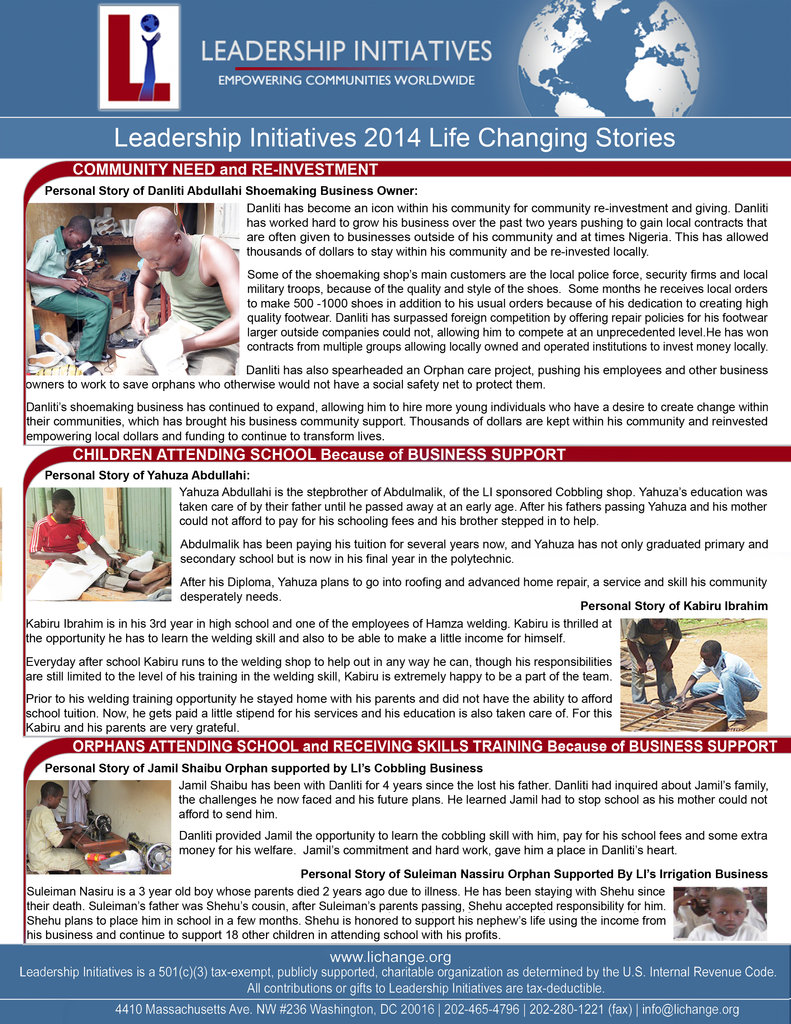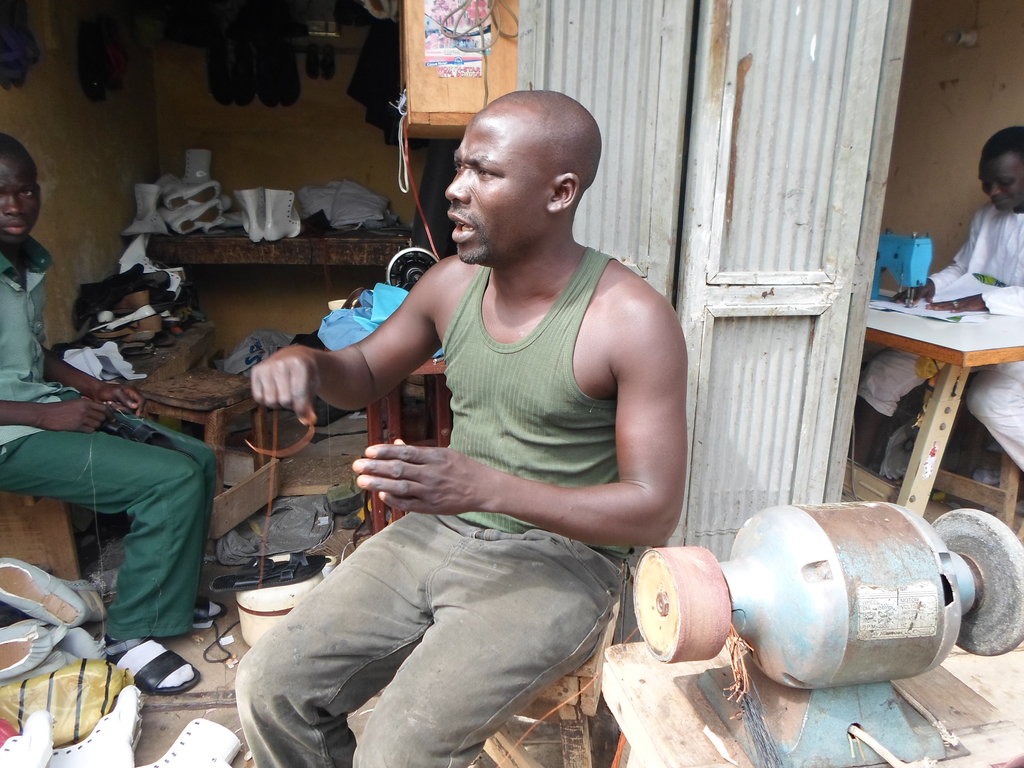 Links: