Australia has a hunger problem, but we have a solution.
Our country produces enough food for 75 million people per year, enough to feed our entire population three times over, yet we have a significant hunger problem.
The Foodbank Hunger Report 2021 released in October revealed one in six adults and 1.2 million children in Australia went hungry last year. How can this be?
Food Insecurity and COVID 19
The hunger problem in our country isn't new. Foodbank has been tracking food insecurity in Australia since 2012 and whilst the root causes vary, what has been a constant throughout is the diversity of people touched by this issue. Food relief is not only being sought out by those who are homeless and unemployed, but also working families, refugees, single parents, school leavers, First Nations People and many more.
Covid-19 has helped shine a spotlight on the prevalence of food insecurity in Australia, and just how quickly job security, housing security and financial security can be eroded. Most of us know someone who has lost their job, had their hours dramatically reduced, or found themselves in financial difficulty in the last two years. In fact, one in three people struggling to meet their food needs are new to the situation. These people will look back on this period as the toughest time they've ever faced, and remember what it was like to be forced to make a decision between buying food or paying the electricity bill, because they couldn't afford to do both.
For others, the pandemic served only to highlight the harsh realities of poverty and inequality in Australia. We know that those struggling before the pandemic have been hit the hardest and will find it the hardest to recover. We know that government assistance measures like the Coronavirus Supplement and COVID disaster payments made a material difference to the lives of vulnerable Australians. We also know that dramatically increasing support for Emergency Relief and Food Relief providers made a huge difference, allowing us to redouble our efforts to support vulnerable people right across Australia, from international students to the recently unemployed to single parent families and everyone in between.
The pandemic has been the great leveler. In some ways it has reduced the shame and stigma of asking for help whether it be for food relief, mental health or physical health. We are seeing a paradigm shift from shame, embarrassment and guilt, to compassion, empathy and ultimately hope.
The great 'pivot'
Not only has COVID-19 affected demand for food relief, but also the way in which food relief and emergency relief providers respond to people in crisis. To borrow one of the most over-used words in the pandemic, Foodbanks right across the country had to pivot from existing models of distributing food relief via a network of thousands of frontline agencies and a small number of client-facing Foodbank hubs, to mobile foodbanks, pop-up markets and a strong reliance on emergency relief hampers. Pop up stores organised by Foodbank Victoria and funded by the Victorian government provided free fresh fruit and vegetables, and culturally appropriate staple products for the many international students trying to make ends meet without casual employment. Foodbank NSW & ACT worked with the NSW Government to provide hampers to international students on university campuses across the state and to ensure those in hard lockdowns had access to hampers
to sustain their families through extended isolation. Foodbank South Australia introduced home-delivery, made an even more positive experience when those deliveries were conducted by the likes of Port Adelaide Football Club players!
Supply vs demand
Foodbank is now providing relief to more than 1 million people per month through a network of 2,950 front-line charities, with Foodbanks across the country also supporting 2,890 schools through highly successful initiatives such as School Breakfast Programs.
In 2021, we sourced 48.1 million kilograms of food and groceries, equating to 241,000 meals per day. This is a staggering volume of food relief given the supply chain constraints experienced at various points throughout the pandemic, especially given the periods of highest demand for food relief often coincided with periods of reduced supply, whether a result of panic-buying or workforce shortages or natural disasters. We would not have been able to maintain our supply in the face of adversity without enduring partnerships and the strong support of those who trust us to do what we do best.
Foodbank works with the entire Australian food and grocery industry - farmers, wholesalers, manufacturers and retailers, plus our invaluable transport and logistics providers, to source fresh and manufactured foods as well as personal and household care items for those in need. Donations can include stock that doesn't meet industry specifications, is close to expiry or surplus, and we also see many companies make proactive donations as a key plank of their corporate social responsibility commitments. The food and grocery industry may specialise in supply chains, but we specialise in surprise chains. No two days are alike when it comes to the quantity or variety of supply, but every product is appreciated.
Supply Chain Resilience
Whilst we pride ourselves in our planning, preparedness, partnerships and resilience, we are as vulnerable as anyone else when it comes to the fragility of our supply chains in Australia. Supply chain disruption doesn't only affect commercial supply; it affects Foodbank too. We have seen just how disastrous the knock-on effects of natural disasters can be on our supply chains. The recent South Australian floods saw both road and rail access from SA into the Northern Territory and Western Australia completely severed. This had a devastating impact on our ability to get fresh produce and key staples from Foodbank SA to the Foodbank Central Australia Hub in Alice Springs. We worked closely with state, territory and federal governments – as well as industry – on solutions to ensure vital food could be delivered to remote communities across Central Australia. As always, we worked hard to ensure vulnerable communities were not forgotten during this crisis, just as we do in every crisis.
The Future
We are so proud of the role we play in helping vulnerable Australians, and so grateful for the invaluable support we receive to enable us to do this. Our experience with natural disasters tells us it will be a long road to recovery, but we must not forget the new perspective we have gained through this pandemic. The circumstances that put people into food insecurity before the virus will still be with us and food relief will remain a critically important part of the solution.
Thanks!
Without your kind support we would simply not be able to make critical food supply available to people in need. We thank you from the bottom of our hearts. Together, we'll make sure no-one gets left behind.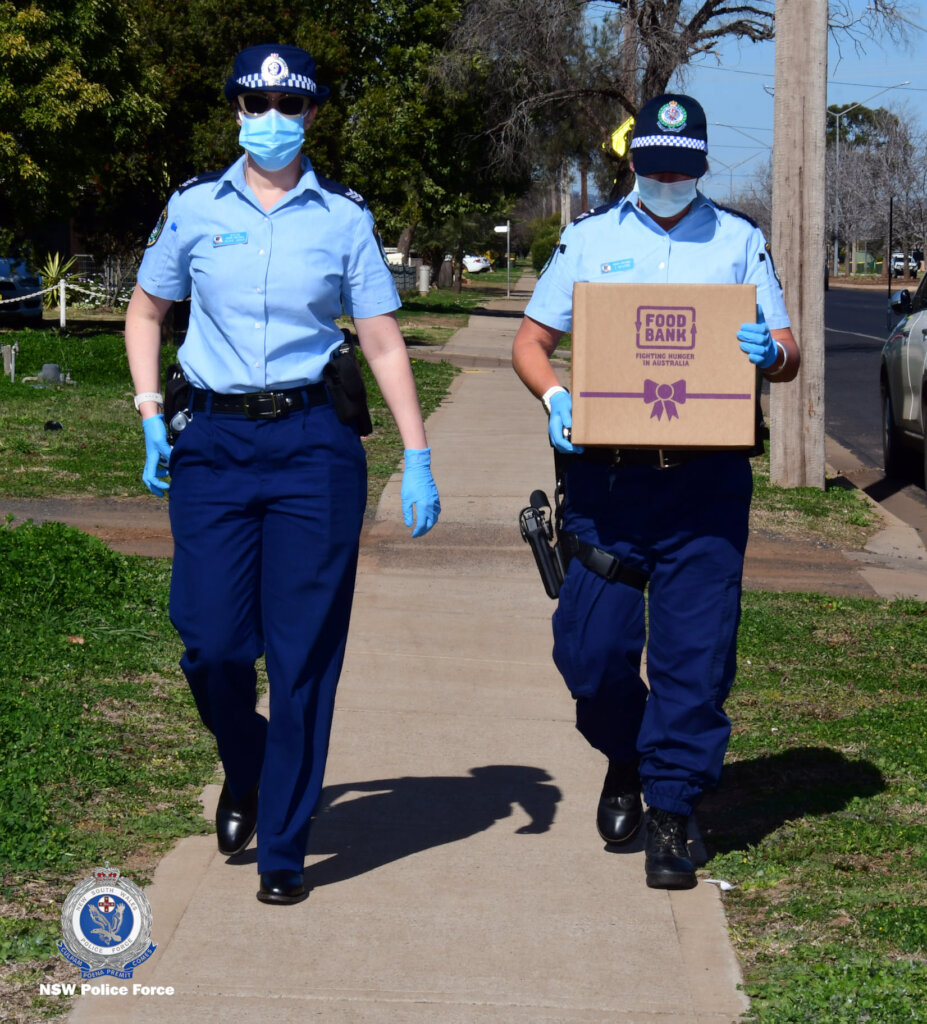 Links: