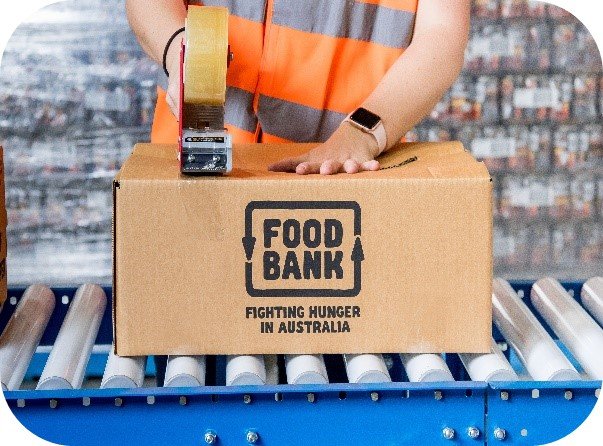 Dear Supporters,
We hope you're staying safe.
Thank you for your support! Your donations of over AUD$2,000 in the last quarter enabled Foodbank to provide over 4,000 meals to those in need across Australia. Sincerely, thank you for your generosity.
Foodbank has faced a surge in demand for food relief in recent months as a result of recurring lockdowns across the country, particularly in New South Wales and Victoria. These levels of restriction have had an impact on businesses and people's ability to earn an income, leaving many people unable to provide for their families. To illustrate, Foodbank has seen a 200% increase in demand for food relief in NSW alone, with over 20,000 requests for food hampers made by international students since the lockdowns began.
Moreover, the social and health impacts of COVID19 have not gone unfelt. One in five Australians are reporting high levels of psychological distress linked to the COVID19 pandemic, with young people, women, and those living with disabilities being the most affected. Additionally, a report issued by the Australian Council for Social Services (ACOSS) showed that online searches in NSW for emergency relief services on Ask Izzy (a search engine that provides information on mental health, housing, food, health, domestic and family violence services and more) increased by more than 800% between June 26 and July 14, 2021, once again highlighting the profound impacts of lockdown on communities.
Hunger is a growing stressor in the midst of these challenges. Foodbank is working around the clock to help reduce this stressor on families and individuals, and that food insecure Australians have access to the relief they require while developing their responses to do their best to manage an uncertain future.
On a brighter note, in certain states such as New South Wales, lockdown and restrictions are scheduled to ease in a few weeks from now, with some free movements granted to people. We hope that those impacted by lockdowns, such as those in the hospitality, recreation and events, retail, construction, and beauty industries, will be able to return to work.
Moreover, on Wednesday 20th October, Foodbank will be releasing the Foodbank Hunger Report 2021. Now in its ninth year, this report is considered to be the definitive source on the hunger crisis in Australia. Foodbank will launch an awareness-raising campaign on social media in the coming week to draw attention to the report and the growing hunger crisis it exposes. Please do follow us on socials at this time to learn more!
Once again, on behalf of the Foodbank family, we sincerely thank you for your support and the impact made possible through your generosity. We look forward to working with you further in our fight against hunger.
Warm Regards,
Foodbank Australia Family