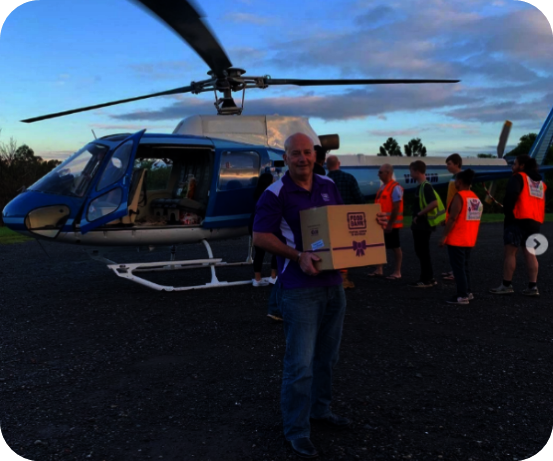 Dear Supporters,
Happy Easter!
I hope you all were able to have a break and gather with your family and/or friends in person or virtually.
In Australia, the Federal Government recently declared a state of natural disaster as many parts of NSW and QLD were experiencing extreme rainfall and flooding a couple of weeks ago. In NSW, more than 18,000 people were evacuated, and hundreds of schools were closed due to the extreme weather conditions. Additionally, as the Federal Government's financial supplement packages, JobSeeker and JobKeeper were withdrawn at the end of March 2021, Foodbank anticipates an increase in demand for food relief, as we believe the flooding emergency as well as the removal of the stimulus packages will greatly impact the food security landscape.
A couple of weeks ago, Foodbank NSW & ACT was distributing emergency food relief hampers safely under the instruction of government agencies and officials, utilising both helicopters and barges to access isolated areas. We will continue to work closely with local communities and local agencies to ensure the right products are made available at the right time and to assist them with the lengthy recovery phase.
Although the rain may have eased for now, the emergency isn't over for many.
Moreover, the removal of additional, targeted financial support (JobSeeker and JobKeeper) for those who were having the toughest time seeking work, or who work in businesses experiencing significant downturn arising from COVID19, will push more than 740,000 Australians into poverty. The impacts of this will not only be seen on recipients' ability to cover essential costs such as transport, medical, and utilities, but other aspects of household budgeting which are paramount, such as purchasing food and having access to affordable housing.
Economists from Commonwealth Bank of Australia predict that the withdrawal of the JobKeeper assistance package is forecasted to see job losses of up to 10% in retail trade and education, whilst other industries such as construction and professional services are forecasted to experience a 5% loss in employment.
This will have devastating impacts on the current landscape which is characterised by an unemployment rate of 5.8%; (a surprising drop from 6.3% reported in January 2021). Recent data provided by the Australian Bureau of Statistics showed that employment to population ratio had increased by 62.3% prior to the removal of the stimulus packages.
Ultimately, the reported rates of unemployment are not a true representation of what the landscape will be in coming weeks now that the stimulus packages have been removed. The flow on affects from removing JobSeeker and JobKeeper will see a loss of purchase demand, decline in economic stimulation and stability and loss of employment nationwide.
Foodbank anticipates that the devastation caused by the floods as well as the removal of the stimulus packages will have a significant impact on our food and grocery stock levels as more people will turn to food relief organisations. Although, we find ourselves well-equipped with sufficient staple products currently, the uncertainty that is evident will require Foodbank to continue to purchase critical food and grocery items in substantial volumes, to ensure stocks are consistently replenished to address ongoing influxes in the demand for food relief.
Once again, on behalf of the Foodbank family, we sincerely thank you for your support and the impact made possible through your generosity. We look forward to working with you further in our fight against hunger.
Warm Regards,
Sindy