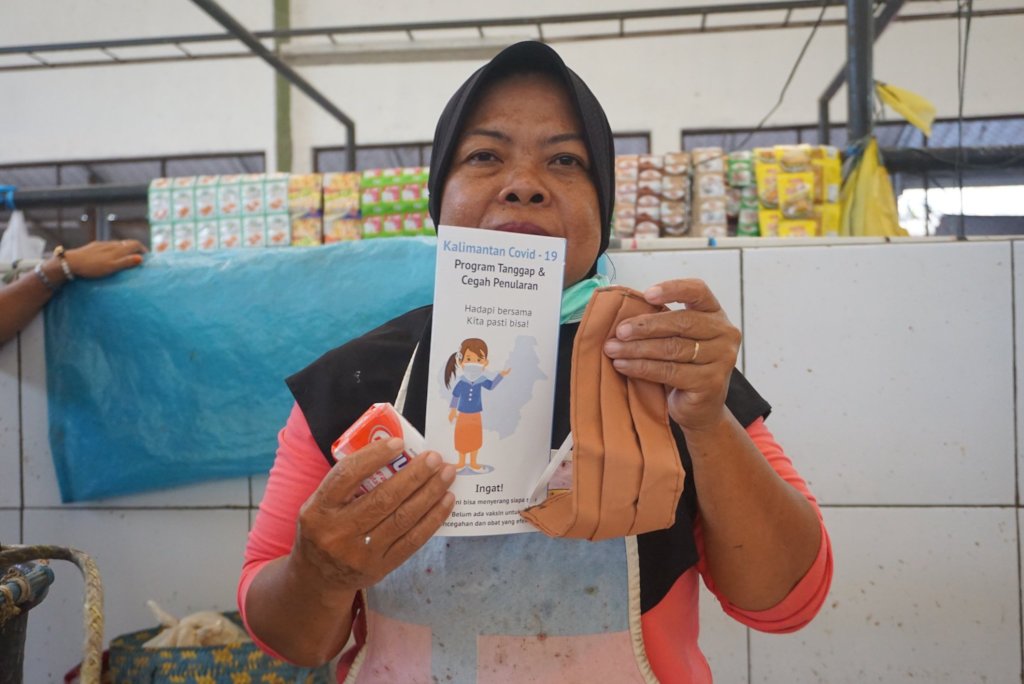 We would like to express how grateful we are at Yayasan Usaha Mulia (YUM) for your generous and continued support, even during this unprecedented time. With your kind donation, YUM has been able to remain connected with all those who have been our beneficiaries as well as to help new ones in Cipanas, West Java, as well as in Bukit Batu, Central Kalimantan.
In this report, we would like to tell you about our work in the sub-district of Bukit Batu in Central Kalimantan and how your support has helped thousands of families.
With your help, the hygiene kits, which consist of four masks, two bars of soap were distributed to more than 2,000 families in the seven villages of Bukit Batu. Besides providing for those who stay at home, the kits also reach workers who do not have the privilege of working from home. Our staff went to several public places likes the traditional market and road construction areas. The placement of 200 posters and 12 banners in 14 different locations was another action that YUM took to help slow the spread of the virus. As many families do not have phones or television, the banners and posters provided information about COVID-19 and the steps to take to prevent being infected.YUM further reinforced its efforts to help mitigate the infection by collaborating with the local authority, police department, Borneo Football International Academy and several local NGOs.
Today we continue our work of spreading hygiene kits to more families. As it is still difficult to find masks everywhere including in Bukit Batu, the YUM staff have started our own production unit. Under the supervision of the sewing class tutors of YUM's Vocational Training Center, the YUM staff all take an active part in the production, whether it is folding the fabric, sewing or ironing the mask once it is done.
COVID-19 cases in Central Kalimantan have at present the highest increase in all of Indonesia, with around 97% more cases in the last week. Because of this, all schools have been asked to remain shut until at least the end of the year. As we continue to provide support to families in need, many of them going hungry due to loss of employment in the family, we also need to think about the education of the children as online learning is impossible in this area. We are all very concerned that the students will fall behind and this will be detrimental to their future learning.
As you can see, they need us now more than ever. YUM cannot achieve this task alone and your partnership is essential for us. If you find our work valuable and worthwhile, kindly consider sharing information about this project with your family and friends. Please share the link on your social networks, email or just bring us up in your conversation. We can make it happen together!
Kind regards and stay safe,
Yolanda
Project Leader