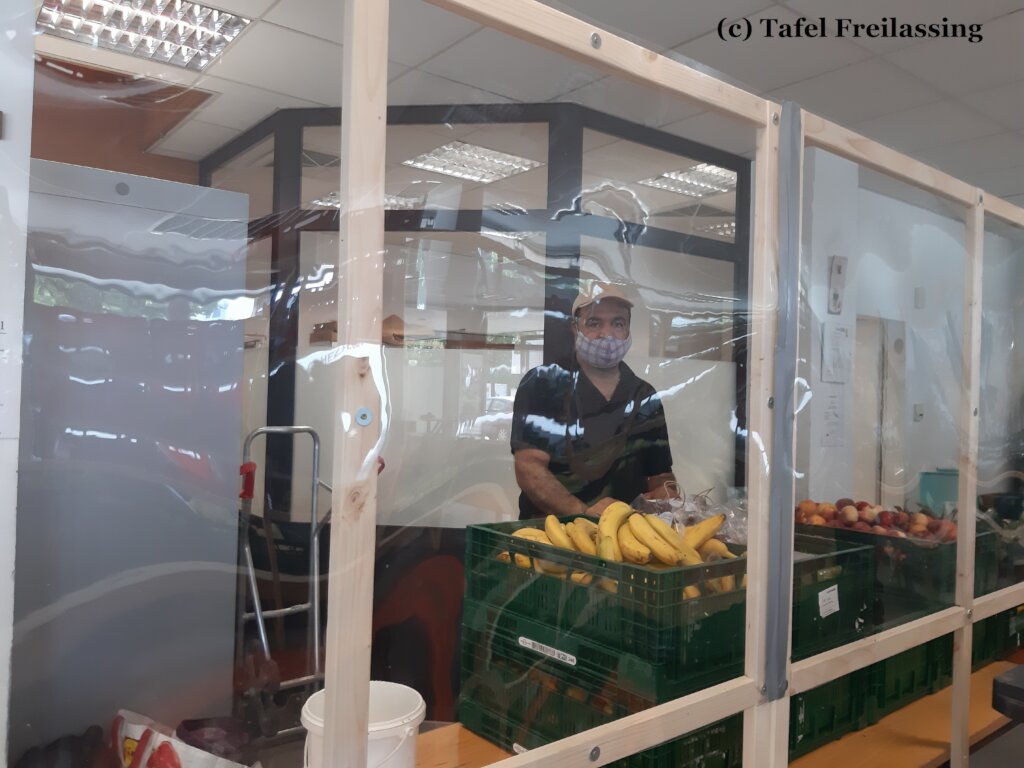 Dear supporters,
Two years into the Corona pandemic, our food banks and pantries all over Germany continue to face major challenges. Reorganizing our workflows around higher hygiene standards, for example by implementing contact-free pick up or grocery delivery, means higher operating costs for our volunteer work. Making sure that our services remains freely accessible to people in need is especially important now in the face of rising food prices and the disproportionate impact that has on our patrons.
The pandemic has posed unprecedented challenges for food banking, and we depend on your support. With your donations, we were able to support our network of 960 Tafel food banks and pantries by distributing grants from Tafel Deutschland's Emergency Aid Fund.
One such grant equipped the Tafel Freilassing with hygiene and safety equipment. Two disinfection dispensers, eleven partitions and a contact-free thermometer were purchased because, as the Tafel's director Erika Kloss summed up "The safety of our customers and volunteers is our top priority." This is just one example of how your donations helped a Tafel last year.
Your donation also supports the work of the umbrella organization: Tafel Deutschland helps the 960 local Tafel by providing up-to-date information on health and safety regulations, special conditions, funding opportunities, digitalization efforts, volunteer recruiting, networking, educational programs and so much more. At the same time, Tafel Deutschland raises awareness around the Tafel and foodbanking in Germany and internationally while advocating for changes to social and environmental policies that are in line with our mission to help people by saving food.
More information about Tafel's work can be found on our website: http://www.tafel.de.
Thanks for your great support!