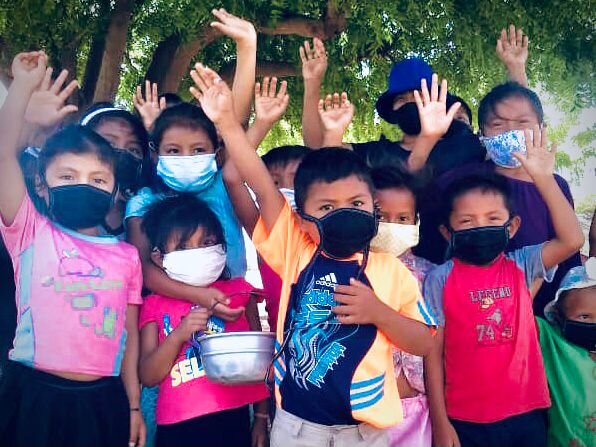 The Wayuu Taya Foundation has been busy and productive during the first half of 2022 in Venezuela. We started in January with our Water for All program, which is a free water plan for our communities in Venezuela utilizing a well from our Apuna farm. We use this water resource to deliver clean water using our very first water transportation vehicle acquired thanks to a generous donor. For every water truck we sale at $35, we then give free water to schools, health centers, and nursing homes experiencing extreme poverty. So far we have distributed free water to 10 schools, 5 healthcare centers and 2 institutions serving over 4,000 people in Mara Municipality.
Thanks to our alliances, our food program has reached over 21,000 people this first half of the year. We have provided more than 185,000 pounds of fresh nutrient rich vegetables, fruit and grains reaching 17 communities, 53 schools, 24 institutions and NGOs. That's 309,000 meals served this year.
A pilot of the Biointensive cultivation of the Agroecology program has been started in Apüna Farm, short cycle crops including corn, lentils, pumpkin and yuca crops, were harvested in April for the first time.Our newly created Biointensive Cultivation of Agroecology program at Apuna and Mirabello farms will provide sustainability for the foreseeable future. As part of this program, we are also improving 19 Acres of cultivation with short cycle crops.
The first half of 2022, our humanitarian aid program continues, working in collaboration with friends and partners to help improve access to health and education for the most vulnerable indigenous community, providing medicine and supplies to over 38,000 people. We have held 7 educational and health training workshops for our educators.
The Wayuu Taya Foundation grows more and more each day. Our uninterrupted work for over 20 years has become an important and vital blueprint for humanitarian work.
Thanks to your contribution, our allies, and a team of passionate individuals focused on helping those in need, we will continue to bring hope for a bright promising future to everyone in need.
The Wayuu Taya Team