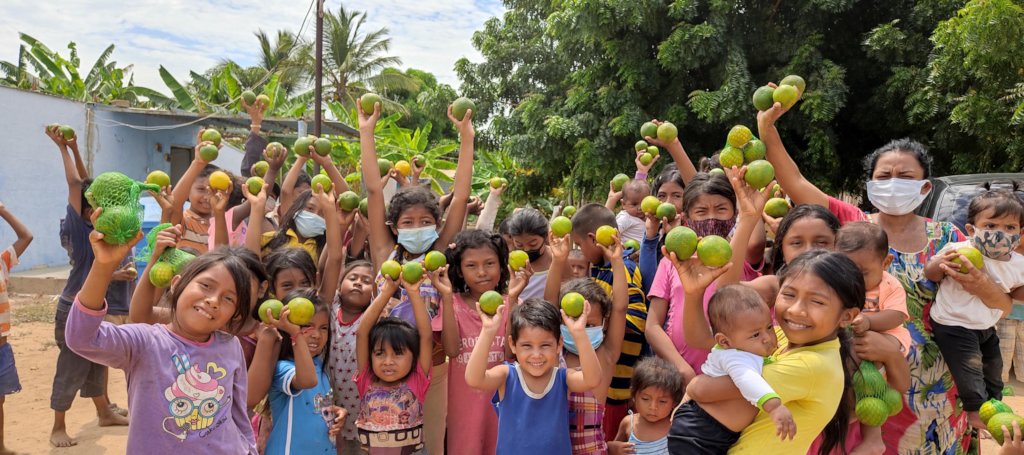 As the world continues to recover from the global pandemic, we at The Wayuu Taya Foundation are still working through these difficult times. From new ways to distribute humanitarian aid, to the future implementation of several types of professional development programs. This report from your donations, touches on a few of things going on right now, benefiting over 125.000 people on the border between Venezuela and Colombia as well as all over Venezuela.
FOOD
Thanks to your donation, we continue to receive tons of food every week as part of our Recovery and Rebuild Program, allowing us to continue our support for the indigenous communities in the Mara and Guajira Region with distribution to 47 communities, 10 institutions and 8 nonprofit organizations. We are currently serving over 4,700 people per week. To date, our food program has helped feed over 46,000 people and served more than 1,500,000 meals. The program began in the immediate days after the Covid-19 Pandemic started. Through our community meal model, we gave children the opportunity to have one daily serving of nutrient rich food to maintain overall health and development. It has been a successful and immensely needed program helping to reduce cases of malnutrition exponentially. We delivered nutritional drinks for over 2,150 children in 20 communities.
HEALTH
We continue our health assistance campaign, delivering free medical aid to different states in Venezuela for those in need. This program includes prescription and over-the-counter medicines, nutritional supplements, wound care supplies and hospital supplies. With the support of our donors, we have provided medicines and supplies to 16 Communities, 16 Health Institutions and 17 Nonprofit Organizations, reaching to date over 30,000 people.
We Appreciate your Help
Your donation is invaluable in helping our communities access fresh water, food high in nutrients, nutritional guidance, eco-friendly sustainable practices and education. Through our programs, your donation is helping reduce level of poverty, malnutrition, illiteracy, marginalization, and exclusion for children and young people.
Nothing would be possible without your support.
Thank You!
Community Highlights
My name is Cecil, I am 11 years old and I am studying 5th Grade. When I grow up I want to be a Doctor to take care and help the children who are the most in need. I love to draw and paint in my spare time!
In these difficult times we are living in, The Wayuu Taya Foundation has improved my life and nurtured my knowledge. Every week lots of kids from my community are being saved with the feeding program.
Wayuu Taya has not only changed and made my life better, it has also changed the lives of thousands of kids in Mara Municipality