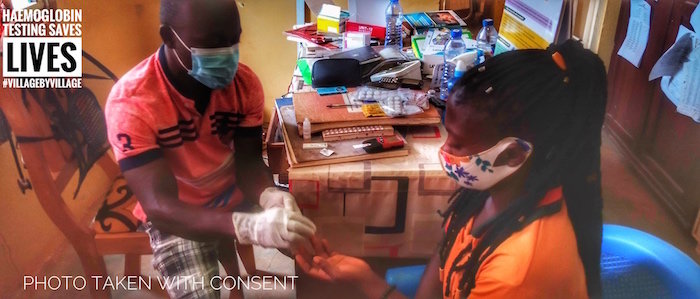 Agile and Adaptive- Delivering Development During Covid
COVID 19-UPDATE
Situation Stable
Fortunately the Covid situation in Ghana and Togo remains stable, active and new cases remain steady. Most schools remain closed until mid January 2021. Our ability to deliver our regular services, such as "Lights2Learn", "Clean Hands Saves Lives" and "Cycle2Success", have been greatly impacted as they're run in partnership with the Ghana Education Service (GES).
So we've been actively seeking new ways to stay on our mission by talking to the communities affected by COVID 19 to see how we can reduce the suffering of children living in poverty. We recently approached The Ghana Health Service asking how we could be of assistance during a public health emergency and we were looking for projects that were aimed at children and we formed a partnership on the following issues:
Polio
Anaemia
Yellow Fever
LET'S TALK POLIO
The Problem
Polio is a highly infectious disease, one that can be spread through contaminated water or food. It usually affects children under five, with around 1 in 200 infections resulting in paralysis with 5-10% of those paralysed losing their lives due to crippled breathing muscles.
The World Health Organization (WHO) reports that as long as a single child remains infected, all children are at risk of contracting the disease. Meaning that more than 95% of the population need to be immunised for polio to be fully eradicated.
Poliomyelitis (Polio) is a highly infectious, horrendous disease that is transmitted person-to-person spread mainly through the faecal-oral route, most commonly affecting children under the age of 5. The wildtype virus has around for years, yet due to the live virus within some of these vaccines mutating into an infectious form we are seeing increasing numbers of infections caused by them, so much so that they are evening outnumbering the infections caused vaccinations against Polio.
In Africa alone there are more than a dozen-vaccine derived infections. While Western countries have access to a more expensive, injectable version of the vaccine - one that contains an inactivated virus incapable of causing the disease - developing countries tend to use the oral vaccine due to its low costs and accessibility.
So what's the solution? We vaccinated over 4,570 rural children, in hard to reach villages
The solution is the same for all Polio outbreaks: vaccinate every child several times with oral polio vaccine to stop polio transmission, regardless of whether the virus is wild or vaccine-derived.
Charles Tadankro, our local district nurse, needed help getting to some of the remotest villages and we were delighted to be able to help and to date 4,570 rural children have received a Polio booster.
Outbreaks are usually rapidly stopped with 2–3 rounds of high-quality supplementary immunization activities. But in the middle of a global pandemic and community lockdowns unsurprisingly this is more challenging than before, this is where Village by Village comes in.
HAEMOGLOBIN MEASURING PROJECT IN GHANA
Early Testing Saves Lives
Continuing our work with the Ghana Health Service, we purchased a Haemoglobin Meter for our District Nurse, Charles Tadankro. Why was this needed?
Anaemia - The problem
Anaemia is one of the most impactful nutrient deficiencies in the world; in pregnancy it is a common and severe problem in many developing countries that disproportionately affects children in low-resource settings.
The most recent data from the World Health Organization (WHO) in 2011 estimated that the prevalence of anaemia in children under the age of five is 42.6% worldwide, with the highest prevalence in the African region at 62.3%.
Iron deficiency anaemia (IDA) has been shown to have detrimental immediate and long-term impact on growth, organ function and cognitive development in children.
Screening for anaemia is often solely by clinical examination or is not carried out at tall. Many rural women cannot afford to make the journey to the hospital for testing, therefore the majority do not have access to the knowledge of whether they are at risk or not.
So what's the solution?
To help these women, we have purchased a Haemoglobin Meter. This is a handheld machine that uses the WHO colour scale method, providing an inexpensive method for estimating the haemoglobin concentration from a drop of blood by means of a colour scale.
If the woman is shown to be at risk she will be referred to her nearest hospital. The purchase of this machine has allowed Nurse Charles to carry out testing at his antenatal clinics, and has given women access to testing they hadn't previously had before.
DIGITAL READING CLUB RURAL GHANA.
Proposal:
Due to the Global Coronavirus Pandemic hundreds of rural Ghanaian children have been out of education for over 9 months. When the schools reopen in January 2021 many children will have fallen far behind in terms of literacy and numeracy.
In order to encourage the children to continue advancing their reading skills we are developing a mobile reading club. We are currently delivering this project in the grounds of four rural schools, Anamenampa, Apua Wase, Abo Abo and Ameda using an assortment of physical books that we have collected, but it is our intention to deliver this project in a digital format. Using tablets preloaded with educational applications, which make learning fun, children will get an opportunity to improve their literacy and numeracy skills.
These cost effective tablets, secured with hard wearing cases will be taken to the villages and used by the children under the supervision of our staff member Sandra Opare and our volunteers. It is our plan to continue this programme after schools reopen in January as an after school programme.
SOME CELEBRATORY NEWS:
Aikins Mensah - New Director of Operations
Aikins was initially a child beneficiary of one of our projects in the village of Gboloo Kofi and then later a junior employee and has been involved with Village by Village from our inception in 2006. He became an employee in 2013 starting as a construction labourer, since then he has undertaken the roles of Volunteer Manager, Office Manager, and now we're excited to announce he is our first, black Director of Operations.
Aikins brings a unique perspective to this role, his family and himself were one of the first stakeholders of VbyV. Aikins has been ingrained in the development of VbyV, his family have received medical treatment in the clinic we built in 2012, he has attended both Gboloo Kofi Primary and Junior High Schools which we refurbished in 2010 and together with his community of Gboloo Kofi we have built his family a household latrine in 2006.
As once a recipient of aid, Aikins is uniquely placed to understand the issues of development and therefore is best able to appreciate the needs of the community he serves. This also allows him to deliver the most effective solutions in partnership with those communities and our other development partners.
We're excited to see Aikins continue to grow and hope that like us you'll support and follow him on his journey.
DASHBOARD
Technology fuels progress
Tech is constantly evolving, so we thought it was about time we gave our website a little upgrade to!
We'd like to introduce you to our brand new dashboard, providing you with real time updates about our projects. From this you can see moment by moment what project the team in Ghana are working on and see progress in real time. Visit https://villagebyvillage.org.uk/dashboard/