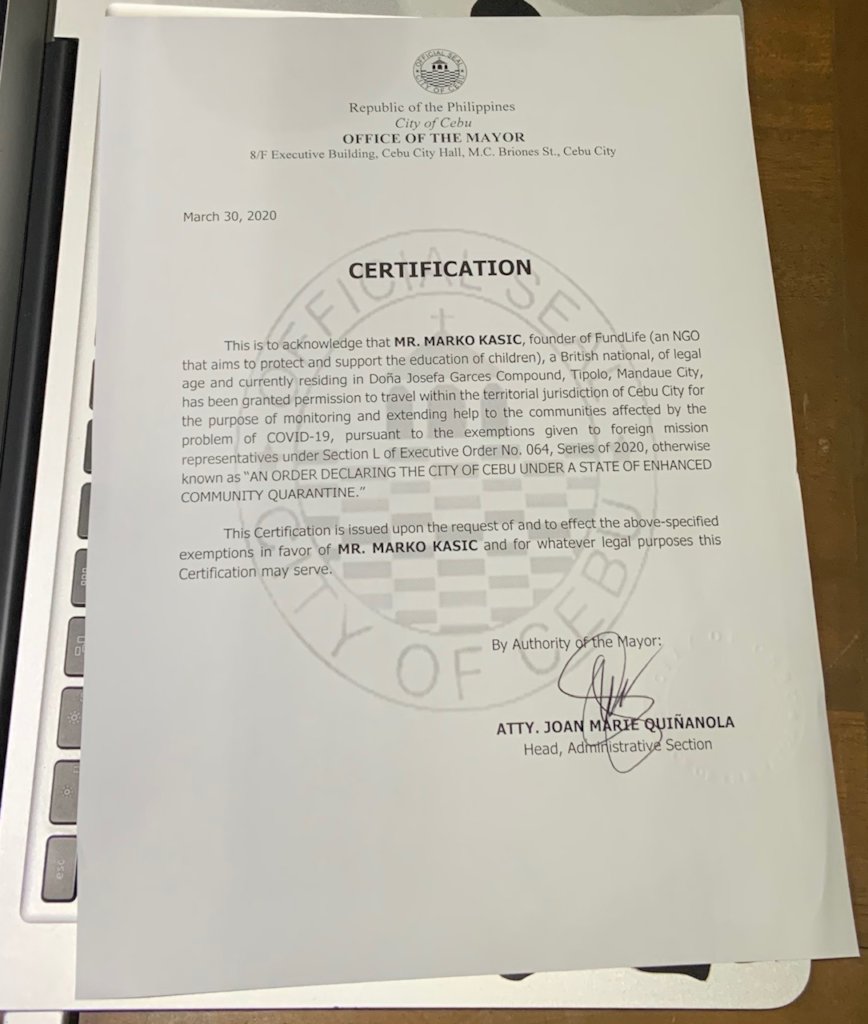 Dear Supporter,


We have just reached $1,000 in donations and I wanted to take this opportunity to thank everyone who has contributed to this project. If we don't raise another cent, this amount (and a small commitment from one of our project partners) is enough to provide food packs that can protect and sustain 80 families for 8-10 days in desperate need of support!
Thank you for your generosity and trust.
As a quick update on what we have done to date;
Secured several permits to successfully move around and conduct this relief operation during the Enhanced Community Quarantine (ECQ)
Secured special permission to procure bulk purchases of core relief goods
Coordinated with local government to ensure due-diligence in identifying and directly reaching the most vulnerable communities and those who have yet to receive support
Found a local partner to help us with mobilising volunteers for packaging and distribution
Begun securing supplies, using wherever possible local vendors to ensure we can help them during this period.
In the next 7 days, we hope to deliver our first food distribution. We are just waiting for support from the local government to help us identify the most in need and help us manage the safety of the community and our volunteers during distribution.
While we would like to have had this from the beginning, it has been very important to us that we have the accountability of the food packs reaching those who need them the most. We do not want anyone selected for any other reason other than the greatest need - and so we have been doing our own assessments of communities in greatest need.

We will keep you updated on our progress all the way through. We also encourage you to follow us on Facebook where we will share key updates from the distribution. You may follow us here - https://www.facebook.com/FundLifeInt/
Looking at our donor list for the first time, it's amazing to see so many donors from all over the world. COVID-19 has caused much havoc around the world, but it has also shown how inspirational people can be when they feel compelled to help one another.
We are deeply grateful for all our old and new friends who are helping us. For those who may not have seen it, I share a letter FundLife released in response to COVID-19. The letter was first published on March 20th through our newsletter

Thank you and stay safe,
Marko
Message

from

FundLife

- A

Time

to

Stand

Together
Dear Friends,

These are possibly the most testing times we have collectively endured. It is critical that we come together and not let fear divide us.

The Impact of COVID-19 in the Philippines

On March 10th, the Philippines declared a national emergency, with many schools and non-essential services closing on March 16th for a period of 30 days. Many parts of the Philippines, including Tacloban and Cebu, where we work, are under strict community quarantine. The majority of Airports and Seaports are closed for passenger travel and people are being advised to, wherever possible, stay at home.

As the county fights to contain the spread of COVID-19, our thoughts are with the most vulnerable groups, who sometimes face an impossible choice – go to work to secure a livelihood or stay home, and risk not having any food for their families.

We are especially concerned about the impact COVID-19 will have on the children our programing reaches every week. The interruption to their education and reduction of vital support services will put them at increased risk during the community quarantine period. We are doing all we can to make sure children and their families remain protected while vital services cannot reach them.
Our Response to COVID-19

We are following the advice of health experts and have implemented remote working practises. We have also prepared hygiene education materials for children and have disseminated as much information as we can online. We have created a special fund to support the distribution of Coronavirus education packs and donations of vital medical provisions for front-line healthcare workers and those in underserved communities.

We are in touch with partners about getting COVID-19 test-kits into communities that severely lack them. If you would like to support any of these COVID-19 prevention measures, you may click here.

From tomorrow (March 20th), the country will cease all international flights from Manila. Our entire management and volunteer team have decided to stay put and offer whatever relief we can to some of the Philippines' most unprotected children and families.

Perhaps more than ever before, we need your support to maintain these services that reach those experiencing food, income and protection insecurity.

Message To Our Supporters

Our message is simple – please stand with your own communities and be kind to others, especially to the most vulnerable.

If there is one theme that has emerged from this global pandemic, it is that people need people. The pursuit of professional profit and personal gain does not mean a thing if we do not take care of our communities and look out for each other.

No matter how long we are required to maintain social distancing, let us continue to practise social inclusion, not just as individuals, but as leaders in business and in society.

If you need to reach any of our team, our emails are open and you can reach me on mk@fundlife.org

Stay safe and take care,

Marko Kasic
FundLife