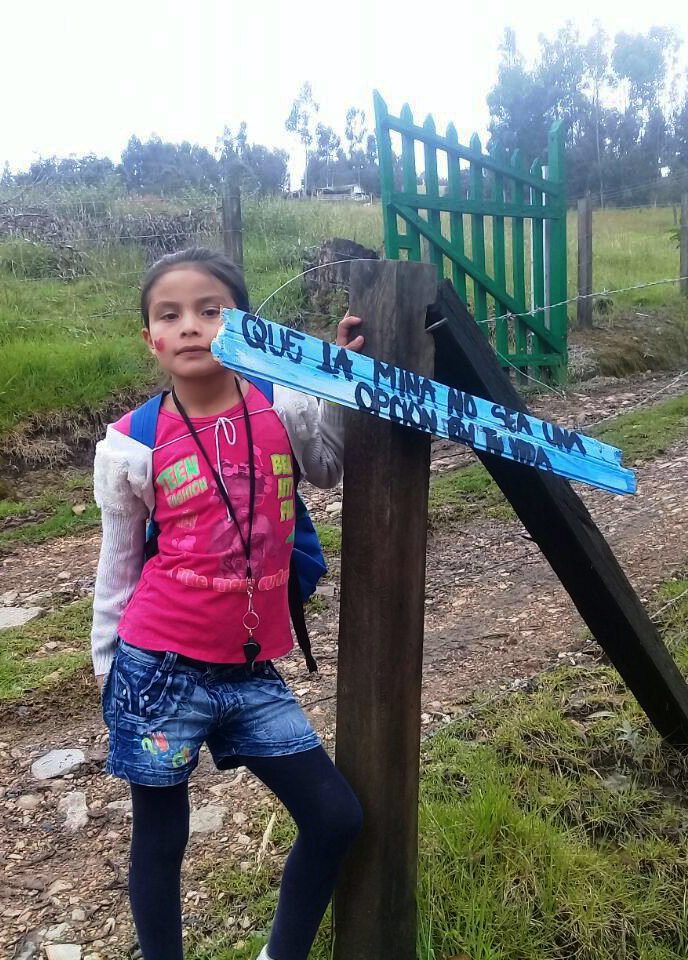 Boyacá, a scrap in the middle of Colombia's map, is extensively covered by páramos (Andean highlands), and known both for its icy winds and its hard-working people. The city of Sogamoso is located in the Alto Chicamocha region; it is crossed by the Eastern Andes Range, amidst whose mountains lies the village of Pedregal.
Such rural scenery is coated with vegetables and coal. Its economy leans prevailingly on the latter, thus making it a coal-mining area. This zone has been historically dedicated to the practice of digging in order to extract such black pieces of rock, and selling them later to the best bidder.
Entire generations have left their childhood and teenage years in those withered dark tunnels. Although less and less children enter this tradition nowadays, such economic model still prevails. It exploits natural resources irresponsibly, and harms both the landscape and people's health, while keeping the young far from classrooms.
Nevertheless, local and international organizations, social and environmental leaders, and conscious inhabitants have started promoting responsible mining. That is how the Somos Tesoro (We Are A Treasure) project was first created, which focused on people's value rather than on that of products.
Its working lines are centered on means of making a living, educational opportunities, formalization processes, and public policies. The only aim of all this is preventing child labor in mines; that is, allowing kids to enjoy their childhood, and to build their history without dedicating a whole chapter of their early life to labor.
This project arrived at La Independencia sector in the village of Pedregal, and asked children how they thought such perspective could be changed. They assessed the problems themselves and, together, took the risk of creating their own actions for change.
Hand by hand with Fundación Mi Sangre, Ecoart collective created the Acunando manos trabajadoras, por estrofas soñadoras (Cradling working hands, for dreaming verses) campaign. It is a bet on art and culture, which joins other child labor prevention actions currently being implemented in this area. They have left poetry scattered around along the paths of the area, prose messages carved into pieces of wood, and words for miners and their families.
"Positive messages to tell children to live their childhood, and to keep on going no matter what", as said by 14-year-old Laura Sofia. Banners stand as gates, at the entrance of mines thus inviting reflection. This is an example of the many tasks faced by Somos Tesoro in the 8 mines in the area where the program has focused. There, it has achieved to keep tens of hands of Sogamoso's children and young kids from dying their hands with coal's black.
Somos Tesoro is a leading project in the reduction of child labor in Colombia's mining areas. It is executed by a consortium consisting of Pact, Fondo Acción, Fundación Mi Sangre and Alianza por la Minería Responsable (Alliance for Responsible Mining), and funded by the Labor Department of The United States.