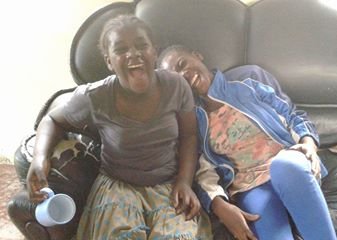 Firstly, we would like to say a huge thank you to everyone who has supported us via GlobalGiving. We were thrilled to raise a fantastic £8,172 in just one week during the 50% match funding initiative, split across our two project pages. We are proud to have won two bonuses, totalling £1,500, which will make a tremendous contribution to our work in the months ahead. To put this into perspective, the bonuses alone could run our Girls Home well into the summer.
As you have proved, Kimbilio is a real community. Our children are at the heart of Kimbilio; with our carers, village elders, church leaders, congregations, volunteers, local businesses, and you, all pulling together to provide each child with a future with hope. So far in 2016, one girl's story has epitomised our work at Kimbilio:
14 year old 'Amélie' gave birth to a healthy baby boy, and is showing maturity far beyond her years as they both grow up in our care. This experience has brought her closer to her family, who have visited her several times since, and we hope this is a foundation for reuniting them permanently. The realities of giving birth on the streets could have been fatal, but fortunately Kimbilio is well known in the local community, with children coming to the Centre in their times of need. The support of individuals like you are making this life-changing work a reality on the streets of Lubumbashi.
In our opinion, becoming a member of GlobalGiving has been one of our most rewarding achievements of the past few months. We hope the additional exposure Congo Children Children Trust has received will spur us on to help even more vulnerable and forgotten girls like Amelie in Lubumbashi. We hope to fully-fund this project in the weeks to come, so keep an eye out for our similar projects in the near future.
Once again, thank you for your generosity and support.
Links: