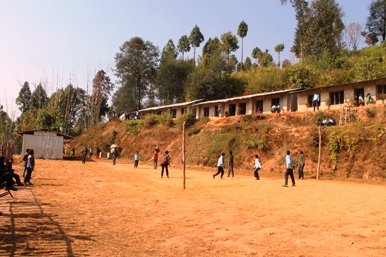 Dear Supporter,
Thank you for your amazing support for the people of Nepal whose lives were turned upside down by last year's devastating earthquake. Thanks to your contributions, Concern Worldwide has made a real difference to Nepal's children in particular by ensuring that their education has been able to continue as quickly as possible.
As you know, Concern has been working to provide education support to two districts of Nepal, one of which is Dolakha District. In this region, which is about 20 miles from the capital, the earthquake damaged approximately 362 schools, destroying 1,632 classrooms and affecting approximately 50,469 students.
You might remember from one of our previous reports that Concern is working in Dolakha to construct temporary educational structures, thereby repairing 392 classrooms in 47 schools. The support Concern has provided to the schools includes providing corrugated galvanized iron sheets, fiber sheets, and required accessories for repairing roofs; technical support; financial support to procure skilled and unskilled labor; and educational materials, including white boards, markers, and dusters.
In this report, I'd like to share with you some stories from Concern's work in Dolakha, highlighting two individuals and two schools thathave been helped through your generous support.
Thakur Bajracharya (name has been changed for privacy) is a student in the fourth grade at Kaileswor Primary School. The school had a total of five buildings, of which one building was completely destroyed in the earthquake, with the other four incurring partial damages. The partially destroyed buildings needed renovation in order for classes to resume as soon as possible. "When the classes started on June 1, 2015, the classes were run on the school's playground. It was difficult to concentrate due to the hot sun," Thakur says. Two temporary learning centers were initially constructed with the support of the District Education Office, and the students in the lower grades began attending class in those structures. However, for the other grades, classes were still conducted outside. With your generous support, eight classrooms were built in the school for the older children, including Thakur. "I finally can attend my class nearly four months after the earthquake, now that the classrooms are built. All my friends have started coming to school again," says Thakur.
Chanaute Lower Secondary School was established in 1974 and currently has 159 students, of which 70 are boys and 89 are girls. Says School Principal Ishwor Raj Karki, "The earthquake destroyed one building and damaged walls of three other buildings." Following the earthquake, the school was closed for two months, during which time parents worried about their children's studies. After two months, Chanaute re-opened, but many parents kept their children at home, fearing for their safety. Due to low numbers of students, formal classes were not held, and what classes were held took place on the playground. As a coping mechanism, the students were encouraged to participate in extracurricular activities like singing, dancing, and sharing their experiences in the earthquake. With your tremendous support, eight classrooms have been constructed at this school, which allowed lessons to take place indoors and helped normalize life for the students. The new classrooms are earthquake resilient and safe for students. Of the new classrooms, one student says, "We are happy because we can come to class and meet our friends."
Kalidhunga Higher Secondary School was established in 1966. Although the school was not as severely affected by the earthquake as other schools in the district, Kalidhunga nevertheless badly needed new roofs, which after the earthquake had begun to leak water. But the school did not have the resources to replace the roofs. Through your remarkable contributions, Concern provided the school with roof sheeting, which has enabled the school to repair the roofs of its classrooms. Says Principal Bam Hari Dahal, who has run the school for the last 15 years, "The students are pleased with the new roofs—they do not have to worry about water leaking and disrupting classes anymore."
Mallika Ghimire is a secondary school teacher at Narayani Higher Secondary School, where she has been teaching for 21 years. She recalls the horrific experience of returning to school three days after the earthquake. "It was devastating," she remembers. "Most of the school's buildings had been destroyed by the earthquake. The school had to close down for about a month. Although some classrooms were built with the District Education Office's support, the rooms were insufficient and it was cold and dusty." Later, with the amazing contributions of our supporters, additional rooms were built above the only safe building left at the school. "After the construction of the rooms, the problem of dust was solved," says Mallika. "Students also started coming to school regularly. The students particularly liked the carpet and mattresses. The students now have a safe and warm environment to study. I, along with every teacher in this school, would like to express our gratitude."
Looking ahead, Concern will be continuing to repair and upgrade classrooms and schools to ensure safety, additionally making them weather and seismic resilient. Concern will also be looking into managing rubble in schools, as rubble from destroyed and demolished school buildings can still be found all over school sites and poses a significant danger to staff and students.
Thank you! Without you, this work would not be possible.