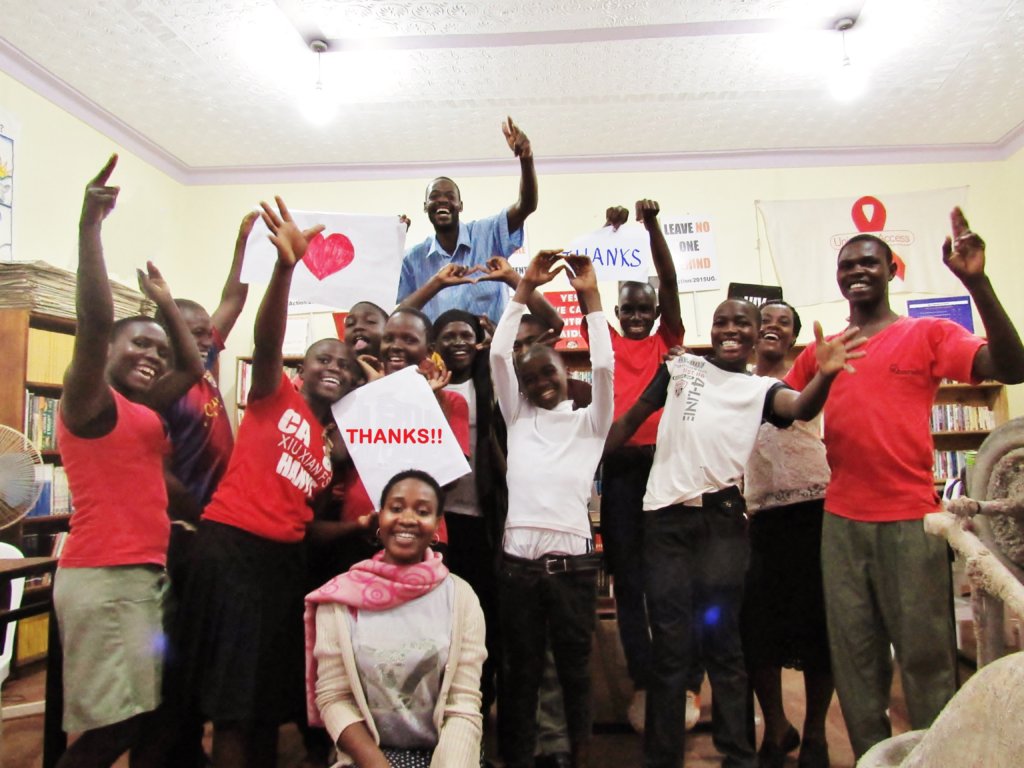 Thank you!
You are building dreams and we are grateful and thankful for any initiative taken and support given for the year 2015!
CFYDDI Resource center registered 3167 (Three thousand one hundred and sixty seven) people of all ages including young and old who accessed a service at the centre.
CFYDDI statistical summary of the people served for the year 2015;
We have recorded;
19 secondary schools from which the users come from.
9 primary schools from which the users come from.
11 nursery schools from which the users come from.
11 students some undertaking nursing and medical studies accessed and borrowed medical books from CFYDDI donated by British Medical Association (BMA) Information Fund books These students have been coming from 5 registered institutions to include Jinja School of Nursing, Kabubbu Health centre 111, Kasese Mision Hospital and the IHK (International Health Science University)
5 Ugandan universities which include Makerere University, Ndejje university, Gulu University, Kyambogo University and Makerere University Business school from which users have been recorded having had access to the resource centre.
9 international universities which include Monash University, Douglas college, Liverpool university, UCL,BSMS, Sheffield, Leeds, Birmingham and Newcastle have undertaken their elective programs, research and have contributed to global health through local volunteer opportunity with CFYDDI.
3 international medical doctors offering services to community and local health centres in the community
1 dentist hosting a 3day dental service at CFYDDI
4 international volunteers from Canada
7 members from TeamMED from Monash University who instill an enthusiasm and passion for healthcare in less developed communities by helping students get involved in both local and global practical initiatives.
16 International medical students have undertaken their elective program with us at kasanganti Health centre and have also volunteered at the CFYDDI
Makerere University and Makerere Business School have attached two students for their supervised internship with CFYDDI
With many community based and Non-government organizations partnership base formed.
You have brought closer to the community new special opportunities that they have embraced through a range of new program because of the infrastructure development you have helped put in place. Through your support you are promoting
Local education through tutoring at the center
Mentorship and supervised internship for university students to gain experience before their first degree all done at the centre.
You are promoting Community health with Dental services, Health education programs and HIV/AIDS counseling with referrals.
You are Nurturing local talent through Drama
Volunteerism both local and international
Employable opportunities ranging from construction, office jobs and many informal jobs
Expanded our field outreach programs
Serve special constituent such as disabled, elderly, and unemployed.
Local business and entrepreneurship, job opportunities and upgrading work skill. There is a notable share of the public interested in the expanded mission to contribute to economic advancement of people and community.
One of the parents who come by at the center to check on whether his child had really come to the center as she asked for permission, was introduced to the centre programs and in his own words Mr. Mutebi said
"This centre can prove to be a pathway to economic opportunity to providing resources for business Development, job search and enhancing workforce skills".
New technology and provide services to help youth and mothers learn about high–tech gadgetry.
Youth leadership with the various club administrations established in communities, schools and at the centre.
Club formation like literacy club, book readers club and SHARE club
Fatuma Nanyanzi a young mother who joined the women entrepreneurship group with an interest of having an opportunity to learn computer says:
"The centre is our greatest collective hope to learn about Health, sanitation & Nutrition as a mother, gain computer skills and most importantly can now start and run my own business through the entrepreneurial skills training learnt"
To learn more in detail about the other ways you are supporting the community, we invite you to visit our website, face book page, blog and we invite you to subscribe for instant updates always!
Thanks so very much for all your kind support.
Website: www.cfyddi.org
Face Book link; https://www.facebook.com/CFYDDI
Blog; www.cfyddi.wordpress.com
Links: