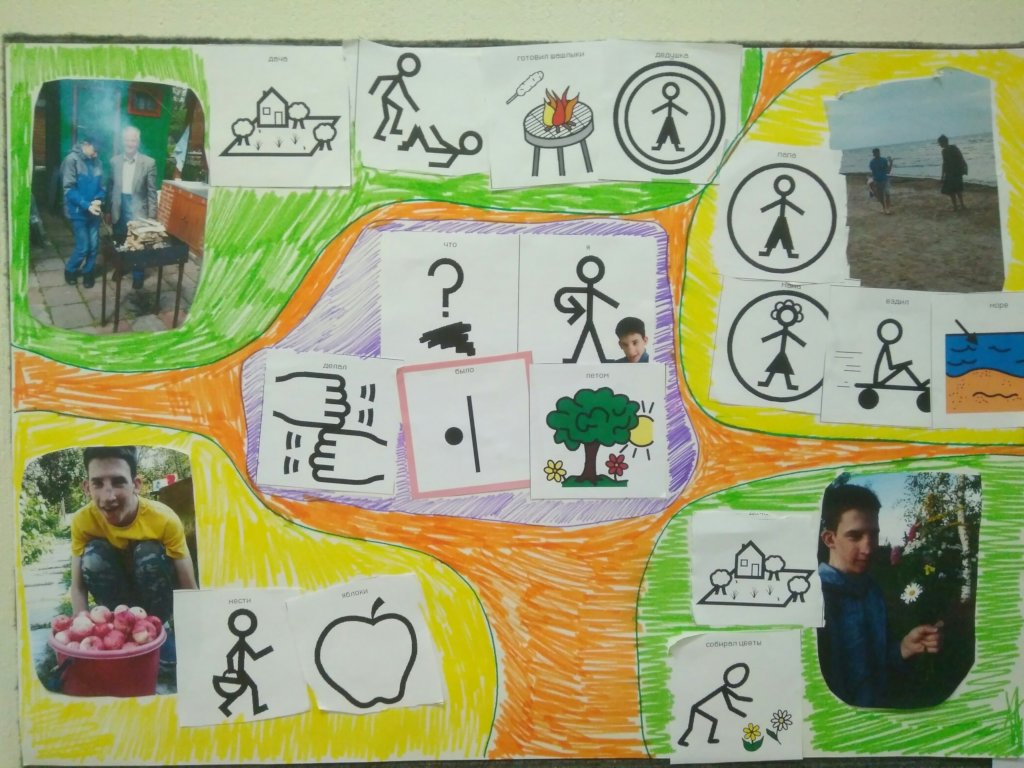 What did you do this summer? Gleb's board with a mixture of photos and symbols allows him to "talk" about a visit to his grandad's dacha. Gleb has been a member of our group for two years. He can understand speech, but unfortunately, a physical problem means he cannot speak himself. Since he started with us he has learnt over 250 symbols. His frustration is hugely reduced because he can express more clearly what he wants. However, Alternative Communication can do so much more than just asking for a cup of tea. Now Gleb can share with friends and family an experience that was one of the highlights of his summer.
One of the highlights for the whole Moscow group was our summer camp. On summer camp we are able to try out a whole range of activities that we don't do in the city. Walking in the countryside, paddling, sharing time round a camp fire. It's a chance for families to deepen their friendships, broaden their horizons and, of course, to find new things to communicate about. In such a relaxing environment, everyone learns a huge amount without even realising it.
Earlier in the summer, we ran a campaign to widen access to communication buttons. We were able to do this because we were lent the use of a 3-D printer, which allowed us to make buttons very cheaply. 15 people came and we helped them to adapt toys for children with special needs and gave them a button. The participants came from a range of organisations, including a children's hospice, so we know the number of children and young people who will benefit is greater. We are always learning about new technology and new methods of communication, and we are keen to pass this knowledge on to as many parents and specialists as possible.
In St Petersburg our participants are younger. One boy has been preparing to start school this September. He had already learnt to use sign language and pictures to communicate. We have been giving him extra individual lessons so that he can learn to communicate with the help of a tablet, which will enable him to communicate at school.
Thank you all for helping make this summer such fun for everyone, and such a success too! A particular thank you to those who responded to our appeals and gave on one of the Global Giving bonus days. The bonus you helped us win will help us do even more. Now we are looking forward to getting back to our regular routines and meeting new participants in our programme. We will let you know how we get on.