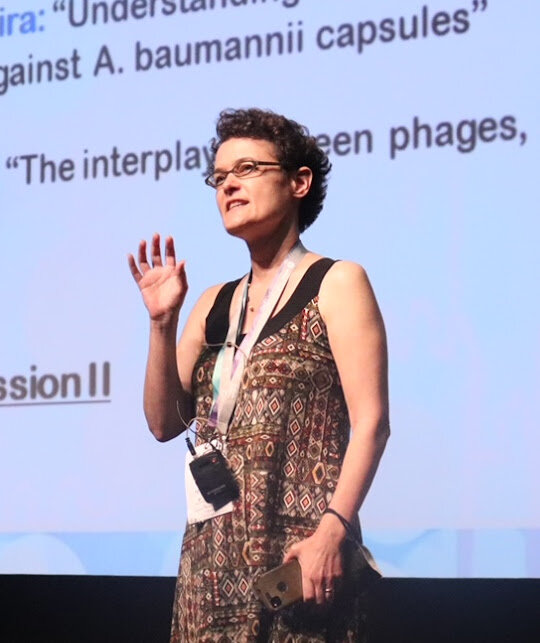 Now that we've moved to a new stage in the COVID-19 pandemic, I've once again been able to participate in international conferences, expanding Phages for Global Health's network of collaborators. Over the past few months I have been invited to speak and facilitate sessions at the following conferences:
Phage Futures (Netherlands)
In addition to serving as a moderator for the conference, I also presented an overview of our work in Africa and Asia, including:
(1) Building scientific capacity through laboratory training workshops
(2) Creating international collaborations to develop phage products
(3) Working toward establishing national collections of phages ("phage banks") that could be used to rapidly respond to bacterial outbreaks
(4) Sharing information on how government agencies in the US, Europe and Australia are regulating phage products
Viruses of Microbes (Portugal)
This conference is one of the largest events for phage researchers worldwide, but it was postponed for the last 2 years due to the pandemic. I took advantage of this year's gathering to organize a meeting with researchers from roughly 20 institutions to begin developing international guidelines for phage banks. The experience of those who are already managing phage banks in industrialized countries will help scientists in Africa and Asia who are trying to initiate such phage banks.
World Antimicrobial Resistance Congress (Washington, DC)
International policymakers, scientists and thought leaders met at this conference to brainstorm ideas and formulate initiatives to address the global antibiotic resistance crisis. Together with a representative from the US FDA, I summarized the various approaches that drug regulatory authorities in different countries are using to oversee phage-based drugs. We are now working toward sharing this information at symposia in Africa and Asia.
We're excited about the collaborations that have evolved through these conferences, particularly in progress toward establishing phage bank guidelines and sharing information on regulating phage products! Thank you for your support in bringing this work to fruition.
With wishes,
Tobi