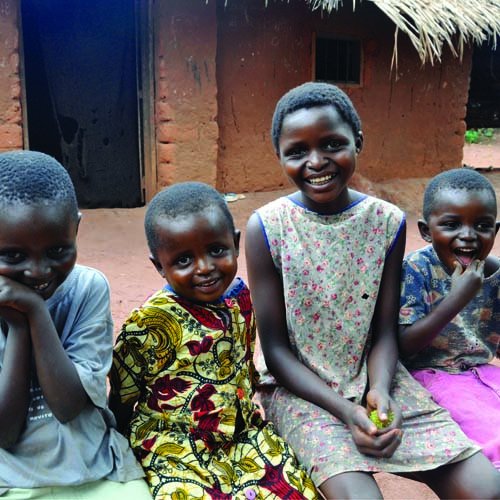 Jeremie and his wife Sanja had five children and found it difficult to support them all with the meager earnings brough in by Jeremie's sales of matches and candy. Yet, when Jeremie's brother and sister-in-law died of AIDS complications, the couple adoped their three children. Then, when Sanja's sister died, they adopted another child. In addition, they have also adopted an older child, daughter of another relative, who also died of AIDS. Of course, raising even more children was a larger challenge, but, "Family takes care of family", was the explanation given.
The family started with the AFCA program 1 year ago, when they received agricultural and animal husbandry training. They also received seeds to plant a house garden and a larger "farm" plot, two female pigs, one male pig, $50, and a water filter. The family now has six piglets that are one month old. They will return three pigs from their litter to the project, so another family can benefit.
The family now has other animals like goats and chickens which they bought with the money from the proceeds of their efforts. Their farm plot is 5 km from their house and on the farmette, the plant corn, peanuts, cassava, and three types of beans. Because Jeremie is strong and active, they rent a plot 100 m x 100 m. It is usual in DRCongo to rent land for 3 years, but this family rented the land for 6 years, and already put a down payment for purchase it at the end of the 6 years! The used the $50 to rent the land and make the down payment and they worked hard to clear the land for making their farm.
They get most of their income from the field, and eat most of what is grown in the house garden. In the house garden they grow vegetables like amarant, morelle, okra, spinach, onions, eggplant, and cucumbers. They also planted a few fruit trees in the yard. It is a sweet place, this house of theirs!
Before receiving the agricultural training, Jeremie was a trader. He would buy candy, cookies, and matches at the big market, then take them to the town center and resell them. They had neither garden, farm, nor animals. It was extremely hard work for Jeremie, and he could barely earn enough money to feed the family. The things they used to buy/sell caused problems -people would borrow from them and not repay. Some things would not sell. The kids were constantly sick. Now, the farming has been so profitable that he has given up the trading. The things from the garden are popular and always sell for a good price, plus they can eat the products themselves. Now his kids are healthier, well fed, he can buy clothes and soap and other things they need, and all the kids can go to school. WOW! You are part of this, friends!
They save seeds for the next planting, thanks to training they received and each child / member of the family has been trained on how to take care of the animals and gardens. Each one has "their" part of the farm which they are responsible for keeping up. Now, during the dry season, the house garden must be watered twice a day. They do this from 5 – 6 a.m. and 5 – 6 p.m. They use animal dung as a compost material and fertilizer and their gardens are doing amazingly well..
When interviewed, the family really wanted to thank AFCA for the water filter that they received. The kids used to get sick from a lot from worms and other problems, and now they are much healthier. The whole family is healthier. The price of the bucket to make the filter work was $4, which was expensive, but worth the investment.
Do you know what YOU have done by supporting this project? You've lifted a family out of poverty. You've taken a needy, struggling family who opened their home to AIDS orphans and you gave them food, a job, security, and HOPE. We can't thank you enough.
Please share this story with many others - we have so many families in the same situation, or worse, in Congo, and we can help many more, if we have the funds to do so. Thank you for being part of our work - it is life changing.