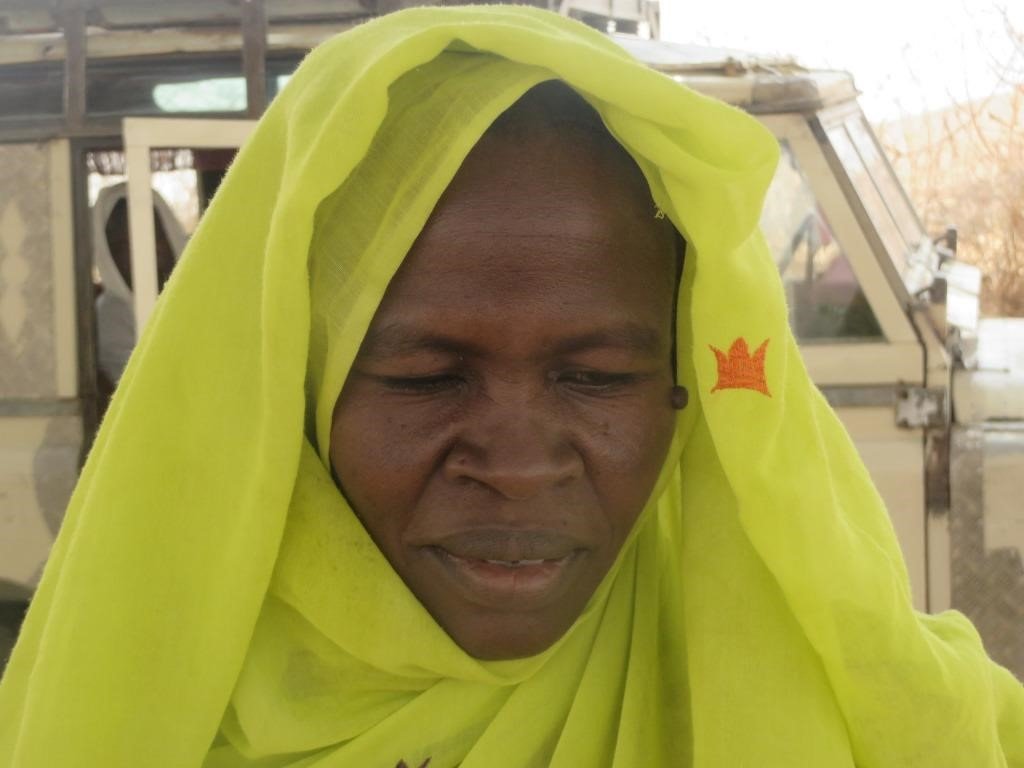 "During our recent Programme Meetings when we assess our projects, learn lesson and, most important of all, hear how things are for families in Darfur, I was saddened to hear how the drought has caused immense suffering to families living out of sight of the world. Village after village is reporting desperate problems, including their worry that mothers have had no protein at all to give their children. They are begging for goats, so the children have goat's milk, and for donkeys to help them collect water. But our animals help in many more ways than that. Here are first hand stories from two beneficiaries who were the poorest in their villages. If only we could help more mothers like them and transform their lives too."
Patricia Parker MBE
News from Hillat Hassan -
47-year-old widow, Alawya has five kids, two of which are less than five years old.
She received her five goats on 15th November 2014 and one male donkey. She worked hard to look after her animals. She has "made a shelter (rakuba) out of the stalks of millet and grasses she dried so that the pregnant ewes and their kids had shade. Her donkey helped her to collect hay and to make 'Tabana' to feed her goats over the dry hungry months of summer. "I had never looked after animals" she said "so this was all new to me. I was able to get drinking water for my family from our new Kids for Kids hand pump, just outside the village so we are all less thirsty. I was really excited when our first kids were born. I now have 14 goats and am selling surplus milk to other mothers so it is not just my own children who are benefitting. My children have goat's milk to drink and I have even been able to grow more vegetables and millet because of the donkey plough we were given, which I share with two other families. Having animals has transformed our lives."
43-year-old Maryam is married with seven kids, two of which are less than five years old.
She received five goats and one female donkey, who is now pregnant. Maryam said "If the foal grows up to be strong it will make a huge difference to our lives. A donkey costs more than we can earn in a year. If there is an emergency, we could sell it but I would like to save up and buy my husband a donkey cart so he can collect things for our neighbours and supplement our income."
It takes more than just one growing season for a family to recover from drought, which means next year too will be extremely difficult. Many families have little seed to plant for next season's crops. Those families who have been able to diversify with the help of animals have been able to survive so much better.
Please help us to equip families and the community to stop the suffering of children
$30 buys a donkey plough to help a family grow more food
$42 provides a blanket, to keep children warm at night
$62 will provide one goat to give children nutritious milk
$75 buys 20 fruit tree seedlings to provide food and shade
$95 buys a donkey for transport and to help carry water
$372 will provide 6 goats for a family to give them milk and income from selling excess dairy product.
$7,000 will provide a simple handpump for the whole community, so that children won't have to walk miles for fresh clean water.
Thank you so much for your support.