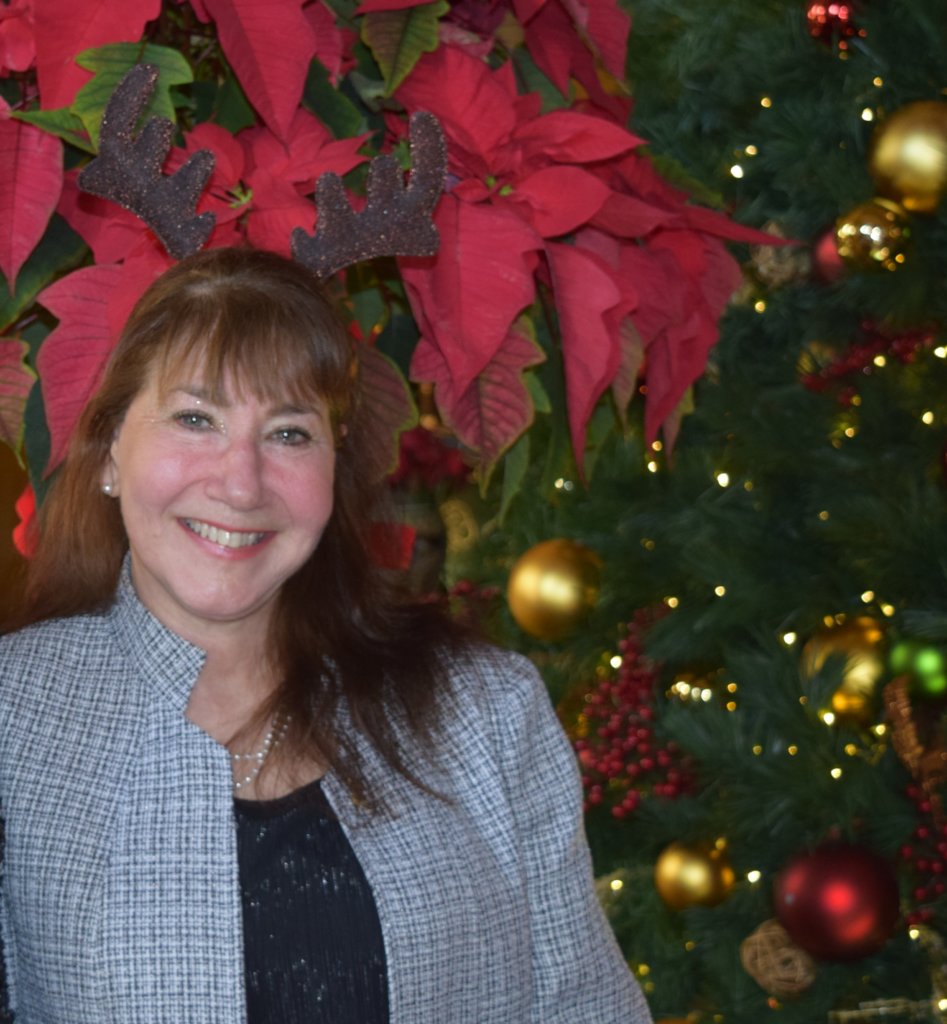 Happy holidays to you all from all of us!
I wanted to provide you with an end-of-year report and get us all started out well for the brand-new year: 2020, can you believe it!? 2020 - WOW!
For me, this past year has brought so much growth and re-orientation, professionally and personally, and I am grateful for it all. For myself, personally, I have been able to realize, more and more, how important some people in my life are to me. I have been able to accomplish some of the personal things that I've wanted to accomplish for so long. I've gotten back to my singing (more, not yet to the level I'd like to, but working on it), and my drawing and painting (same thing). The improvements on my house, which I've wanted to make for so long, have been coming right along. I am thinking of all of you and wishing you well.
Professionally, with Stop the Silence®, there's lots to tell, as always...
Stop the Silence® Update
As always, Stop the Silence® has remained busy. This season is always about plans, moving forward partnerships, and fundraising, and this year-end has been no different. Here are five of our important involvements over the past few months:
1. In past reports, I've described some of the partnerships that are moving forward in a big way - the ones that support our programming in New Zealand and that are moving forward toward the further implementation of our international model that currently has 15 countries as a part of the coalition (some of the sites are providing in the map below - some addresses not exact). If you have not already, please click here to take a look at the video we made about the partnership and model (script by Pamela J Pine, video credit, Ben Kamakorewa).
The video was made for an application to the MacArthur Foundation 100&Change Program that will give $100 million to one organization and promote others' good ideas that change the world. We are still in the running and will find out in February whether we have made it to the top 100 organizations! The award is given in September 2020. The international program was designed by me and submitted under the Institute on Violence, Abuse and Trauma (IVAT), a 501(c)(3) organization lead by Sandi Capuano Morrison, that condemns violence and oppression in all its forms. It stands with all who work for equality and peace. IVAT is a leading international resource and training center, founded in 1984, and has offices in San Diego, CA, and Honolulu, HI. (See, also, below, about our partnership with them.) We expect to be more involved with IVAT over this coming year - I'll keep you posted!
2. A description of the New Zealand program, which informed the international program, is attached. We return to New Zealand in June 2020 (for which we have been planning and doing some additional fundraising this past period) to do a final training under this project for hundreds of various types of service providers. We aim to get everyone on the same page so that those who need help can get help by a multi-faceted group of service providers who are "on the same page" and not giving information that comes at cross purposes from one another!
One of the additional and intended and wonderful outcomes of this program in New Zealand thus far has been to forward the community presence to "sit with the big boys and girls" at the national government table, to help identify needs and steer programming, and that has happened. Trust MYRIVR, our New Zealand and fundamental international partner, has not only been absolutely critical in the program's organization, outreach, education, and training progress, and helped to hook up individuals to services through their amazing MYRIVR App, but they have been invited to help inform the government's efforts to address New Zealand's very large child abuse issues!
3. But, before June, the New Zealand program Team will be headed to Doha, Qatar in February 2020, to the prestigious and well-known International Society for the Prevention of Child Abuse and Neglect (ISPCAN) international Congress where we have been invited to speak about the development and outcomes in New Zealand thus far! We all are greatly looking forward to that! Besides the opportunity to present the work that we have been doing in New Zealand and elsewhere, it will give us a chance to network with so many others who are working internationally. It will also give me the personal pleasure of returning to the Middle East, where I have spent so much time working in the past. Sadly, there are few places that I can go now given the world's situation.
4. Two of Stop the Silence®'s fundamental partnerships are with IVAT and the National Partnership to End Interpersonal Violence Across the Lifespan (NPEIV), which is associated with IVAT. NPEIV is a nonpartisan group of individuals, organizations, agencies, agencies, coalitions, and groups that embrace a national, multi-disciplinary and multicultural commitment to the prevention of all forms of interpersonal violence. We believe it is a basic human right to be safe at home, safe at school, safe in the community, and safe when interacting with the institutions of our society. It is our mission to work towards eliminating all forms of interpersonal violence, for all people, in all communities, at all states of life. I sit on the Executive Board of NPEIV and on the Advisory Group of IVAT. Together, as noted above, we aim to change the world. We expect the partnership between Stop the Silence® and IVAT to grow even stronger this year.
5. Other partnerships, too, help us do various things. Two other very important partnerships to mention are the ones that help us raise funds, like through the Combined Federal Campaign (CFC), and equally important, as well as, of course, are those individuals, like Ward Schline, who contributes SO much to the information that goes out through the Stop the Silence® Facebook pages (we have an open page and a closed group) as well as our LinkedIn group, and Alan Horn, who has steadfastly volunteered his time over years to help Stop the Silence®. We have another volunteer joining us who is working with us to develop an interactive blog so that survivors can safely interact with and get support from each other - and we are expanding our training. Stay tuned!
That's plenty for now. I hope you all have a very, very happy holiday. I know that this season can be rough on survivors. Take good care of yourselves and your loved ones. If you are a survivor of child sexual abuse or another type or other types of adverse childhood experiences (ACEs), take extra good care this season.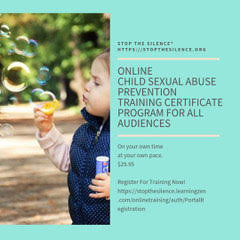 Attachments: