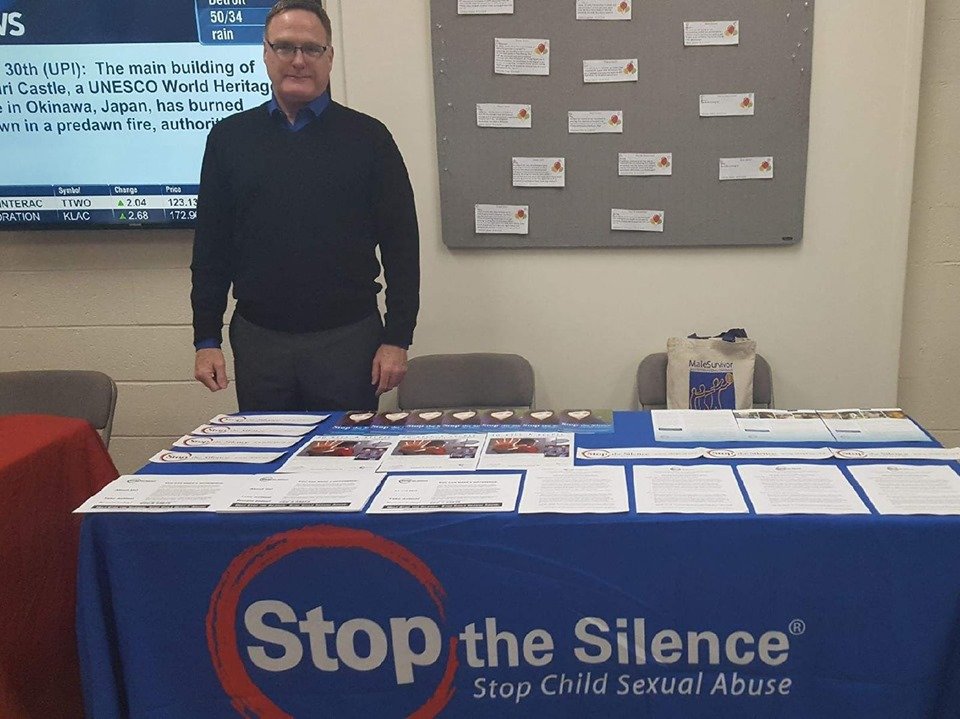 Hello, everyone. I hope you are well. This Global Giving report will be rather brief as we have been busy as little bees gearing up for the upcoming 2020 year, in the U.S., New Zealand, and around the world!
Please see our last Global Giving report, Stop the Silence® Over the Summer Months (August 2019), that provides a good amount of detail about the work with our New Zealand and international partner, Trust MYRIVR, in New Zealand. A few kudos, first:
Trust MYRIVR has carried on in very important ways as a result of the work that we've done together (e.g., Trust MYRIVR is now partnered with The Royal Commission of Inquiry into abuse in state care).
We also want to applaud the work of Ward Schline, our new Stop the Silence® Facebook Editor, who will be supporting survivors and others by providing information and commentary, and Joann Stevelos who steadfastly helps to forward the work of Stop the Silence®.
And the many others, like Alan Horn, who volunteer and otherwise partner with Stop the Silence®. (see the great pic of him doin' his volunteer thing ).
Thank you SO much, all!!
Today, however, I want to primarily underscore the hard work that we are doing to forward the model developed under Stop the Silence® to work with many others around the world. Our focus for these last three months has been largely on proposal-writing and fundraising and partnership-building. Our aim is to work with others to build programs that are holistic, comprehensive, interactive, that build capability, and that are interconnected, dynamic, have a feedback loop, that reach and involve wide spectrums of the immediate community, are action-oriented, and that provide ways to widely collaborate toward worldwide implementation.
The vision and framework for the Model we use reflects and promotes a social movement through a widening audience of professionals and community members; through evidence-based, hands-on- and electronically-based risk-assessments; through advocacy, training, outreach, and education to key stakeholders, service providers, and those at risk; and provides access to services through a free, phone-based, downloadable App, resulting in a critical mass of trained service providers, educated publics, and increased prevention, reporting, and services.
Our outreach to foundations and others these past few months - thank you so much for those who work to provide funds for organizations like ours - has included (these and others):
1. The MacArthur Foundation's 100&Change Program, which, as we noted in August, will be awarding one, $100 million grant in the fall of 2020.
We applied to MacArthur with a 15-country, worldwide program based on the model being used in New Zealand. We have had follow-up from MacArthur and we are (drum roll, please) thus far made it into the third round of reviews!! Wow! That is both a testimony to our good thinking and work but also an enormous honor. We will hear whether we've made it into the "top-100" organizations sometime this winter (in 2020) and the final pick will occur in the fall of 2020. Getting into the top 100 would give us enormous visibility with various funders and others, and we sure hope that occurs. We are very proud of what we have done thus far. Please see our video by clicking here.
2. The Gates Foundation Grand Challenges initiative has awarded grants to 180 investigators in 30 countries, targeting 30 key challenges in global health and development to date.
Grand Challenges Explorations: Innovations for Improving the Impact of Health Campaigns seeks innovative solutions that accelerate the improvement of coverage, reach, efficiency, and effectiveness of campaign-based delivery of health interventions. Initial grants of USD $100,000 will be awarded. If awarded, If awarded, Stop the Silence® staff will be supporting the development of an information campaign to increase awareness and understanding of adverse childhood events (ACEs) overall.
3. The Global Innovation Fund, which potentially provides millions of dollars to worthy projeccts, is a unique hybrid investment fund that supports the piloting, rigorous testing, and scaling of innovations targeted at improving the lives of the poorest people in developing countries. Through their investments, they support a portfolio of innovations that collectively open up opportunities and improve the lives of millions of people across the developing world. We are working to extend our model to other countries with their support.
4. Additional funds from the Robert Wood Johnson Foundation (RWJF), which, along with CAF America Foundation is currently funding our work in New Zealand. Our application to RWJF is for Pioneering funds, with a focus on implementing our model in Florida.
5. A new round of our involvement in the Combined Federal Campaign (CFC) - starting this month. The mission of the CFC is to promote and support philanthropy through a program that is employee focused, cost-efficient, and effective in providing all federal employees the opportunity to improve the quality of life for all.
CFC is the world's largest and most successful annual workplace charity campaign, with almost 200 CFC campaigns throughout the country and overseas raising millions of dollars each year. Pledges made by Federal civilian, postal and military donors during the campaign season support eligible non-profit organizations that provide health and human service benefits throughout the world. Stop the Silence® has been a member of CFC for over a decade and has received critical support for our ongoing programming as a result.
------------------------------------------------------------------------------------------------------------

Thank you so much for taking a look at our ongoing work and providing YOUR support. Your support and the support of others helps make all of what we do possible! Please give to help us all move forward in the prevention and treatment and mitigation of child sexual abuse!

Next Update scheduled for the Winter 2020. "See" you then!

Pamela Pine, Founder and CEO, Stop the Silence®