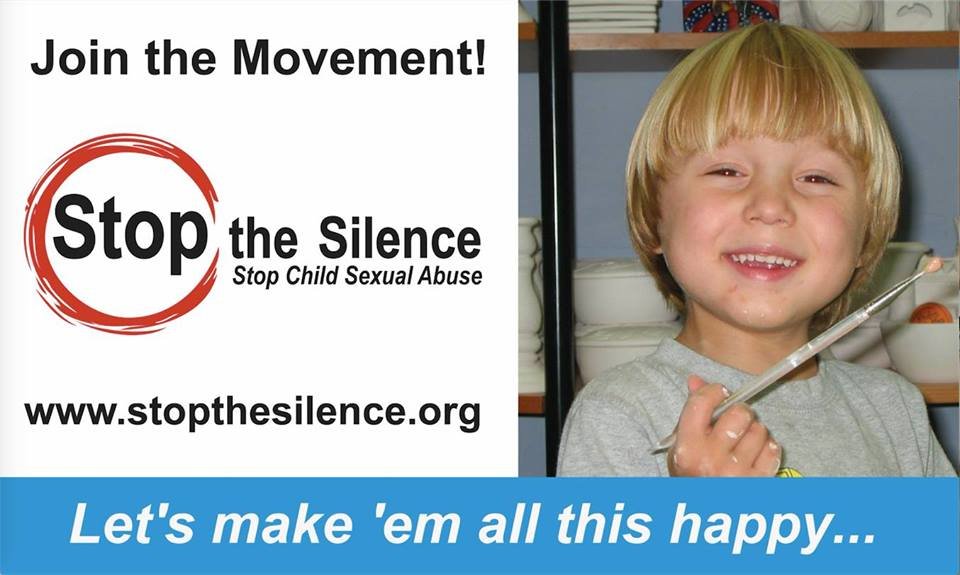 Hello. I hope everyone is well - and that if it's hot, you're keeping cool, and if it's cold in the Southern hemisphere, you're keeping warm!
Stop the Silence®, in partnership with many others, aims to make differences in individuals' lives and in societies around the globe. One member of the training in New Zealand underscored that our training there helped him both disclose his abuse and move forward his healing and therefore the better health of his entire family. We are thrilled that our work makes these kinds of differences.
And, we look to do this and more - change entire populations' understanding, increase prevention, increase reporting, increase healing and change systems across the globe!
So, this report is a bit more technical than many of the reports we write, because we want you to know not only what we're doing, but how we're doing it, and what we're accomplishing with your support!
---------------------------------------
The most important information that we have to share with you this past a-little-over-three-month period is to underscore the outcomes of our work in New Zealand that have helped move our expanding and global work forward, and, as we move forward globally, the focus of that expanding work.
1. In New Zealand, in collaboration with our international New Zealand-based partner, Trust MYRIVR, we accomplished the following top five primary service results by thus far over the project period:
We delivered two free, highly successful trainings, the second during the last quarter, to 40 participants from 13-16 November 2018 and to another 48 people from April 16-18, 2019 and strategized on others. This led to a third, well- received and major training / event in early August with 100 people involving a field trip by CAF America.
In the past quarters, we have reached nearaly 100,000 with information through outreach efforts, the App, social media (e.g., Facebook, LinkedIn, mass media, i.e., two International Radio Samoa stations).
Stop the Silence® enhanced an online CSA training/professional development resource tool to be used as an introduction, refresher, and as a sustainability effort for staff/members of communities.
We developed strong networks through which to move the programming forward in-country and elsewhere, e.g., Oceania, through:
Generation of a large (hundreds) waiting list for involvement the in NZ programming - with plans for a very large training/event later in 2019.
Dialogue with other organizations across NZ that wish to sponsor events to raise awareness about CSA, e.g., local government groups such as the Auckland Council and Auckland District Health Boards that focus primarily on the Auckland Communities' 1.6 million population.
Discussion with interested international parties from Australia and Samoa, e.g., Samoan Victims' Support Group (with intro from Author, Survivor, Speaker, Counselor John Saunders, who spoke at the April training).
Furthermore, the award from RWJF/CAF America, under which we are currently working in New Zealand, was widely advertised, resulting in substantial exposure and positive recognition from providers, organizations, foundations, and the public, as well as additional funding. After first announcing the partnership in August 2018, the number of downloads of the App spiked initially. And, up to the present time (early August), and while still not active for long, the MYRIVR APP has already assisted connecting 7,500 unique users, 8,000 Service Providers, 30,000 nationwide (New Zealand) and 62.4 million community service touch points. We expect these numbers to grow exponentially over the short- and longer-term.
For the Stop the Silence® / TMR partnership, this translated into wide and ongoing exposure in New Zealand, other parts of Oceania, and elsewhere. For examples:
Invitation and delivery of CSA presentations to Honolulu Police Department's Sex Crimes Unit, St. John The Baptist Catholic Church, and on international Radio Samoa stations 531pi (from NZ) and KNDI (from HI) in 2018 and 2019 respectively – desire to further collaborate.
NZ Catholic Church of Auckland dialogue to deliver awareness training to their churches across Auckland.
Radio Samoa providing weekly Tuesday spot for MYRIVR to talk about CSA during their breakfast show.
Further interest from various countries (more than a dozen at this count) interested in bringing similar programming to their countries.
2. As a result of 20 years of the work of Stop the Silence®, and our successes in the U.S., Cyprus, New Zealand, the UK, and elsewhere, we are focusing on planning events that propel the development of programming forward in a similar way as thus far conducted.
We are in the process of reaching out to foundations for major funding around the world to support this work that has shown definitive results.
We begin informing potential funders of our intentions with this: Child sexual abuse (CSA) occurs at staggering numbers throughout the globe and constitutes a broad range of behaviors occurring along a continuum. Behaviors include voyeurism, molestation, child pornography, rape, torture, and sexual exploitation, and often go unreported. A wide range of highly deleterious consequences (emotional, psychological, physical, societal, financial) often affect the child who is abused and often continue into adulthood, affecting those around them, as well.
We note to these potential funders, and most recently, to the MacArthur Foundation's 100&Change Program, which will be awarding one, $100 million grant in the fall of 2020, that we will implement a Stop the Silence-designed (Pamela Pine, PhD, MPH - yours truly), Institute on Violence, Abuse and Trauma (IVAT, based in San Diego, CA) and Stop the Silence-led, three-phase, five-year program, "Speak-Up – Stop the Silence®" in 13 locations around the world (Australia, Guam/Micronesia, Indonesia, Iraq, Israel, New Zealand, Pakistan, Peru, Samoa, South Africa, Taiwan, Tajikistan, the UK). Please watch our video by clicking here!
The work will be done in partnership with wonderful and prestigious leaders and colleagues throughout the world and will be predicated on 20 years of Stop the Silence®'s tested work in several geographies. We are also applying for indiviedual grants, which include those for work in the U.S., in St. Petersberg, FL, in partnership with the University of South Florida, and CASAs there.
The vision and framework for the Model we use reflects and promotes a social movement through a widening audience of professionals and community members; through evidence-based, hands-on- and electronically-based risk-assessments; through advocacy, training, outreach, and education to key stakeholders, service providers, and those at risk; and provides access to services through a free, phone-based, downloadable App, resulting in a critical mass of trained service providers, educated publics, and increased prevention, reporting, and services.
------------------------------------------------------------------------------------------------------------
Thank you so much for taking a look at our ongoing work and providing support. Your support helps make this all possible! Please give to help us all move forward in the prevention and treatment and mitigation of child sexual abuse!
Next Update scheduled for the end of the third quarter, 2019. "See" you in the fall!

Pamela Pine, Founder and CEO, Stop the Silence®