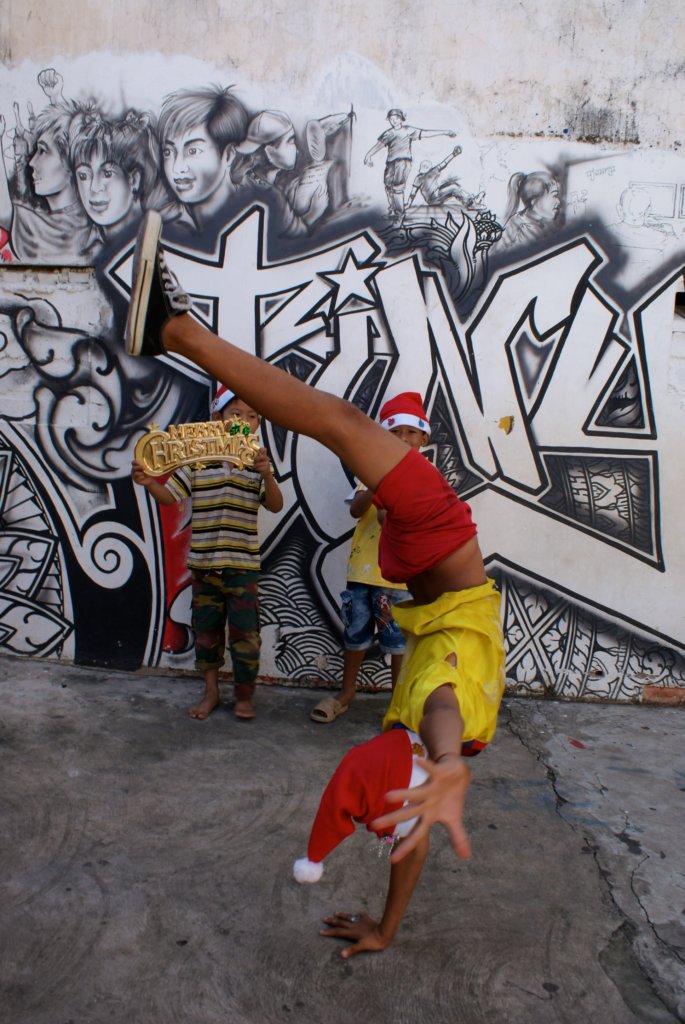 First off, a huge thank you to all of our generous supporters who have helped the Tiny Toones kids with not only an education but also the rare opportunity to be creative and have fun.
Since the project launch, generous people came together to donate over $18,000 to Tiny Toones!
A big thanks and shout out to the David Young Choe Foundation for a huge contribution in December that has brought us so close to our end goal!
As we reflect on the 2016 year, we hope that our project will continue to be recognized by the community and help us come closer to our end goal. Tiny Toones is currently struggling to secure long term grants to help cover the daily operating costs and sustain this vital service to the at risk youth in Phnom Penh. The management team is working hard to search, apply and secure these grants, however until these funds are received, we are relying heavily on private donations.
Once our operating costs are covered, one of our main goals this year is to purchase a new van to pick up and drop off the children from thier homes around the city. Our current van and tuk tuk are in rough shape and need constant repairs and maintenance. The barriers in attending school are great enough as is, so this is a crucial service to provide.
Tiny Toones helps children focus their attention on create dance and music instead of slipping into more destructive paths, using this as a springboard for education and personal development. Our offer of creative arts, education and mentoring is unique in the slum areas in which we operates, as are the opportunities for expression we provide.
Why dancing?
The children that come to Tiny Toones receive little support or guidance at home, at school (for those that attend) or in their community. Meanwhile, hip-hop is immensely popular amongst Cambodian youth. Break-dancing hooks their interest because it's part of a culture that feels young, exciting and relevant to their lives. Its appeal provides the basis for all of Tiny Toones wider work on personal development, social integration and education.
Break-dancing is physically and mentally demanding. It promotes active lifestyles, inner-strength and a sense of achievement and self-worth. The change that takes place in terms of confidence and self-esteem is visibly apparent and transformative for the children involved.
These children become part of a positive community. Our dancers perform throughout Cambodia and beyond. Their achievements – both as dancers and through the education they have gained – inspire the next generation.
Our kids
More than 40% of Cambodians are under 18 years of age. While 39% of children aged 5-14 are involved in child labour, only one in three stay in school beyond primary level. It is estimated that over 20,000 young people live and/or work on the streets.
Tiny Toones' students are aged 5-24 and are particularly vulnerable to drug and substance abuse, sexual and labor exploitation, domestic violence, and gang involvement. A quarter of the children at Tiny Toones report never having attended school. They all face multiple barriers to attendance and progress as a result of their difficult backgrounds, the fees involved and being compelled to generate income. From as young as five many of these children are begging or collecting cans from garbage, or working as garment workers.
As the project has grown, Tiny Toones has maintained its grassroots appeal by employing former students in all of the creative teaching posts. They are perfectly placed to understand the needs of the next generation, to build strong relationships and to act as positive role models.
To help us keep this vital service into 2016, please consider making a donation at GlobalGiving or GlobalGiving UK again this year and telling your friends and family about our work.
Thank you everyone for your ongoing support
Sincerely,
Tiny Toones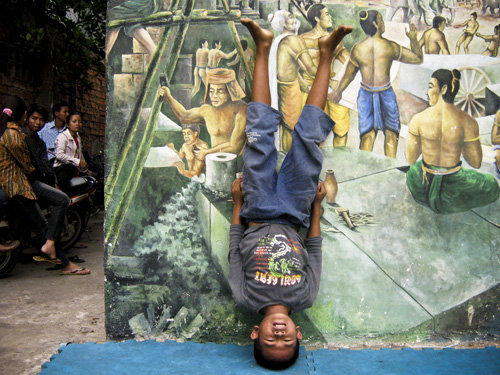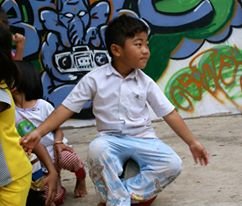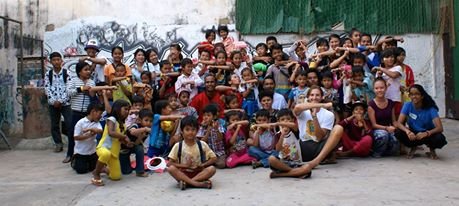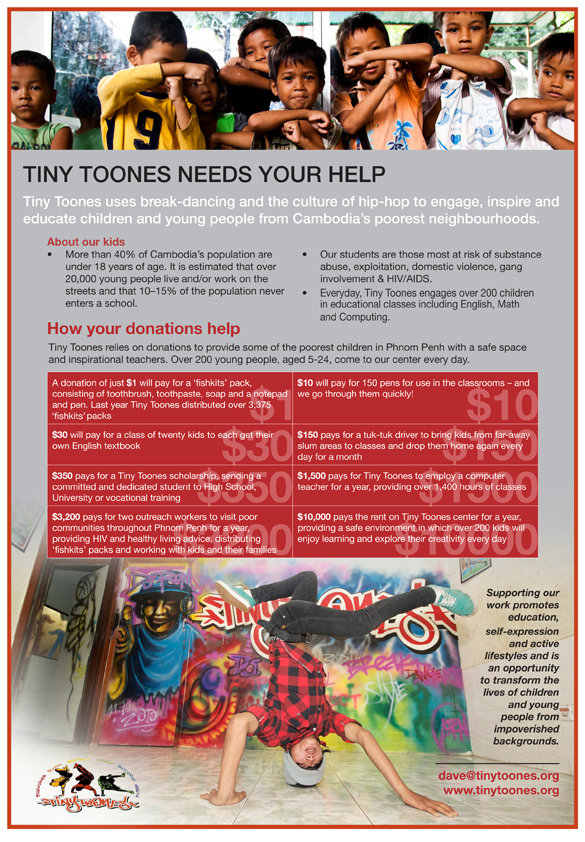 Links: