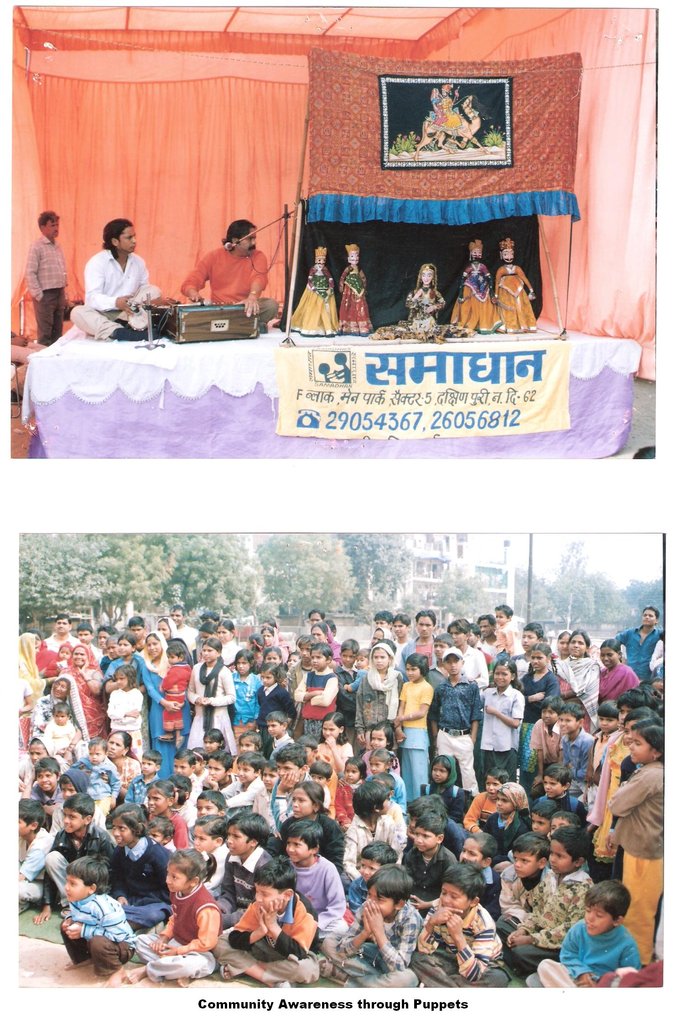 The whole aim of inclusive education is to make the community and local mainstream schools understand and realize that intellectually disabled children should be given the same opportunities for education as their non-disabled peers. However in the low socio-economic community of Dakshinpuri in South Delhi, which is our target area, the community is mostly daily wage workers from the many different States in India and as such they have a limited understanding of this important concept.
So we began by conducting open air awareness activities for the community as a whole. We found that using puppets to convey this message was the best way of getting attention since puppet shows entertain as they educate. This did have the much needed impact since many women came to us to enquirer further about inclusive education and whether "it really works" for children with disability. Most heartening was the response from local mainstream schools and teachers of these schools who wanted to know more about inclusive education. This prompted us to begin a survey of local mainstream schools so that we could begin workshops in these schools and prepare the way for possible admission of children from our own inclusive education unit into these schools once they are academically ready for this step.
We did a survey of 90 mainstream schools and have been able to set up two groups of facilitators from these schools who continue the advocacy for inclusion in their respective schools. The success of our outreach was that 10 schools agreed to admit intellectually disabled children if we refer them and 23 teachers said they would welcome the opportunity to learn how to work with such children.
In our own inclusive education unit we now have 17 children with 11 children who are intellectually disabled and some with multiple disabilities and six children who are non disabled. Some children come to us seeking admission if they are intellectually disabled .Others come after seeing the awareness creating puppet shows. We also share the benefits of inclusive education through our surveys for identification of families with children who are disabled. To reach out to more children who are non disabled we will soon begin to conduct meetings for mothers of the non disabled and women in general from the community. We realize that both the family and the schools have to understand the importance of inclusive education. In April this year we plan to have some mothers of the intellectually disabled share their experiences of how being in the same class room with non disabled children has helped her child.
Since there are no role models here we go from need to need but find that in doing so we are really responding to the identified needs of the mothers of the disabled as well as the non disabled and the community. After all education does not stop at the school gates and hence our inclusion of the community in our efforts so that our efforts will eventually lead to an inclusive community.
We will soon be editing our original project proposal and change the title to "Inclusive Education for 40 intellectually disabled children in local mainstream schools."This covers our own efforts at setting up an inclusive education unit in our Center, preparing the intellectually disabled for admission into local mainstream schools and creating an atmosphere of acceptance in the community and in the local schools to make this happen.