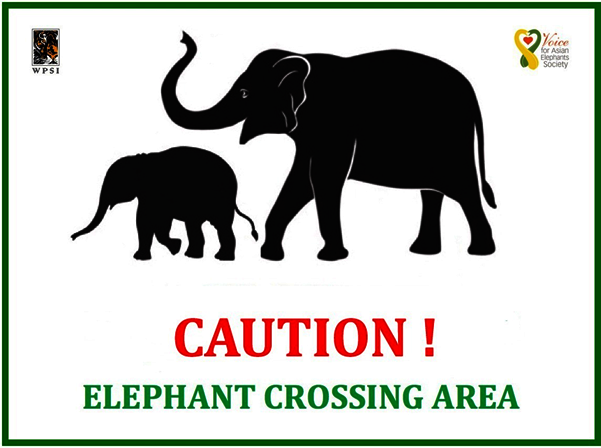 We are thrilled to inform you that we are getting ready to manufacture reflective elephant road crossing boards! THANK YOU from the bottom of our hearts! We couldn't have done this without your support!!
Since the reflective boards will be read by drivers who drive recklessly, the objective is to have a very short message, which is easy to read and understand. The text will be in Odia (Odisha's local language) and not English. The boards will be made locally, so we have limited choice in reflective colours and scope - we will use red, green and black colors as portrayed in the attached image, on white reflective weather proof material.
Our target is speeding vehicles, including tractors and heavy-loaded trucks. Most of the roads are winding, with hairpin bends and jungle cover close to the edge of the road, making it literally impossible to see much farther. We'd originally planned to put up 16 reflective boards 6 ft x 4 ft in size, placed at a height of 9 feet above the ground using cement poles and steel angle supports, along the National Highways.
However, the pattern of elephant deaths is dynamic, and keeps changing. In recent days, many accidents have occurred on interior roads, and we need to adapt. Additionally, we have been advised to make the boards rectangular and reduce the size to 4 ft wide x 3 ft high as per Public Works Department (PWD) stipulation. A sample board in Odiya on an interior road is attached, to provide some perspective of the road conditions and size.
Fixing the boards with cement and steel supports is the most expensive part of the project. However, we can now install 8 extra boards - a total of 24 signboards at twelve interior crossing points in Dhenkanal district of Odisha, installed at opposite sides of the crossing areas.
We will bring you more images and videos in the coming days and weeks.
Attached are two images, the design with border - simple and to the point (with our logo and our partner's logo) is our billboard design, nice and clean. And the other sample signage to show the language etc.,