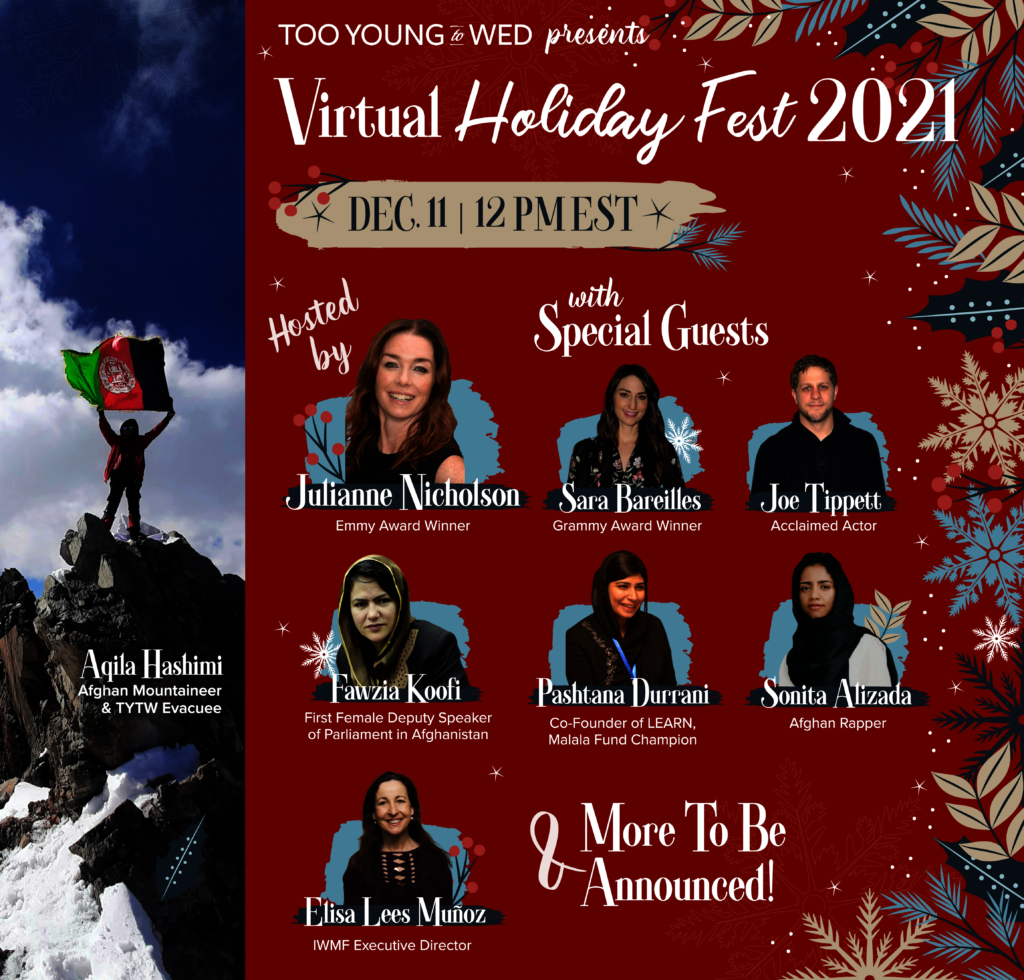 You're Invited!
Join Too Young to Wed for our annual Virtual Holiday Fest! This year, we want to thank YOU for your incredible generosity and support throughout the last year. We are so grateful for this opportunity to unite our global community and share the impact of our programming--none of which would be possible without you.
Our 2021 Virtual Holiday Fest will be emceed by actress, activist, and TYTW Ambassador Julianne Nicholson, who was honored with an Emmy earlier this year for her captivating performance on Mare of Easttown. We'll be sharing stories from some of our incredible Afghan evacuees like mountaineer Aqila Hashimi, pictured in the invitation photo, who climbed Mount Noshaq (7,482 meters high) as part of the first Afghan team with no foreign assistance.
Be inspired by Fawzia Koofi, First Female Deputy Speaker of Parliament and former Vice President of the National Assembly of Afghanistan; Pashtana Durrani, Executive Director of LEARN, our partner non-profit advocating for Afghan women and girls; and our partner Elisa Lees Muñoz, Executive Director of the International Women's Media Foundation. We'll also enjoy performances by rapper Sonita Alizada, Grammy Award-winning artist Sara Bareilles and acclaimed actor Joe Tippett, along with more special guests to be announced!
This virtual event will safely unite our international community and provide an opportunity to raise funds supporting our programs for girls around the world. This year, we've championed girls and women in Kenya, Yemen, Nigeria, Nepal, Afghanistan, and India. Let's support their futures together.
Please join us on December 11, and thank you for your attendance!
Tune into our livestream at one of these three locations:
https://www.facebook.com/TooYoungtoWed
https://www.instagram.com/tooyoungtowed/
https://www.youtube.com/user/TooYoungtoWed
Links: