Project Report

| Jun 26, 2019
SO many exciting updates!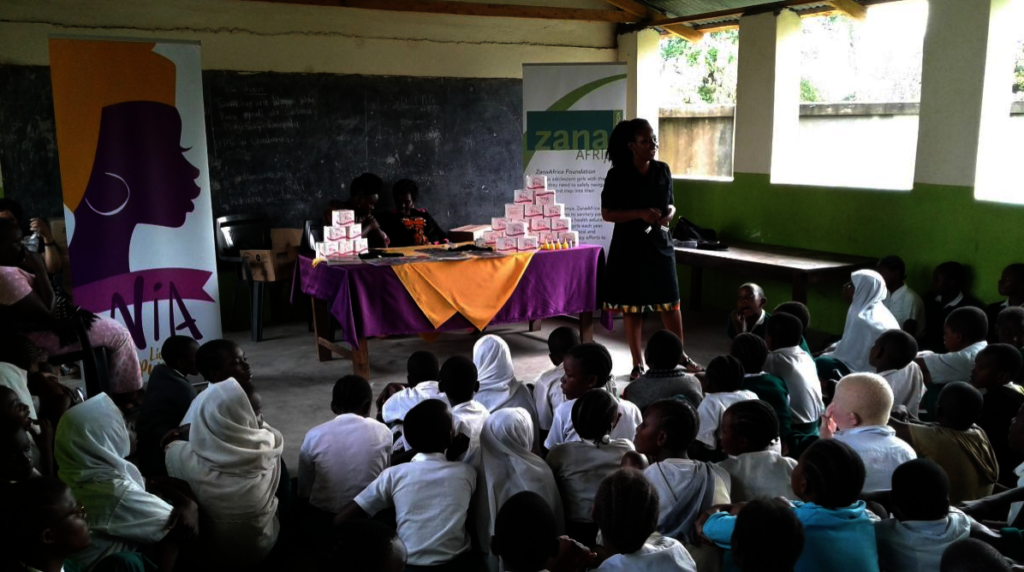 Dear Friends,

Since our last report, I had the wonderful opportunity to visit Kenya at the end of March and reconnect with our team. They are leading critical work on the ground to improve the menstrual and reproductive health of girls and the communities in which they live.
Our Kilifi-based colleagues conduct our school-based interventions where we are tackling real issues. In their community, the average age of girls' sexual debut is 14 years old; 30% of teen girls are pregnant; and 40% of new HIV infections are amongst youth age 15-24. Our work directly addresses these challenges. In February, our team began after-school programs in 10 new primary schools supporting over 3,600 beneficiaries with critical answers to their reproductive health questions to support their voice, choice, and personal agency in decision-making.

Through this program, we provide:
Nia Teen, our comprehensive reproductive health magazine
Disposable Nia brand sanitary pads
Cotton underpants
Sessions with mentors who offer safe spaces for girls (and boys!)
Parents of our beneficiaries have little knowledge of reproductive health due to low literacy levels, incomplete schooling, and other factors. They are not able to fully support their children during puberty. When I was there, I heard directly from parents about how they want to better support their teenagers. To improve reproductive health knowledge across generations, we will soon begin reproductive health information sessions with parents. We expect 500-1000 parents to attend these school-wide sessions over the next two years.

Last, our team in Kilifi is supporting the expansion of our interventions across Kenya. In January, we began replicating our program with 40 schools in Western Kenya through World Vision and the Ministry of Education! With high demand for our solutions, this year is critical for us to train additional mentors and partners to meet the rising requests for our services. We are so excited about the holistic impact we are helping to advance. We look forward to keeping you updated throughout the coming months. Thank you for your support - we truly could not do this work without you.

May was also very exciting for us at ZanaAfrica. Specifically, this past Menstrual Hygiene Day (MH Day) on May 28 was one for the books! And without your support, none of it would have been possible.

On the ground in Kilifi, our team visited Kibarani Primary School for the Deaf where no other organization had taken the initiative to tackle taboo topics like menstruation before. Beyond breaking taboos, there was a demonstration on how to use and dispose a disposable pad—and we also provided pads to all girls in attendance.

In Kajiado County, our team distributed nearly 1,000 sanitary pads and spoke about the importance of menstrual and reproductive health education as a vehicle to improve the health, safety, and wellbeing of adolescent girls. As a result of our talk, Kajiado County's first lady, Edna Lenku, advocated for infrastructure improvements so that schools can fully support menstrual health management and related health education.

But wait, there is more! We also raised nearly $4,261 - enough to support 852 girls each with 4 pairs of new cotton underpants! This gift truly helps marginalized girls confidently and comfortably manage their periods without limits. To all of you who contributed, thank you!

Finally, we joined advocates from around the world to attend The Women Deliver 2019 Conference on June 3-6 in Vancouver, Canada. This was the world's largest conference on gender equality and the wellbeing of girls and women and we're so thrilled to have been a part of it! Our Founder, Megan Mukuria, spoke at Building Girls' Agency through School-Based Programs, a panel discussion, where she discussed our work and impact in Kenya.
As you can see if has been a very busy, yet, exciting few months and we are continually inspired by your support! Thank you for being a part of this movement, I'm so excited to share even more in the coming months.
With gratitude,
Alison Nakamura Netter